by
fritz
Objective: I wanted more practice handling a loaded bike on technical singletrack, so I headed out for an overnighter on the local trails overlooking the Gunnison Gorge (Montrose, CO).
Location: Peach Valley trail system; Montrose , CO.  Red Rocks/Nighthorse Trail to Sidewinder Trail.
Experience: A handful of single-pitch rides of those trails.
Gear: This kit minus the bivy, fleece and backup gloves.
Trip Report ( = excuse for pictures)
I graded the last math page, filled six liters of water, drove to the Eagle Trailhead, threw everything on the bike and started cranking at 5:00.
I hiked the parts that I would normally hike …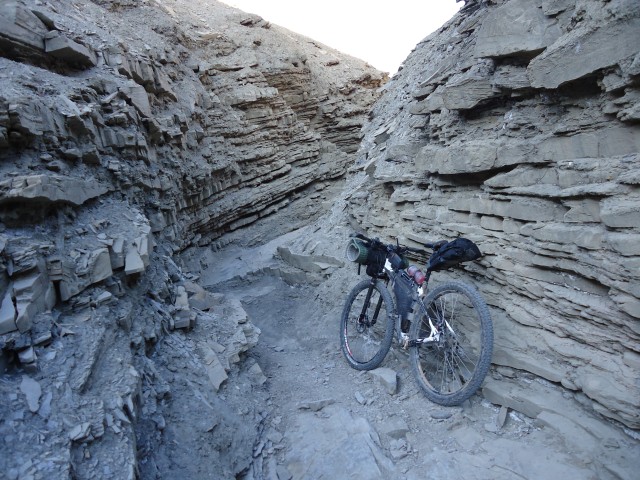 … then hiked the parts I would normally ride (on a good day) …
… then hiked the parts that keep me from getting suspension, because if I weren't riding rigid, I would have no excuse to hike them.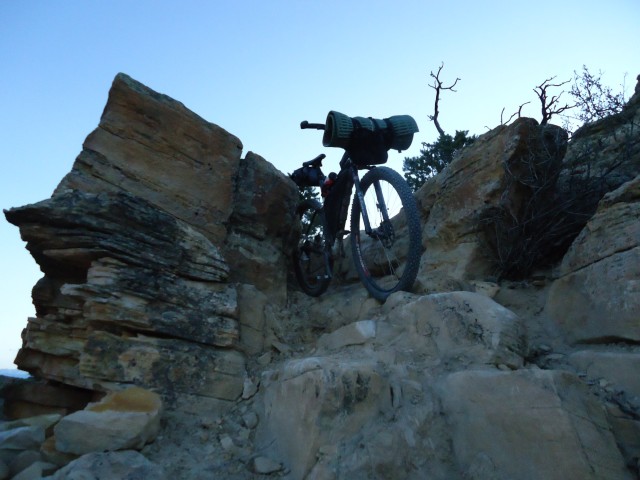 Despite the hike-a-bike, which was brief and entertaining, I got some quality riding in, and made about 12 miles in the two hours of daylight.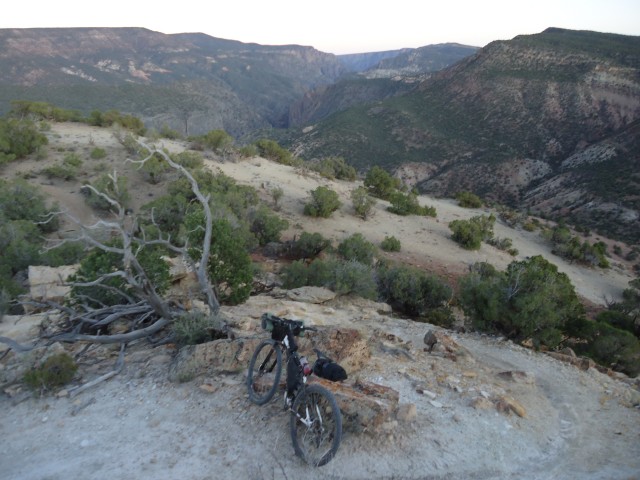 Then out came the headlamp for two hours of night riding / hiking.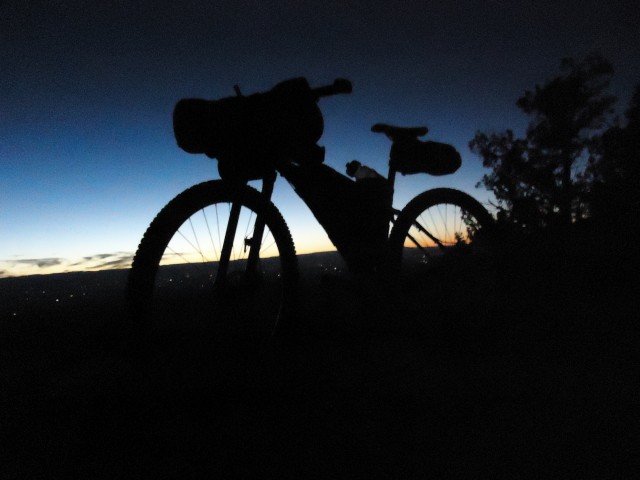 I always underestimate how tired I am after teaching fifth grade for a week. So, four hours in and several miles from my Gunnison River objective, I threw out the quilt, pounded a cold mashed potato burrito (a Skurka specialty), and fell asleep counting the moon.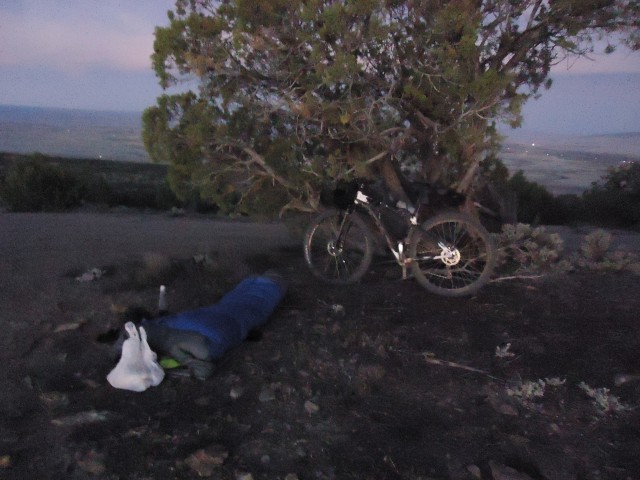 Unlike last weekend on the Tab, I had an appropriate sleep system for the temperature. Shoes as a pillow, 2/3 of a short Ridge Rest, the remaining 1/3 as extra padding under my hips, pack under my legs, 20F down quilt, and a dry wool long-sleeve and tights.
The next morning, the Black Canyon treated me to a great sunrise, of only one picture turned out.
Upon starting my 20-mile return on Sidewinder (a fantastic, why-drive-to-Moab type of trail), the following mechanicals occurred:
– Front tire puncture that the sealant didn't get to in time.
– Discovering that one of my backup tubes had a preexisting puncture.
– Breaking the valve core off said tube ($@$#!!!!), despite treating it ever so delicately because this happens way too freaking much.
– Fifteen minutes later, getting two punctures in the second tube
– Blowing through all four patches because the superglue wouldn't hold
– Being unable to go tubeless again with my hand pump.
And so I was stranded quite handily, seventeen miles from my car. I hiked down heartbreakingly good singletrack for an hour until I hit a dirt road bailout, which was more of a straight shot to the trailhead. I hid my bike in what little vegetation grows in the adobes, grabbed my remaining water, and took off running for the trailhead. 8.5 miles of running (is for prey) and an hour and a half later, I made it back to the car. One truck offered a ride with two miles to go, but at that point I figured I may as well accept and embrace the punishment, so I  kept running. As Calvin's dad would say, it builds character.
Product placement: Pearl Seek IV shoes for the win.
I was too demoralized to take pictures of the Sidewinder hike-a-bike, but here are some shots of Jeremy (Cleaveland Mountaineering) doing some product testing on the same trail.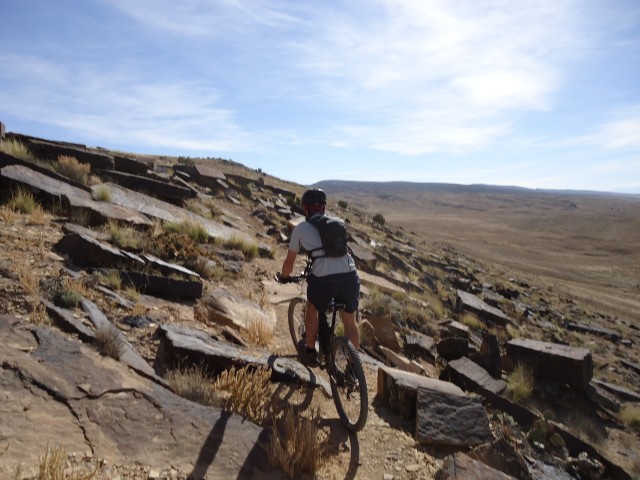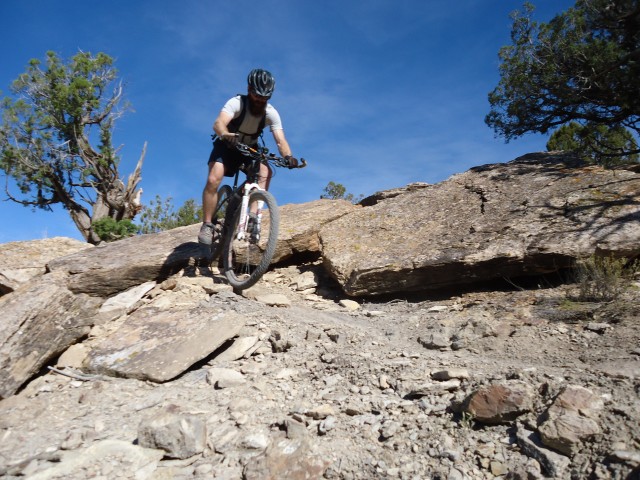 Upon return, I went to the shop and bought two new tubes and a patch kit with real rubber vulcanizing glue. However, the real reason for this bail lies in the lack of an even more important crucial component ….
My lucky T-rex squeaky horn, now slowly decomposing at the bottom of some Fruita dry creekbed.
Wilson Creek Trail Summit; Ridgway, CO.
RIP Mara(2).