How to contribute to bikepacking.net
Please help us build this resource! Anyone can add content to bikepacking.net. The easiest way is to JOIN the forum and post your thoughts and experiences there.
We also want to build more permanent content onto the main site. For this you need a WordPress account (different than a forum account).
What we're looking for:
New bikepacking routes – Whether "official" or of your own creation
Personal setups – pictures and descriptions of your personal bikepacking setup.
New products for review – bags, components, bikes, any products bikepacking related
Trip reports – writeups from bikepacking trips, no matter how old.
STEP 1 – sign up for a WordPress account.
You can do this at wordpress registration. Note that this account is separate from the forum account.
NOTE: in late 2012 registration for wordpress accounts is currently disabled. We've had too many SPAMMERS to handle and haven't been able to take care of the issue yet. In the interest of keeping the site SPAM free we've had to turn off registration for now. However, you can still get an account, just email smorris@bikepacking.net with the following info: 1) desired user name 2) first and last name. It may take a day or two, but we'll get you set up with an account.
You will need to enter your email and choose a password. You'll get an email so you have a record of your name and password. Go back to the login page and log in.
STEP 2 – Log in.
Once successfully in, the wordpress dashboard should come up and look like this: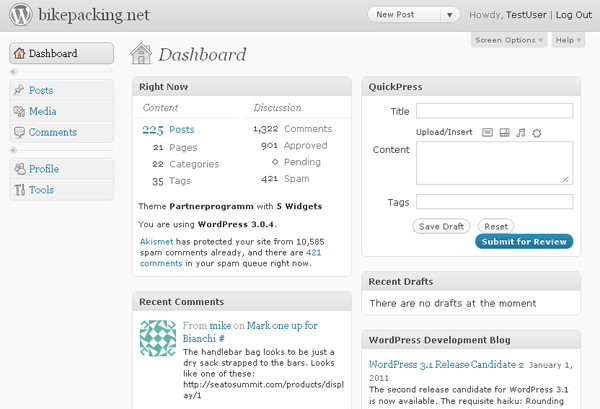 On the left side menu is the word "Profile" in blue (above Tools). Click there to edit your profile information if you like.
STEP 3 – Adding content
Back at the wordpress dashboard, click on the "Posts" menu on the left side. Then choose "Add new".
The "Add new post" page looks like this: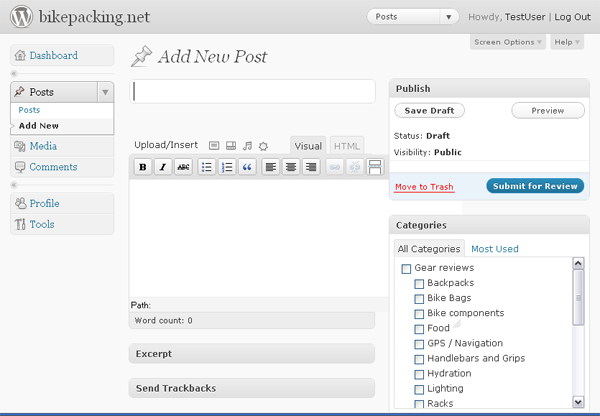 Add an appropriate title:
For gear reviews, the name of the product.
For personal setup, put your name (either real or forum screen name) somewhere in the title.
For trip reports, the title of the story.
Add text in the post area. You can add photos using the first box next to the "add media" header. This will upload the pictures to bikepacking.net. You can also use the "HTML" editor mode to directly add images via img tags. You can use other HTML formatting options here too.
Pay special attention to the category checkboxes in the lower right corner of the add new post page. If you are adding a gear review product, be sure to choose an appropriate sub category under the gear review category. Similarly, there are categories for Routes, Personal Setups, etc.
You can save a draft using the "save" button. Your content (post) will be there the next time you log in, but won't be submitted to the site yet. When you're ready, hit the "submit for review" button. That will alert the editors that new content is available and we'll get it posted ASAP.
---
Special Instructions for Gear Reviews
Any products are welcome at this time. If you are manufacturer/distributor of a bikepacking related product, you are especially encouraged to add your product(s).
The title of a gear review should be the name of the product and optionally the company name (e.g. "by Epic Designs").
The text should contain objective product information from the company, not an actual review. Comments are for users to actually review the product. Again, nothing subjective should be in the text of a new product.
Add as much information as you can, and if possible, a URL to the product's homepage.
---
Thanks for contributing to bikepacking.net! Your help in building this resource is greatly appreciated! If you have any questions about contributing or wordpress, email us or just add a comment to this page and we'll answer it there (that way others can learn, too).