Personal setups » Fritz's Setup for Tabeguache Bail October 2011
by
fritz
Post-bail analysis in italics.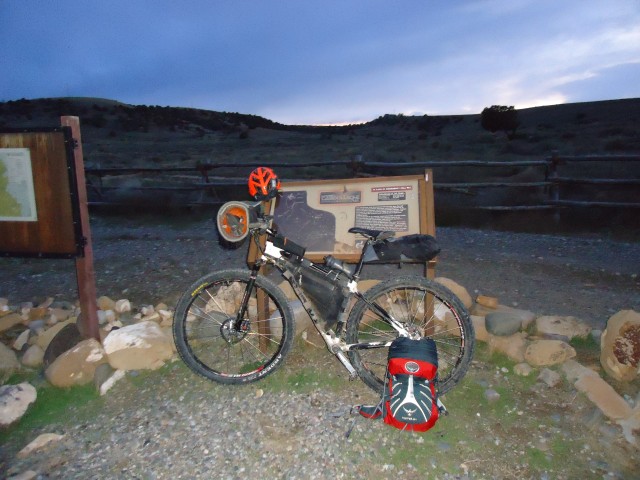 – Specialized Stumpjumper 29er frame, White Bros rigid fork, 2×8, Flow rims, Ardent 2.4's, Ergon grips w/ jr. bar ends, Candy petals,  plastic bottle cage ziptied at toptube/seatpost
– Cleaveland Mountaineering bikepacking kit (frame, seatpost, handlebar bags, gas tank. Disclaimer: I know Jeremy personally and am heavily biased towards his custom bikepacking gear.
– Osprey Hornet 24 pack. Perfect size for multiday, carries 5L of water well, good pillow.  No convenient packstrap pockets like Nathan packs, though.
– Clothing worn:
. Pearl Izumi Seek IV hike-a-bike shoes. Great for anything but winter conditions.
. Darn Tough merino hiker socks
. Orange short sleeve jersey
. Bike shorts
. Pearl Cyclone gloves
. Solar Shield grandpa goggles
. Helmet covered with blaze orange duct tape. Didn't get shot!
– Clothing carried:
. MHW 100wt fleece. Light but bulky. Poofy vest next time
. OR fleece balaclava
. Montane Litespeed windshirt
. Fleece backup gloves. Invaluable.
Sleep System:
. Golite 20F down bag
. TiGoat Ptarmigan bivy
. Ridge Rest short, 2/3rds in handlebar harness, 1/3 in pack. Needed double coverage on frozen ground and snow.
. Fatigue, lots of it
Cooking and Water Storage
. 2 Hydrapak 2L reservoirs (one tube w/ quick release)
. 1 Platy 1L soft bottles
. 1 Nalgene (for scooping cow coffee)
. One .5L bike bottle, cage ziptied above toptube. Great mount, didn't interfere with saddle nose hike a bike carry
. .5oz betadine
. Bandana for filtering cow coffee
. Tire levers as spoon. Worked well. I'd do it again.
Gear
. Two tubes, repair kit
. BD Spot headlamp (ghetto knuckle light) Didn't use.
. Princeton Tec Fuel (helmet) Great.
. Gerber Crucial multitool
. Two topos, route cues, compass Rubber-banded laminated cue sheet to handlebar harness.
. Small med kit
. Sony Cybershot camera