Trip Reports » Tabeguache Trail October 2011 Solo Bail Report
by
fritz
Summary:  Slow trail conditions and external time constraints forced me to abandon my northbound Tabeguache Trail attempt after one night and twenty-one out of 142 miles.
Background: Three overnighters, thru-hiked the CT in twenty-four days, barely sub-12ed the Leadville 100 MTB, lots of recreational hike-a-bike on snow and dirt. I am, as they would call me on MTBR, a n00b.
Gear (abridged): Specialized Stumpjumper 29, White Bros rigid carbon fork, 2×8, Flow rims, Ardent 2.4s // Cleaveland Mountaineering full kit // Osprey Hornet 24 // full list
Cutesy Human-Interest Fluff:
Friday 1830: Spirits are high. I've been planning this, my first multiday bikepack, for a month. The Plateau has gotten some snow, but I rode every morning of last winter in Lake City, CO (9,200′), so I'm not too worried.  En route to the trailhead, I pound a whole large pepperoni pizza as preemptive offering to the gods of caloric deprivation, and crank Rage against the Machine to get me pumped for carrying a loaded bike at two miles per hour.
1910: As dusk settles in, I do one last doublecheck and start the trail on a moderate dirt road climb.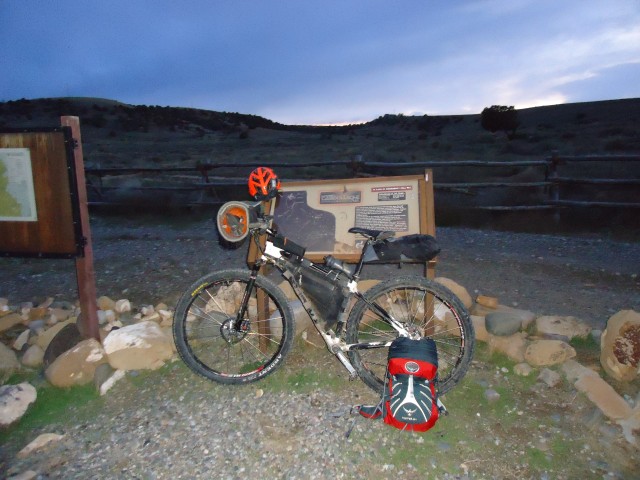 The nearly full moon allows for moonlight climbs and single headlamp descents.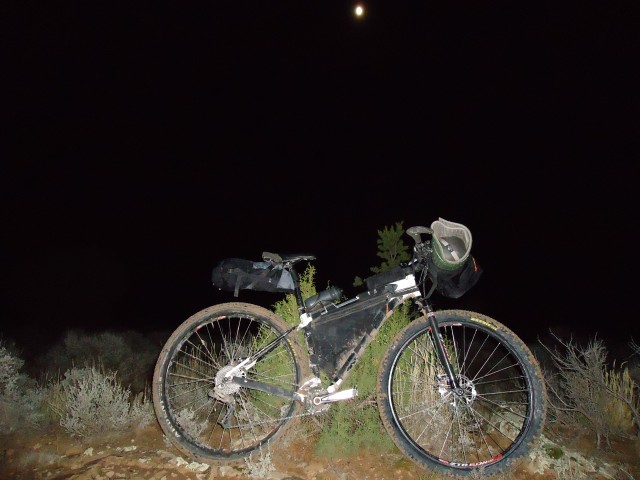 Even with six liters of water (the curse of Coworado), the bike feels fairly normal.
After a couple hours, I start running into traces of snow, previews of coming attractions.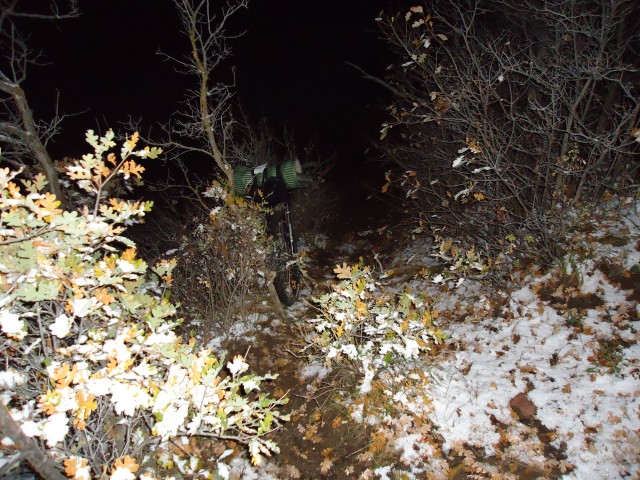 I ran into some mud and intermittent hike-a-bikes, which slowed me down. When I hit Transfer Road, there was an inch of crusty snow on top of somewhat frozen mud with frozen puddles — very choppy, had to stop to free my drivetrain of the gunk every five to ten minutes.
Saturday 0030: Five and half hours after starting, I had only made eighteen miles. I had to bivy up three miles short of my objective for the night. It was a cold night; not as much as where I slept all last winter  , but not quite as cozy either.
I decided to go stoveless on this trip, so cold oatmeal for breakfast, eaten with an ingenious multipurpose gear solution (thanks, Jeremy)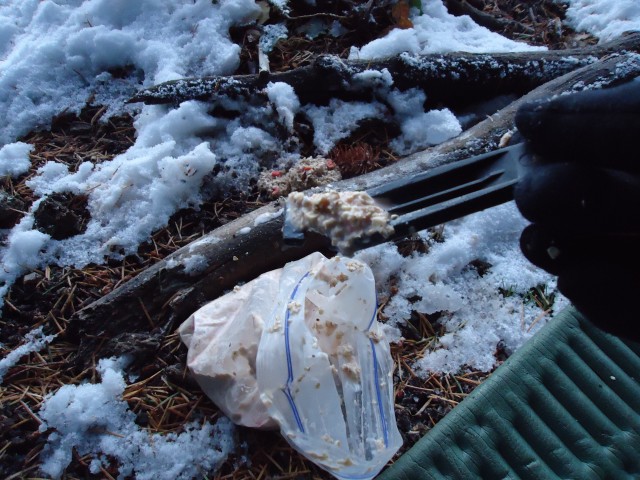 Fall is in the air, but winter is on the ground.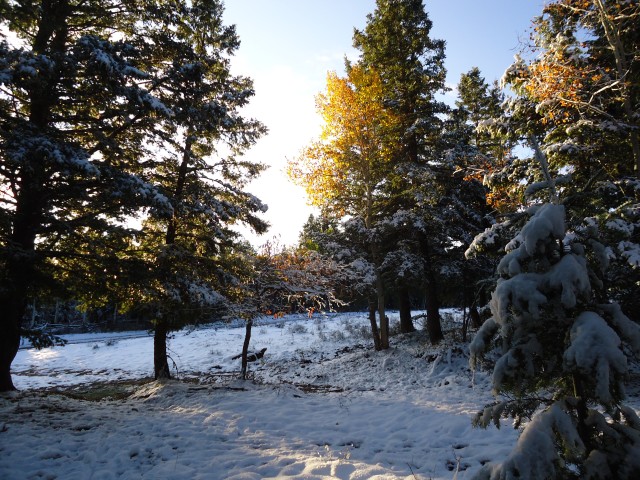 Saturday 0800: I hopped back on Transfer Rd for two miles of fun but slow snowbiking, mashing the granny gear on the flats at 3mph. The snow was sticky, and frozen ruts and puddles underneath prevented any sort of rhythm. But hey, it was ridable!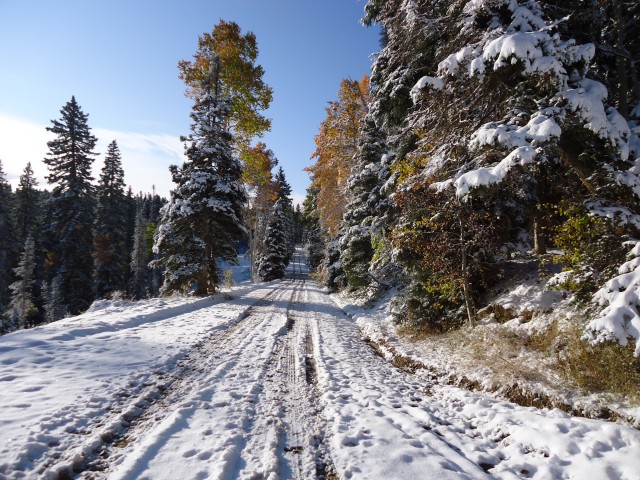 (that was a good section)
0900: Made it to the start of Section 3 (Pool Creek singletrack). Three miles in the last hour. The snow was continuing to deepen. At this point, 21 miles in 6.5 riding hours, I realized that I wouldn't make it to Junction in time to get back to my fifth graders, even with the long Columbus Day weekend. It was a tough decision, but I knew I had to bail. Also, I didn't feel like hiking the next 27 miles of snowed-in singletrack in my Pearl Seek IVs, even with VBL socks (I obviously hadn't planned on this much consistent snowcover). And so I pulled the plug.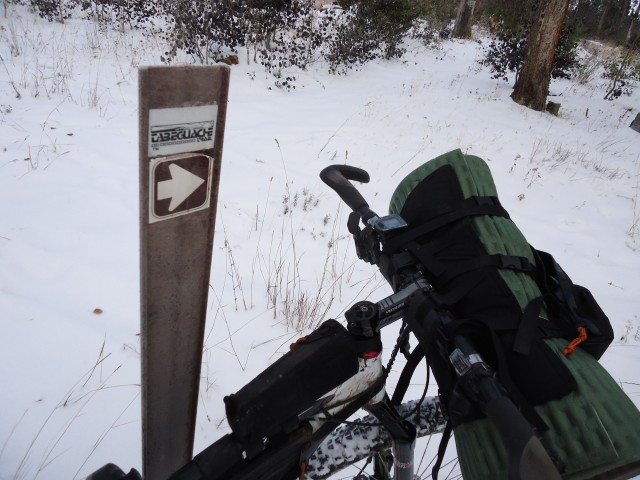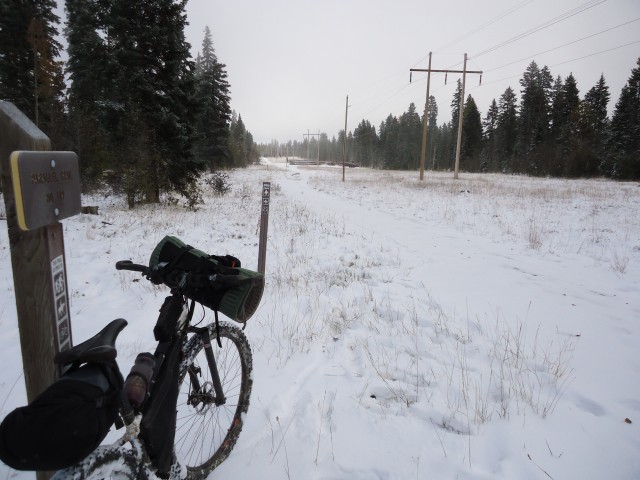 As if to confirm my decision, as soon as I decided to bail, I realized that I couldn't feel my right foot, and that I was shivering. I pushed fifty yards to the nearest patch of dirt — right in the middle of Divide Road — and hopped into my quilt and bivy and spent the next twenty minutes eating and recovering body temperature. It's strange, because I was totally fine on the powerline road, then as soon as I hopped off, the cold
During that time, a guy drove by in a truck and said that everything further up was snowed in even more. Yeah, it was a good time to bail. I threw on every layer that I had and descended Divide Road.
1200: After dropping several thousand feet and all of those layers, I made it back to my car and promptly ate everything I'd packed on the drive home.
Epilogue: It has been well said that endurance activities such as bikepacking require no skill, only a selective memory. On that note, I would try the Tab again this season, albeit with insulated boots, luscious CM pogies, an 800-fill hooded down jacket, a second pad and other winter frivolities. My analysis is that my bail was due to several factors: 1) slow trail conditions, 2) having a job, 3) underestimation of snow levels, and most importantly, most condemning of all:
4) Lack of lucky T-Rex squeaky horn mounted on handlebars, to whom this silly enterprise is retroactively dedicated.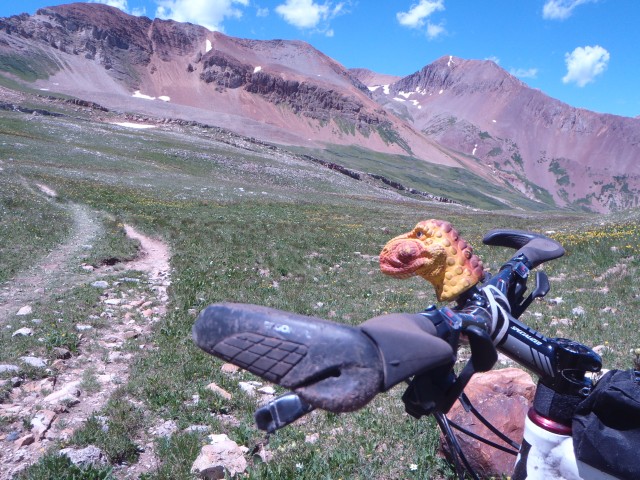 RIP Mara.