Routes » Grand Loop
by
ScottM
Overview
The "Grand Loop" covers 360 miles of remote desert terrain between Moab and Grand Junction. The loop was officially finished in 1995 with the mapping of the Paradox Trail, the final link to the loop. The two other links are Kokopelli's Trail (finished in 1989) and the Tabeguache Trail.
All three of these trails can be ridden themselves, or you can challenge them all. Some like to challenge themselves to ride the loop as quickly as possible. This page chronicles those efforts (see: Racing the Grand Loop).
Route Info
Not much singletrack was constructed for the Grand Loop. A few key pieces were needed to link existing dirt roads, and those were built by COPMOBA. But don't let the lack of singletrack fool you — this is a rough and challenging ride.
Many of the 4×4 roads are technical enough to force dismounts and hiking. You will hike your bike, period. But the solitude, scenery and adventure afforded are unmatched, especially being so nearby to frequently ridden (Moab) trails and roads.
Services
There are few services on the route. If you follow the new (2005+) version of the Paradox Trail, there are actually no services. The Bedrock alternate on the Paradox takes you to the tiny town of Bedrock, where a small store with limited hours offers limited resupply. Nucla is also ~10 miles off route, and has cafes and a more substantial grocery store.
Seasons
Picking a good time to ride the Grand Loop is difficult. Snow typically lingers until late May or early June on the upper reaches of the Tabeguache Trail. Yet Kokopelli's trail covers many a mile of low desert terrain that would be preferrable to ride in April, not June! Fall might be a tempting option, but key water sources may be dry, and lack of daylight is an issue.
Historically, most successful Grand Loop traverses have been in early June, but they have also involved a fair bit of night riding through the lower sections. It's best to watch the conditions, particularly the snow levels. Some years it is possible to snipe a GL ride in May. Check the Columbine Pass snotel site for the latest conditions on the Uncompahgre Plateau.
Racing the Grand Loop
There is no set time or organized race on the Grand Loop. However, this page will serve to record all successful Grand Loop rides, and will rank them by time. In the true spirit of self-supported mountain biking, you are encouraged to ride the route whenever you see fit and report your time (and your experiences on the trail!). If you want to be on the course with other riders, see the Ultra Racing forum to coordinate with others. There is one such thread already.
Full Grand Loop (new Paradox Trail) Finishes
Stefan Griebel (2007) – 2:23:04 (report)
Grand Loop Bedrock Route
Dave Harris (2009) – 2:12:44 (SS)
Jefe Branham (2009) – 2:16:33 (SS)
Dave Harris (2007) – 2:19:18 (report)
Mike Curiak (2003) – 3:02:37 (report)
Scott Morris (2006) – 3:02:45 (report)
Gary Dye (2001) – 3:03:03
Fred Wilkinson (2007) – 3:04:35 (report)
Jefe Brahnam (2006) – 3:08:10
Chad Brown (2009) – 3:11:02 (Clockwise, SS)
Scott Morris (2009) – 3:11:02 (Clockwise)
Lynda Wallenfels (2012) – 3:11:33
Cat Morrison (2012) – 3:11:33
Matt Fletcher (2009) – 3:20:40
Stefan Griebel (2006) – 4:02:00
Dave Kirk (2008) – 4:18:30
Jim Leikert (2011) – 6:06:14
Please comment on this page (or send us email) if you have a Grand Loop time to report. Please note that to be considered for listing here you must follow the commonly established rules of self support (no crews, no caches, et cetera). If you have any questions about what this means, ask on the forum.
Grand Loop 2001
Grand Loop 2006
Grand Loop 2007 Updates
Grand Loop 2008
Maps, GPS Data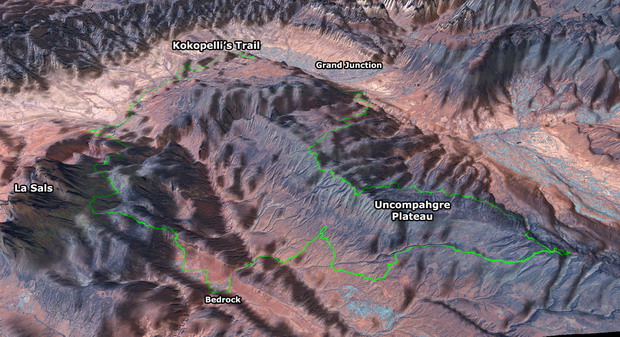 3D image from TopoFusion software – click to enlarge

No GPS Data, to preserve the mystique and adventure on this wild loop as long as we can. GPX now available in 2012!
GrandLoop-Bedrock Route-v1.gpx
Stay tuned for other files, such as the "Koski Traverse" and options for more singletrack coming into Grand Junction.
The official maps from COPMOBA can be found here (in PDF format):
Links
Official Site
Tabeguache and Uncompahgre mini trail guide
Columbine Pass snotel site
Altrec.com GL route overview