Midwest USA, Trip Reports » Riding a Fat Bike Year-Round – First Bikepacking Report
by
rooze
I'm involved on various forums and Facebook groups and it seems the interest in Fat Biking is gaining momentum. For many in the community, Fat Tire bikes are no longer considered just 'snow bikes'. And why should they be? Sure, that large 4″ tire has a fair amount of rolling resistance, and if you go for one of the heavier bikes it's sure to give you a workout, but fat bikes are versatile, comfortable, durable, and, as we all like to point out ad nauseum, they're a lot of fun too!
Last year, towards the end of my first season of frequent cycling, I set about deciding what bikes to own in 2015. My only steed, a GT Karakoram 29er, had taken me everywhere over the course of the year. It had doubled as a road bike, a gravel bike, a trail bike, a singletrack machine, and…..as a touring rig.
Hardly ideal, but as I said, this was my first year of cycling so it was very much a moving target, a fluid situation. But I was going to need a new 'do it all' bike for the 2015 season, I just wasn't sure what to buy. The bikes which were on my radar, and still are to varying degrees, included the Cannondale CAADX, the Salsa Vaya, the Trek 920 and the Salsa Fargo.
In October 2014 I pretty much decided that I wanted to try and stay fit through the winter and the best way to do that was to go out and buy a fat bike. So I did, a Charge Cooker Maxi2, which I replaced in February with a Salsa Beargrease Carbon [reviewed at the link].
I really, really like the Beargrease, it's head and shoulders above the old Charge Maxi I owned previously.
So after the usual four months of Wisconsin winter, I emerged in Mid-March wondering two things –
1 – How was my fitness/endurance after 4 months of fat biking?
2 – Am I any closer to deciding on a bike for 2015?
The fitness angle is an interesting one. In 2014 I started the year by losing a lot of weight and basically getting somewhat fit. I'm an older guy in my early 50's, and I've never been an athletic type, so 'fit' for me meant being able to run up a few stairs without getting breathless.
Slowly I built up my fitness over the course of the riding season. By September I was ready to have a crack at my first Century ride, which I completed on my 29er in a little over 7 hours. A week later I did my second and last Century of the season.
So I was building fitness and riding longer distances, but when winter came along, and the fat bike appeared on the scene, my riding distances and duration/time in the saddle, tapered off a lot. I couldn't stand to be out in the cold for more than a couple hours, so my workouts were shorter, but of high intensity.
So I was curious how my fitness levels were now, in March 2015, compared with how they had been at the close of Fall.
Also, I needed to get serious about picking a bike. I'd procrastinated towards the end of the year and now spring was almost upon us I needed to make a decision pretty soon.
But then, I started to read all of the forum 'chatter' about people running fat bikes year round. People were racing fat tire bikes in snow, on gravel, on dirt etc. People were riding fat tire bikes recreationally on the beach, on gravel, even on asphalt. And people were selling off their mountain bikes and replacing them with fat bikes. Heck, people were even bikepacking on fat bikes!
Wow.
Perhaps I have everything I need from a bike right here with the Salsa Beargrease?
There was only one way to find out.
Taking the Beargrease on a road-trip
I'd bought a few things at the various online sales over the winter and I was already itching to give them a try.
I'd picked up a seatpost pannier rack from Amazon.com It was going to need to be modified to run panniers on both sides of the rack and clear the 4″ tire, but it worked well with a single pannier.
I picked up a pair of Ortlieb Back Roller classics, a handlebar extender and a few other bits and pieces.
So on the eve of Friday the 13th, I booked a hotel room some 80 miles or so away from my home, and packed up the Beargrease ready for her first big trip!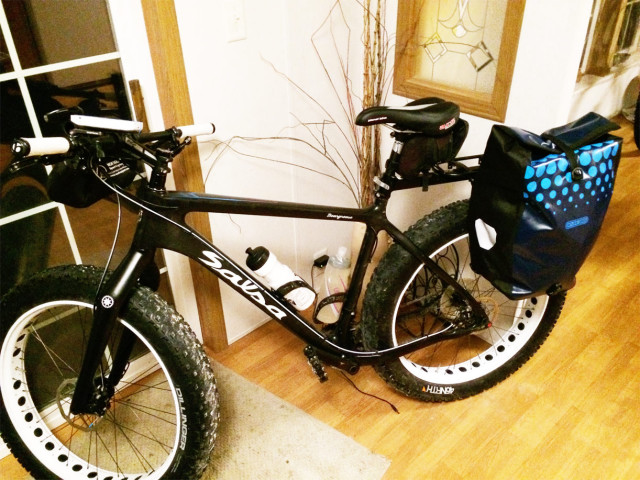 On Friday the 13th I rolled out into a cold and windy Wisconsin morning, filled with excitement and trepidation in equal measures.
The weather forecast had been fairly accurate for once – a cold, brisk 30mph wind blowing from the South East, pretty much a headwind the entire route. Temps were going to be colder by the Lake (Michigan), my intended route – 25 degrees rising to 35 later in the day. Skies were overcast with some sun poking through here and there.
The trip was awesome.
Sure, the 4″ tires make pedaling quite hard, but the bike is comfortable to ride for long distances with it's relaxed and upright riding position.
Carrying the gear on the single pannier mount, a couple of toolkits (seatpost mounted and another under the bars) and a few items of light clothing in a backpack, proved completely hassle free.
I cycled south from Egg Harbor WI, through Sturgeon Bay then down the lakeside for my first brief rest-stop in Algoma WI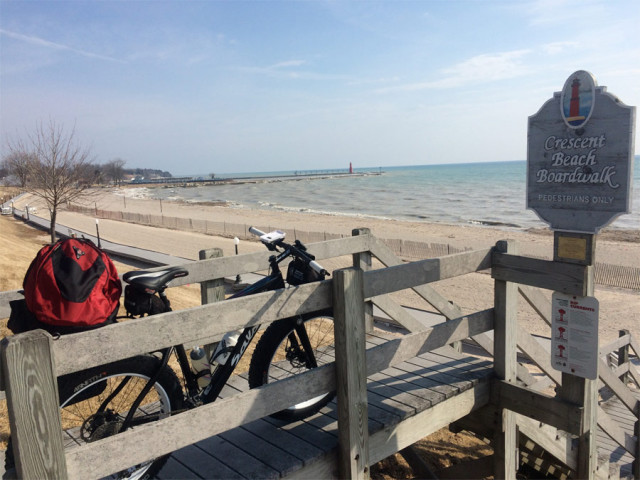 Riding on from Algoma and down to Kewaunee, I took a few minutes off to enjoy a good cheeseburger from a Citgo Gas station!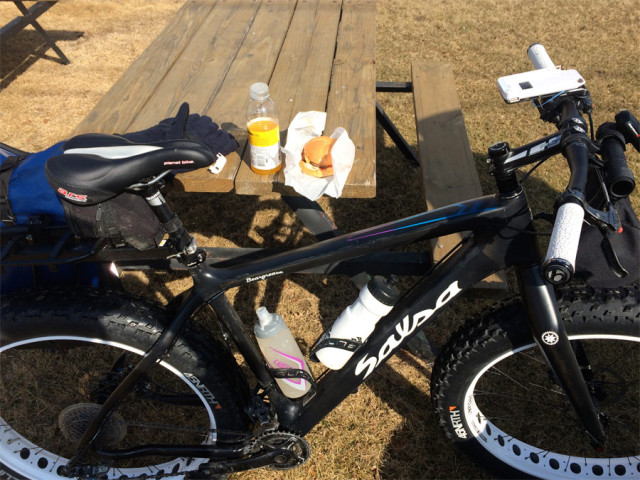 I made the hotel before 4pm. Approximately 79 miles covered on the first day.
I felt good, my energy levels were very good and my leg muscles were doing just fine. My rolling average was only 10 mph but I attribute that pace as much to the hard headwind as I do to the 4″ tires.
But I was in good shape – no backache, no neck pain, no muscle soreness. It was a good first day in the saddle.
On Saturday morning I was expecting to catch a ride home on the tailwind so I started the day off quite late, around 8am.
To my amazement the wind had pulled the old switcheroo on me and had shifted almost 180 degrees and was now blowing hard out of the North West. That pretty much meant another day riding into a 25mph headwind.
Saturday's riding wasn't very pleasant. I grew tired of the strong winds quickly and tried to reroute onto a couple of gravel trails which I knew would offer some shelter from the wind.
I rode part of the Devils River State Trail and later on in the ride, the Ahnapee State Trail – both packed gravel with some wet/muddy sections of dirt here and there.
The whole trip home was a slog. With the reroutes it added distance and I made it home with 90.13 miles on the clock.
It was late when I arrived home, after 8pm, and I was pretty tired.
170 miles over two days was a lot for my first ride of the season, but it felt good having completed it.
Conclusion
Yes, it's possible to tour on asphalt on a Fat Tire bike. The experience could certainly be improved by adding a 29er wheelset or a 29+ wheelset, but then it wouldn't really be a fat tire bike, would it?
I think it's viable for me, given that I probably won't do too many road trips of this magnitude. I'll probably camp 3 or 4 times over the course of the year ahead and perhaps limit my daily mileage to a more sensible 60 or so. For which, the Salsa Beargrease will work just fine.
That's not to say I wont add another bike to my collection before long 🙂