Routes, Trip Reports » Ride the Holyland – an open invitation
by
Efi Fallah
If someone could offer one trip that will maximize the true heart and nature of the country you are visiting and to do that while riding my mountain bike – I would say "let's go"!
The HLC is exactly that! It's an epic, self-supported, extreme bikepacking race that will take you across 1,400 Km of Israel's best sites and wild nature.
It's a race that combines religious sites such as Jerusalem & Galilee and the Sea of Galilee, modern attractions like the long cost line, the forests of Israel and the Desert.
HLC 2014
The first year of the race. 27 Brave/Adventurers riders stand on the start line – only 10 will finish.
the first day was an 'all-together-ride' through the highlands of the Golan heights. Slowly the riders got into their on pace. on the first night you could still see groups of riders camping and telling trail stories but that was the last night most of the riders slept together…
The long hours on the saddle, special food and water logistics, bike reapers started to appear and each rider was on his own.
Riders reported during the race on the groups Facebook page and on What's-up and a track-leaders spot system enabled the wives/family to track the riders as they move.
The desert heat welcomed only the toughest that survived the first 800 km to an blazing heat. The riders needed to change their ride schedule and ride very early in the day and late afternoon to avoid the noon desert sun.
I wasn't one of them. After 4 days out and 500 km into the race my body alerted me it is time to end this. I was sick during the race and with the extreme effort i got sicker.
The Route
HLC 2015 navigation files (number of file formats)
Race Length:  1,400 km
Vertical Clime: ~20,000 m
Terrain: mix of high-land, 4×4 gravel roads, single tracks and desert.
Touring Time: 6 – 16 days
2015 race date: April 9th 7:00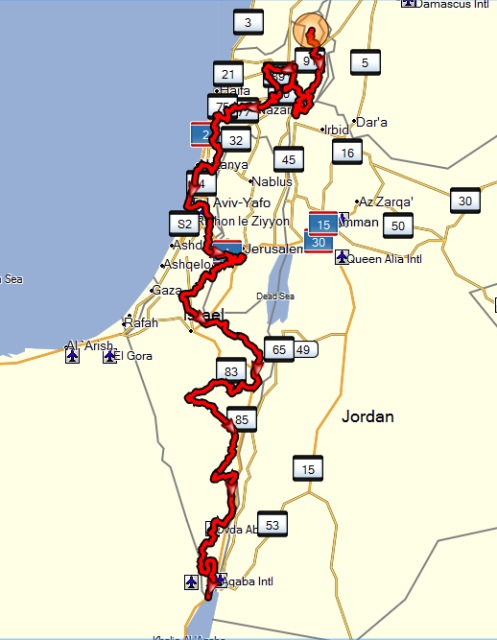 Without organizers and without sponsors our riders community is trying to make the best international event of the HLC. riders support riders and everyone takes a small task on himself to make the best of this event.
for example:
a bus will drive riders from the center of Israel (Tel Aviv) to the start point on Apr 8th (shared cost)
a special rate hotel for the first night on the start point (magdal shams)
rider spot system thorough track-leaders will track you (special price)
HLC web site
http://holylandmtbchallenge.com/
https://www.facebook.com/groups/157387991112076/ (our community open facebook group) English/Hebrew
Wrote about the HLC
http://bearbonesbikepacking.blogspot.co.uk/2015/02/holyland-challenge-2015.html
http://bikepackersmagazine.com/holy-land-challenge/