Trip Reports » CrestLine Trail Idaho –
by
Weyekin
My first venture cinching a bag on my bike was back in '84 or so, I was in junior high and had a early edition Hardrock with a bullnose handlebar that accepted my 10 pound hollofil (some hyperbole here) quite nicely.  The trip was planned, friends invited, (one showed) and we were off.  It was my first and last trip into the mountains intending to camp from two wheels.  We pushed, flipped, and rolled until eventually ditching the bikes to carry the bags up the hill until a resting spot near the summit could be found where we vowed never to return to the backcountry this way again.  I later moved to the East Coast where the mountains were a little more accommodating for bike camping (my friends there called the Rockies "oppressive grandeur" unwelcoming to two wheels), but never found the time to really test the sport again.  Fast forward 30 years, I'm back in Idaho, and find myself heading into the same mountain range again, this side from the west, onto the Crestline trail, where my supportive wife has agreed to accompany me while I satisfy my need to re-trial this sport.
After much on-line review using the outstanding blogs in this forum, I invested in a Revelate Design's Viscacha and their Sweetroll to carry my goods.  The seat bag held the stove/fuel, my clothes, fishing reel (I couldn't pass up the opportunity to venture for high altitude trout), and food for the planned 24 hour trip.  The Sweetroll packaged my tent stakes and rainfly (no tent- I'll get to that later) to my handlebars.  Because I was going to carry as much as possible and limit my wife's load, I was the family mule adding additional capacity backside with a 30 liter daypack.  Giddy-Up!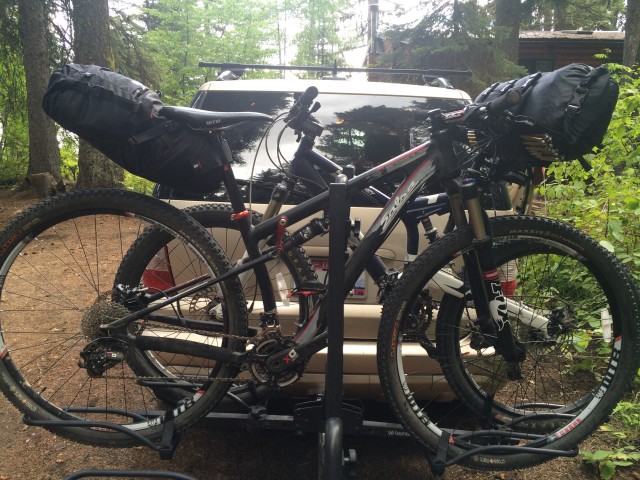 After reviewing trails that I had ridden over the years in this area, plus the Idaho Hot Springs Loop from Adventure Cycling Assoc. and the McCall Idaho Mountain Bike Trail Map, I settled on a something that received a "blue square" rating.  This was to be a quick-trip-test, nothing too difficult, an opportunity to trial the equipment, and determine an average pace for longer, future rides that were already being planned before I had loaded the bikes for this trip.  Optimism: noun 1. hopefulness and confidence about the future or the successful outcome of something.  My wife began to use phrases like, "it will be an adventure," so I was under the false impression that she understood this was not a typical ride out the backdoor on some soft foothills single track.  Occasionally a comment like, "we'll be in a meadow with single track and easy riding – right?" was responded to with a grunt.  I was unwilling to agree, nor respond in the negative and lose all chance of her attendance.
To access the trailhead, a dirt road (#432) crosses the Payette River on the right side of Warren Wagon road north of McCall 16 miles from downtown. From the parking lot, there is a seven mile climb from 5,400ft to around 7,000ft.  Parking can be had at the trail head if you want to immediately hit the single track, or at several stops along the climb if you want to strike a balance between the two.
The trail is considered a hiking/motorcycle trail, and since I had done it pack-less on my bike a year earlier, I knew there were some HAB sections.  Motorcycles tend to dig the tires a bit more than legs are capable of doing, so there are some rutted sections.  I didn't know exactly what a pack would mean to my mobility, but that's what this trip was about.
The first several miles were wonderful!  Passing through the meadows that my wife had hoped for, then the downhill began and our pace picked up.  I was on a Salsa Spearfish, and my tailpipe pack (the Vischacha) did a great job, but occasionally bounced off my rear 29-er when the going got rough.  So, on the return, I moved out the stove, etc. and replaced it with items that could be compressed tightly under my seat which avoided the occasional skid on the fabric I experienced on the way in.  Occasionally I looked back to see a smile and thought all was good.
Four miles into the single track progress slows dramatically as you pass over and through dry creek beds.  My looking back became more frequent and concerned now, as I occasionally heard sounds of metal on rock and a few choice words of frustration ("were those directed at me??").  The trail essentially rides north to south and the occasional creeks run perpendicular East to West, so the trail climbs up and down losing and gaining around 500ft for a couple passes crossing a few creeks until it nears a downhill into Heart Lake.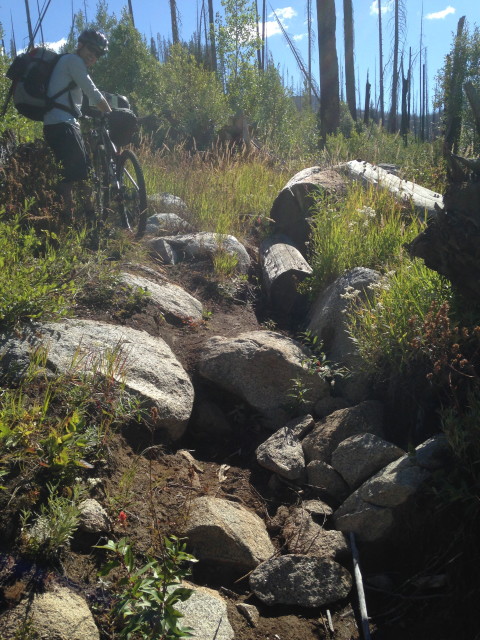 I had two apps running on my iPhone tracking our travels.  Topo kept track of our location and Map My Run for our distance traveled and pace.  I had downloaded the region we were in, so Topo worked well, and fortunately, we maintained good bars of cell service so we were able to provide the occasional text back home to the kids informing them of our slow progress as a well as a high degree of location accuracy.
As we came to another saddle and looked across the meadow that held heart lake, I knew from my earlier pack less travel that a long climb out of the Box Lake drainage area was ahead of us.  My wife looked a tad defeated.  Biking usually didn't require your feet to be grounded this often.  Perhaps it was time to just stick to our feet.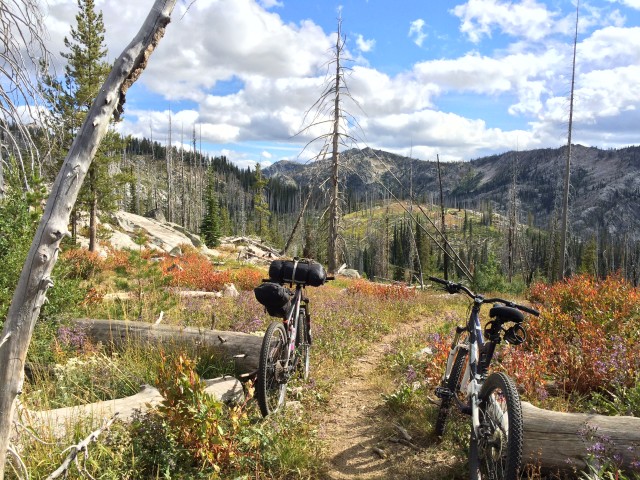 We hid the bikes off trail, unstrapped the bags, threw them over our shoulders and headed over a small incline a little short of a half mile where we had a great view of Brush Lake.  After unloading the packs, I realized that the tent was left back home in a useless pile in the living room and we had been packing the rainfly instead.  A quick boy scout modification with some local branches as stakes and we were good to go.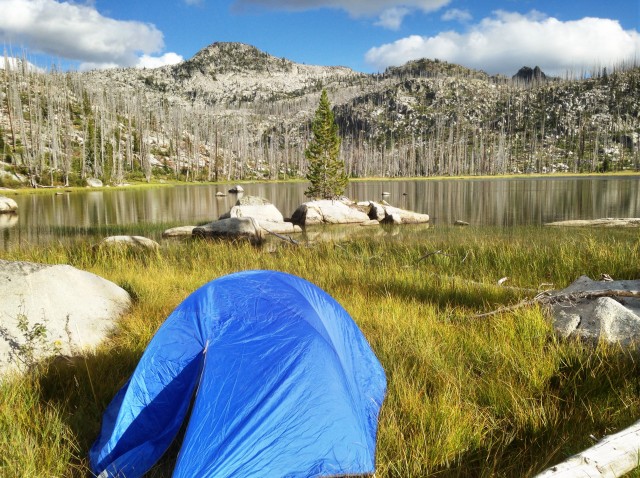 After an attempted stint at fly fishing and a great dehydrated dinner from Mary Janes Farm (http://www.maryjanesfarm.org), we watched the sun set and retreated to our down beds to fight off a low of around 20 degrees or so that night.  Awakening with a glaze of ice on the bags, but still cozy, we were ready for the journey back.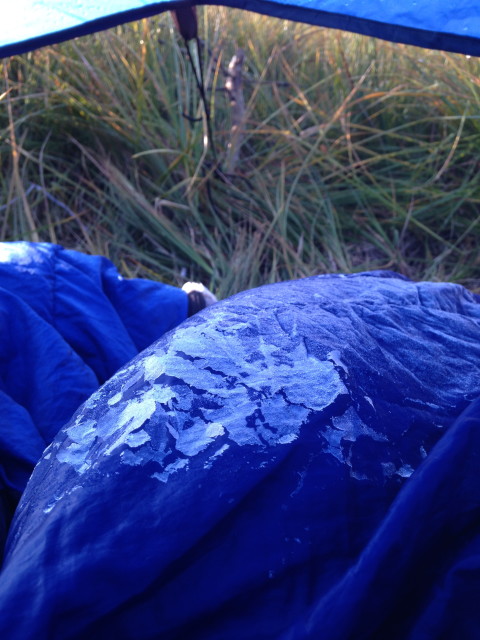 The return trip was much easier as we were prepared for what was in front of us.  We finished with a gradual downhill to the car and even after the challenges we experienced, I got a high five and a promise from my wife to return (this time to a more manageable trail) back on bike again!