by
Their Only Portrait
HOW MANY PHOTOS DO YOU HAVE OF YOUR FAMILY AND YOURSELF?
HUNDREDS? THOUSANDS? MORE THAN YOU CAN COUNT?
WHAT IF YOU HAD NONE???
During my travels, I've found this is an unfortunate reality for thousands in South America and as a photographer I thought I could make a difference… one photo at a time.
I'm starting with Argentina and I'm planning to ride a new country every other year, making Family Portraits for those who've none.
By September I'll start bikepacking 4000 miles (6000 km) along the Cordillera de los Andes, from La Quiaca to Ushuaia (through Ruta 40 and beyond).
I'll be making & printing portraits for the local people I meet along the road and I'm also collaborating with Fundacion Ruta 40 (a local NGO) to visit the most remote rural schools they support to make (& print) their student's portraits. Carrying a small portable photography studio will let me print their ONE photo on the spot.
Due to the recent volcano activity at Patagonia, I'm putting together the best bikepacking gear to cycle BR-319, one of the best preserved areas of the Brazilian Amazon (for my 2nd warm up trip).
http://www.dangerousroads.org/south-america/brazil/2067-br-319.html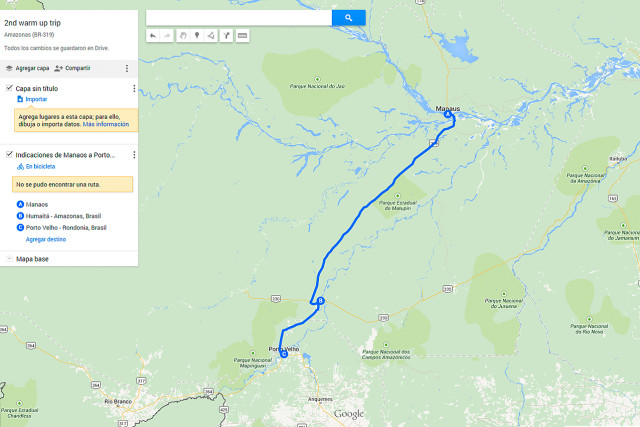 I just returned from a short warm up trip through Northern Argentina (I'll divide this trip in 3 shorter trips for their report).
I thought it was true when people say "It's not about the bike" and I did this first trip with the gear I already owned, which unfortunately was an old dirt jumper with 26×2.40 tires & DIY bikepacking's bags. It's true you don't need a fancy bike to cycle the world, but my bike geometry was much more important than I thought and it was REALLY uncomfortable to ride on pavement for several hours.
Unfortunately altitude (everything above 10000 feet/3000m) and strong winds were worse than expected and I ended up riding only 250+ miles (60 trail & 25 singletrack)… but still was a very good way to put myself and some gear to the test!
I'm planning to amend this mistake by putting together the best bikepacking gear I could get for my 2nd warm up trip through the Amazon jungle, if you have any tip/suggestion please get in touch!
Tilcara-Abra de Punta Corral-Tumbaya-Tilcara (50 miles, 50% singletrack).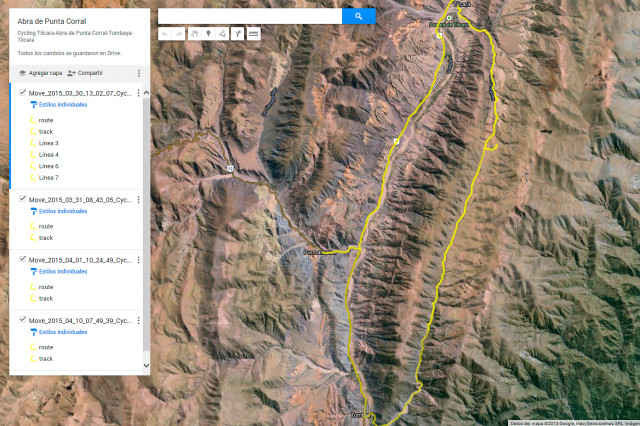 I arrived to Tilcara at 8200 feet (2500m) and the following morning I'd the brilliant idea of joining Abra de Punta Corral Pilgrimage. Every year, thousands of local people trek to a little chapel at 13000+ feet (4.000 m) to give their respects to Virgen del Abra de Punta Corral, followed by Sikuri bands (more than 80) playing music all the way up & down the Pilgrimage . This brilliant plan ended up with pushing a loaded bike uphill for 52800+ feet (16km) during 8 straight hours till I reached the little church (where I spent 2 nights with the locals). Even if I's properly acclimatized to altitude, it would had been impossible to ride the way up, due to the high amount of people walking through a narrow trail during  this time of the year.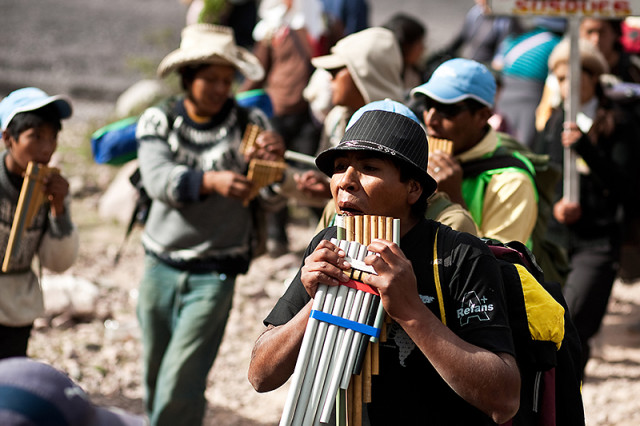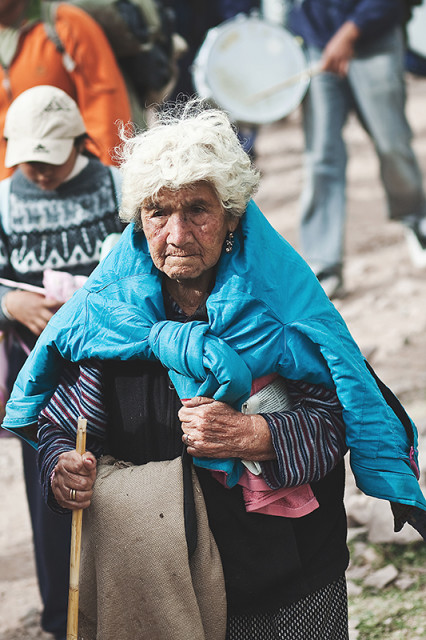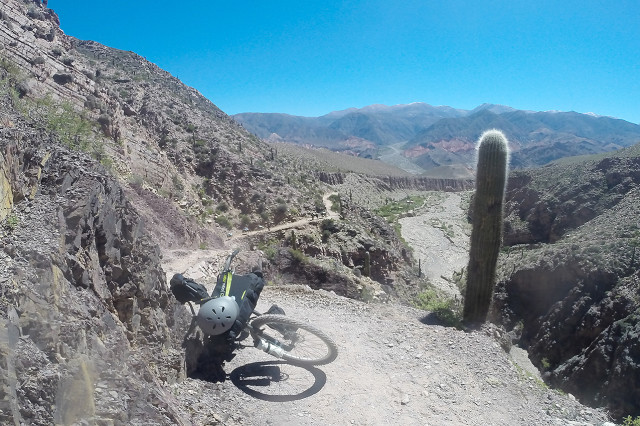 The descent was also made through the same narrow trail, so I decided to get down through the opposite direction (Tumbaya) a 13 miles (22km) very fun descent on loose trail going from 13000+ feet (4000m) to 8200 feet (2500m). If you're an experience rider I recommend you to do this route in the opposite direction; starting at Tumbaya is going to be a 4 miles (7km) longer climb, but it's not as steep as Tilcara and you should be able to ride it all the way up… and the 9 miles (15km) descent through Tilcara should be amazing is you've a good steed (and you are a skilled cyclist)!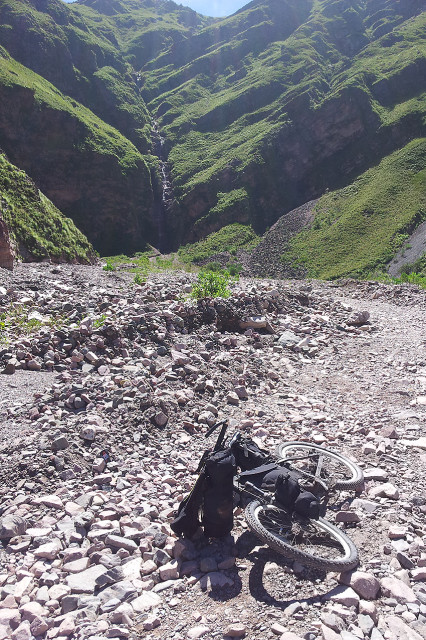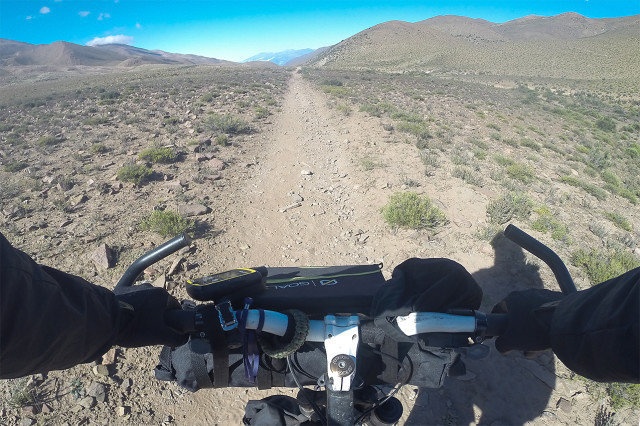 Tilcara-Purmamarca-Salinas Grandes-Purmamarca-Tilcara (120 miles, 100%pavement).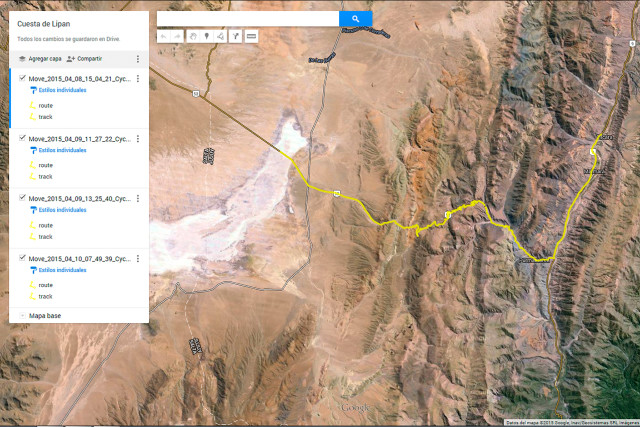 La Cienaga is a small village 10km away from Purmamarca and Escuela Nº53 Dr. Marcelino Vargas' location, a small rural school with 8 students (who walk up to 12 miles a day to go to class) that I visited to collaborate with Fundacion Ruta 40 (a local NGO contributing in the comprehensive development of rural schools) making photos of the kids, classroom, & school.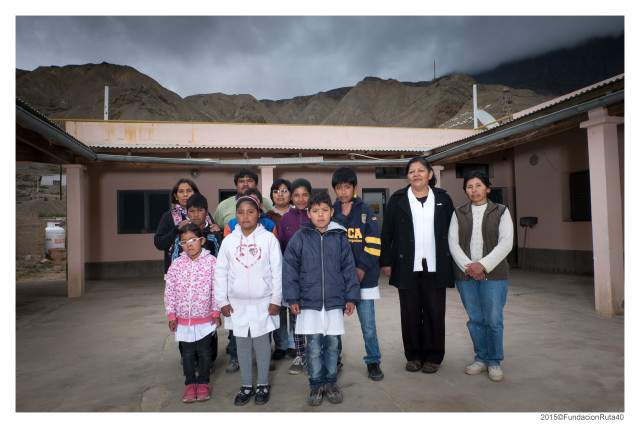 After La Ciega you reach Cuesta de Lipan, a 112500 feet (34.3km)ascent that goes from 7837 to 13681 feet (2389 to 4170m) before reaching Salinas Grandes (salt flats).  It was definitively the hardest time I ever had in the saddle, but the twisting descent on tarmac was AMAZING even with an fully loaded old dirt jumper with 2.4 tires (it might be one of the best roads for 2 wheels in the world!)… and it was the very first time I ever wished for a lightweight road bike 😉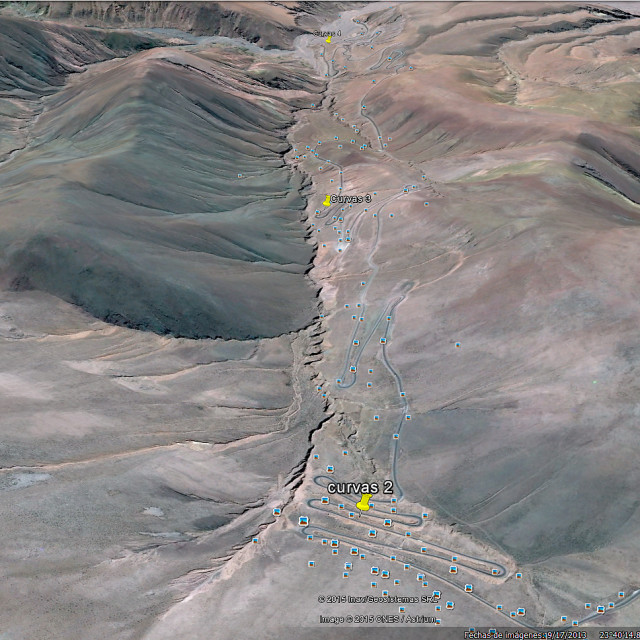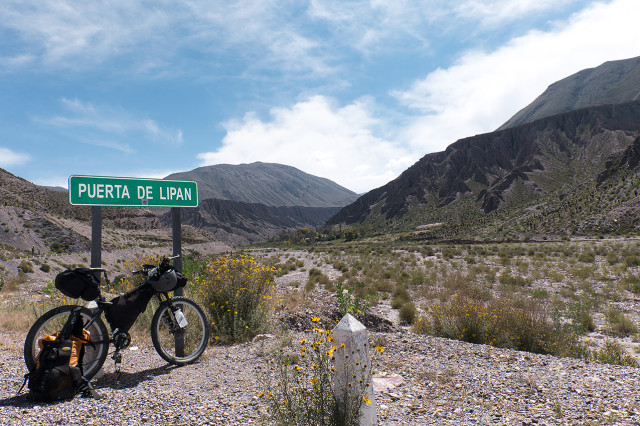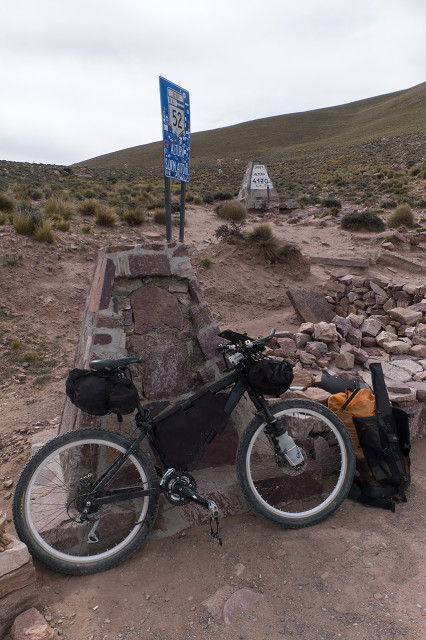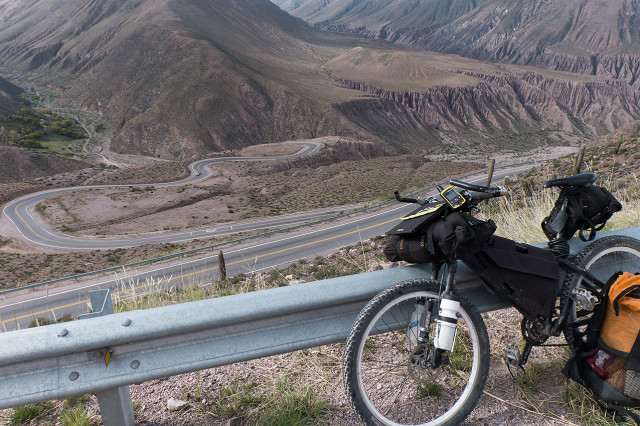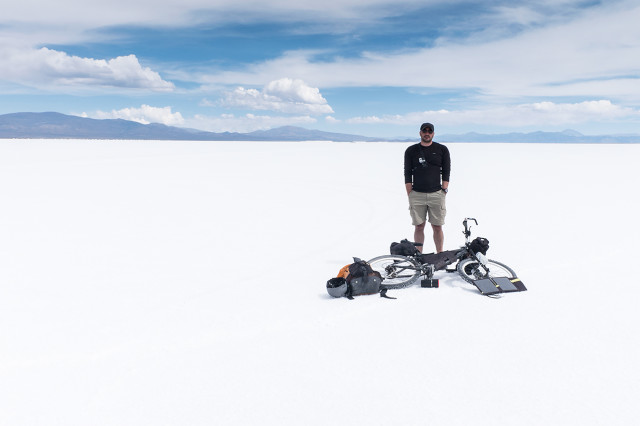 . Tilcara-Humahuaca-Hornocal-Humahuaca-Tilcara (90 miles, 40% trail).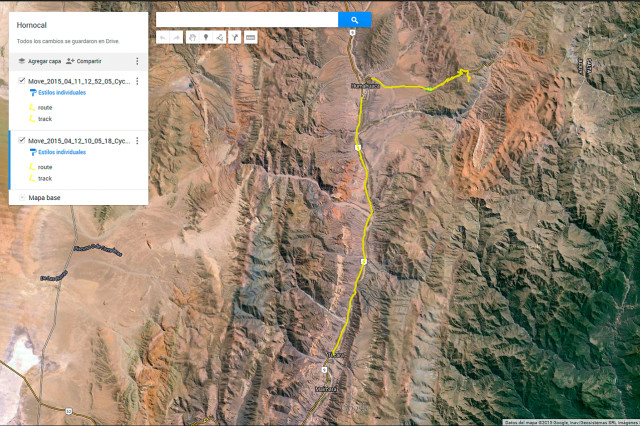 I was camping at Tilcara and I had to ride 27 extra miles (45km) uphill on tarmac to reach Humahuaca. Two blocks from the main street you'll find a gravel road that later turns to trail and will take you to Serrania del Hornocal or the 14 colors mountain after a 82000 feet (25km) climb.  The ascent going from 8200+ feet ( 2500m) to 14000+ feet (4317m) is almost as bad as Cuesta de Lipan, but the views at the summit (and during the trail) are amazing… almost as good as the descent 🙂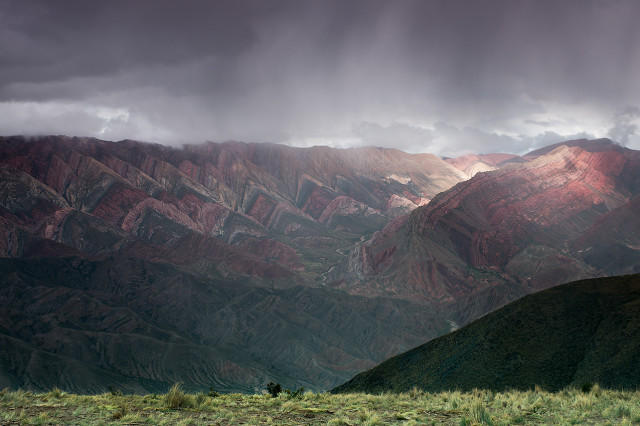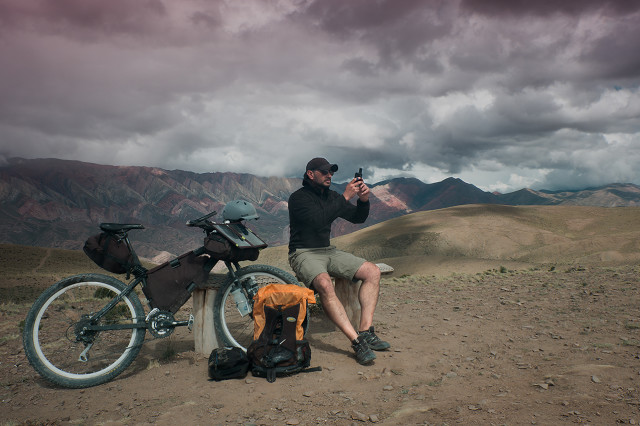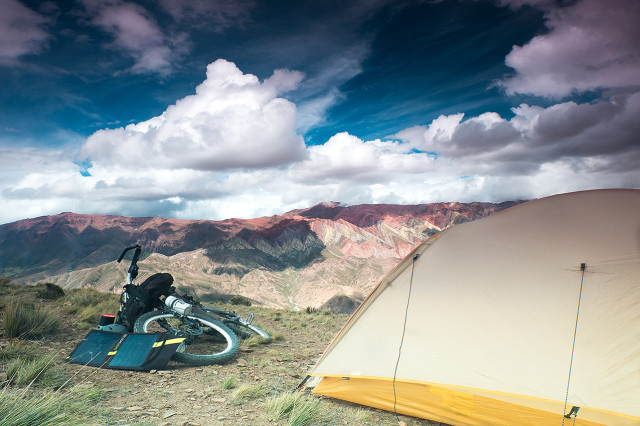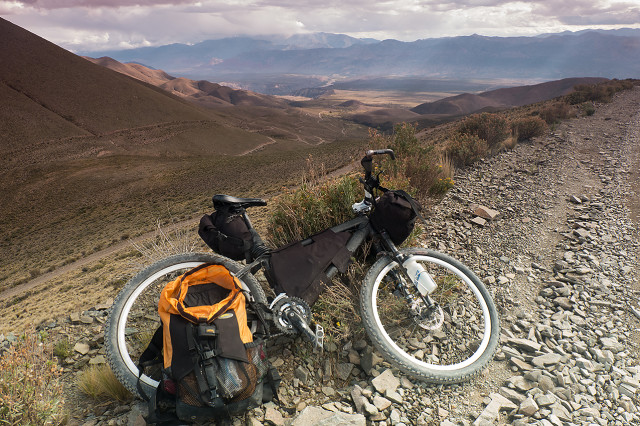 After the trip to the salt flats (and before Hornocal), I was supposed to cycle to Iruya (a small Kolla village in the middle of the mountains), but I was completely exhausted after the tough climb and I ended up leaving the bicycle at Tilcara and taking a bus (needs 4 hours to reach there).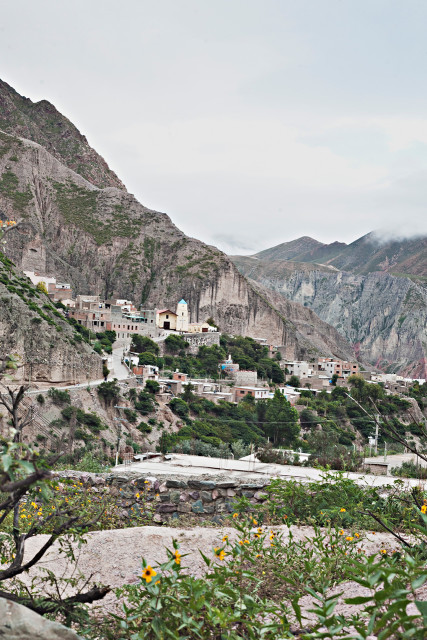 I did some trekking and I also made a wedding portrait (trash the dress) up in the mountains for a sweet couple I met! I'm not allowed to post their photos (yet) but here is a BTS shot 🙂
I hope you liked my little 1st warm up trip… I promise the next one through the Amazon jungle will be MUCH better 🙂
PLEASE HELP ME TO SPREAD THE WORD ABOUT MY LITTLE PERSONAL PROJECT, REMEMBER YOUR SUPPORT WILL PUT A PRINT ON SOMEONE'S HAND!!!
Saludos,
Federico Cabrera
info@theironlyportrait.com
www.theironlyportrait.com
May 17th, 2015 in
Mexico and South America
,
Trip Reports
| tags:
Abra de Punta Corral
,
bikepacking
,
Cuesta de Lipan
,
Jujuy
,
Northern Argentina
,
portraits
,
prints
,
Salinas Grandes
,
Serrania del Hornocal
,
South America
,
Their Only Portrait