by
zafash
Hello All~
I stumbled upon this site about a month ago. Great stuff! I got into mountain biking 6 months ago and pretty much got hooked. The concept of bikepacking took it up a couple of notches , so I decided to dive in. Here is a review of my first attempt at it.
I figured for the first trip I should stay close to home with an easy bail-out option just in case. I work in Santa Monica, so the obvious option was somewhere in the Santa Monica Mountains. Since dispersed camping is not allowed, I had to plan my trip around the camp sites. My plan was to leave Santa Monica on Friday afternoon around 4:00pm, ride the streets up through Brentwood into Sullivan Canyon, link some single trail up to dirt Mulholland, then take fire road #30 through the hub and Eagle rock to the Backbone trailhead (Musch Trail), hike the bike 1.5 mile down to Musch Camp in Topanga State Park ( hike-in, primitive campsite ) since there is a "no bike" sign in this part of the Backbone Trail.
My bike, Cannondale  F600 hardtail. Sleeping bag and shelter strapped on to the handle bar, handle bar bag with a map case, GPS,  sleeping pad strapped onto the top tube, tools and patch kit in the small saddle bag, all the rest in the Talon 22.
3 liter hydration pack + the two bottles on the bike. Food for 2 days.
Getting ready to leave Santa Monica. Friday afternoon.
Westridge up to Sullivan Canyon right of Sunset Blvd. Some of the cars fly by on the  blind corners. It's a mile up this rode on a steep incline that is a bit scary; once you get up to the flat part it is much more manageable.
Sullivan Canyon

Top of Sullivan Canyon (Farmers Road). The intersection with Sullivan Fire Road.  I rode up here without hiking the bike, the last section is steep and somewhat technical. I was expecting to hike my bike for some parts of it, given the added weight.
Riding some nice single trail.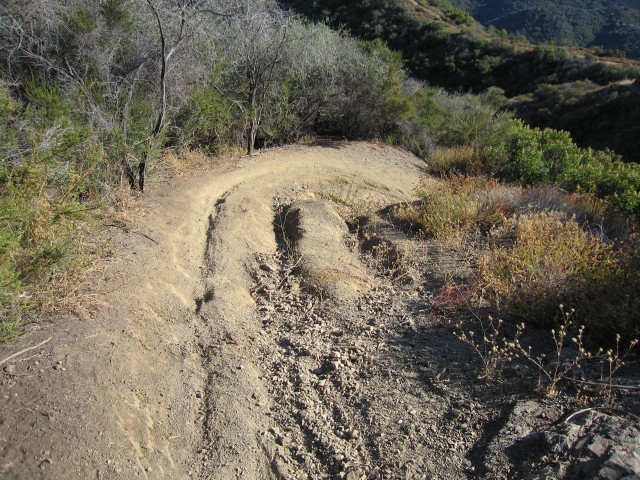 Some sketchy sections.
How did this car get here?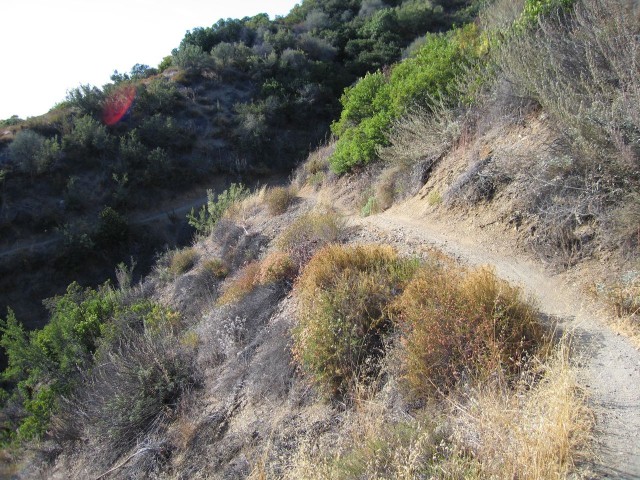 Getting to dirt Mulholland.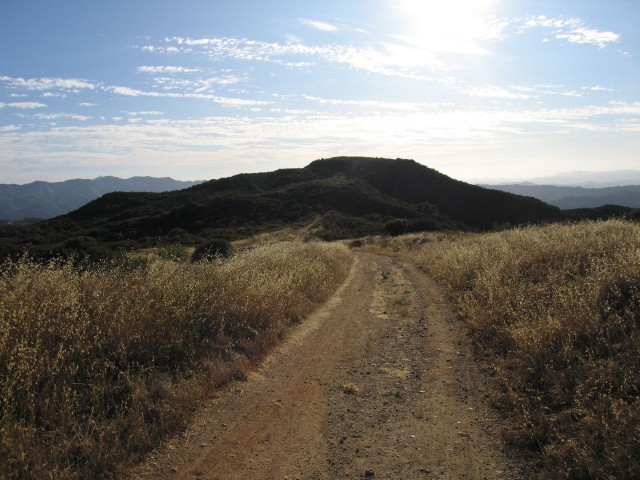 On the way to Eagle rock.
A patch of the Pacific.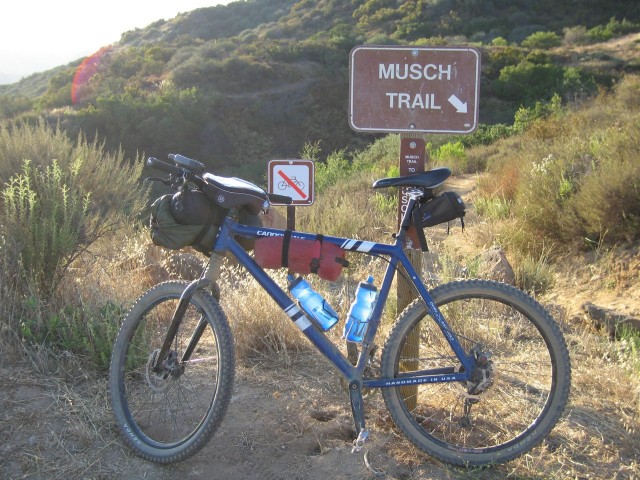 Hiked the bike down this "no bike" section of the Backbone Trail. As I was going down I kept wondering if any of the hard-core  hikers would be offended  by seeing a bike on the trail even if it's not ridden. I did receive some stern looks.
Musch camp, Topanga State Park.  25 Miles / 2,200 foot gain.  Riding with a loaded bike + a heavy backpack  is not as easy. I can feel the difference mainly in the heavy backpack. I need some frame packs!
7:00AM Saturday morning getting an early start. It's going to be a hot day. My plan is to take Topanga Canyon Blvd. (Hwy 27 ) to Old Topanga Road, then head up on Red Rock Canyon (dirt) to Stunt Road. This way I can get to Mulholland and ride it to Malibu State Park. This is the only way I can ride through using some dirt.
Going through Topanga Village on the way to Red Rock Canyon. Feels like 1967.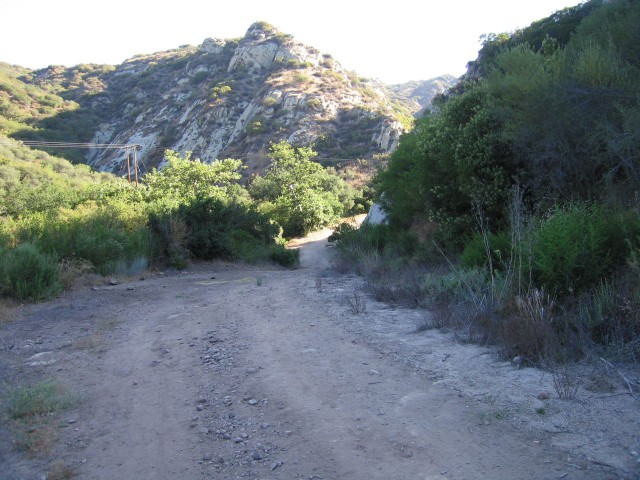 Red Rock Canyon.
Malibu State Park 9:00AM.  It's getting really hot: 95-100 degrees F. I bet all the mountain bikers unloading their bikes are not going to ride far today.
Getting all the water I can carry with me is essential since there is no water until my destination. I planned to take Crags Road ride up Bulldog to Castro Road and find the section of the Backbone Trail right off Corral Canyon Road. Then I rode the Backbone in three sections: Corral Canyon to Latigo Canyon; Latigo to Kanan, and Kanan to Encinal. From Encinal Canyon I climbed on asphalt for about 2.5 miles to Decker (hwy 23) which took me down to PCH.  2 miles north is Leo Carillo state park, where I spent the night.
CORBA inner–city and other at-risk kids program at Malibu.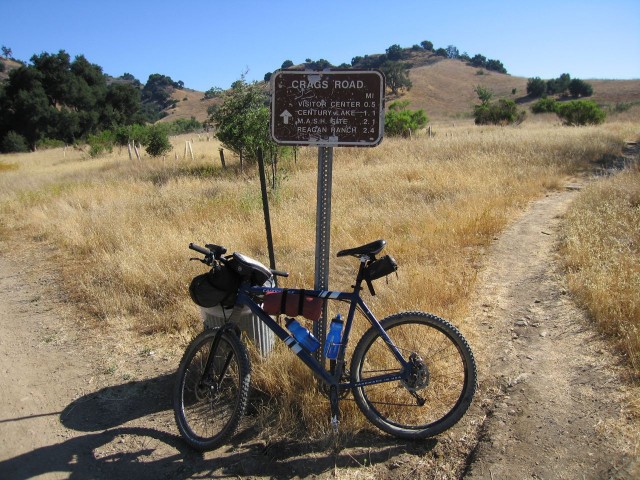 Trailhead at Crags Road.
Single trail section.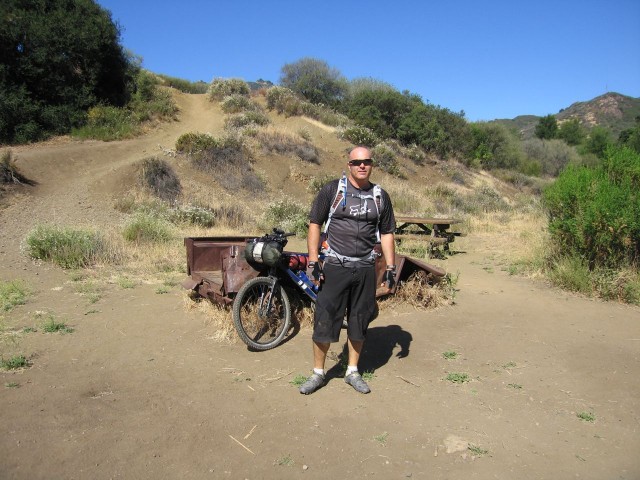 Visiting the M.A.S.H. site. There is a  field museum right at the original location.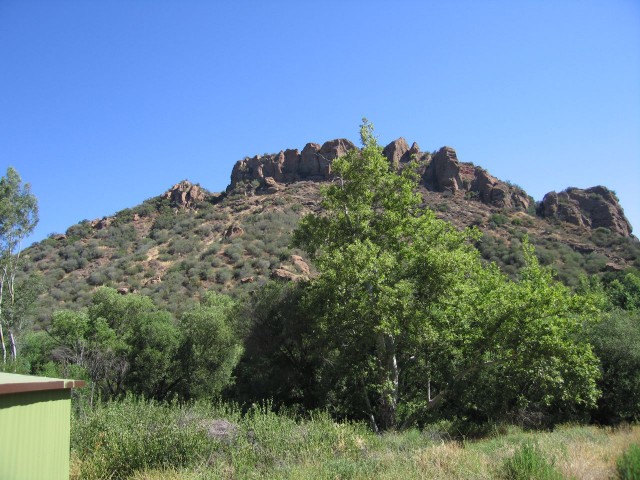 Looks Familiar?  M*A*S*H opening credits.
Up Bulldog Lateral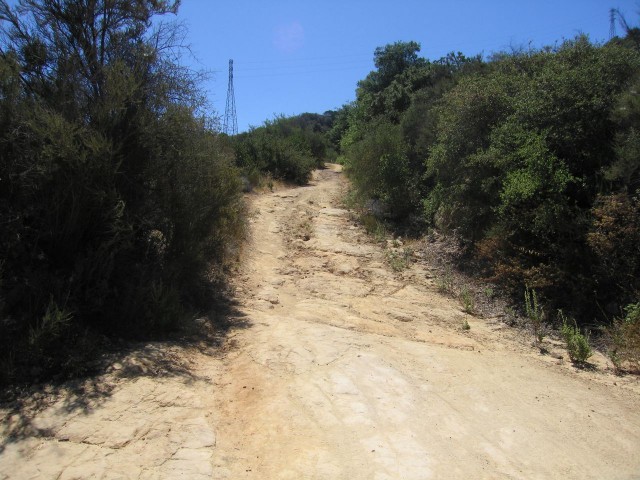 It's a climb! Extremely hot and I have to hike my bike for long sections.
Here is where I came from.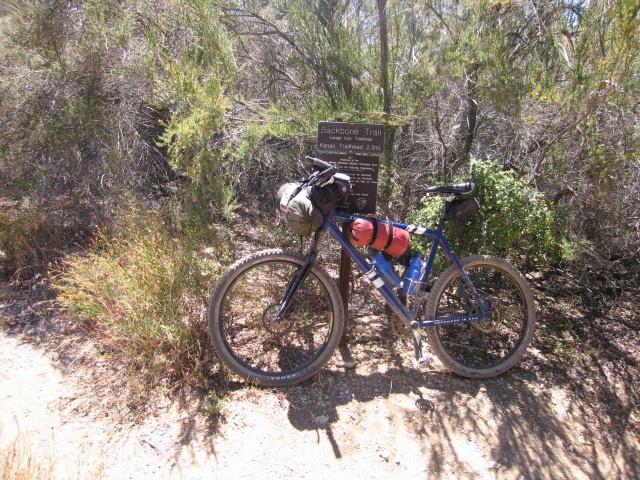 Made it to the Backbone.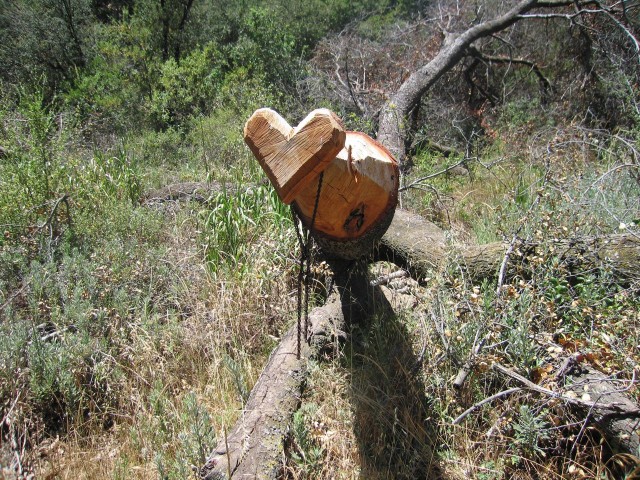 Chain with love, on the Backbone Trail
At the Backbone and Kanan. Met some nice folks on the way, the only brave ones who ventured out in the heat.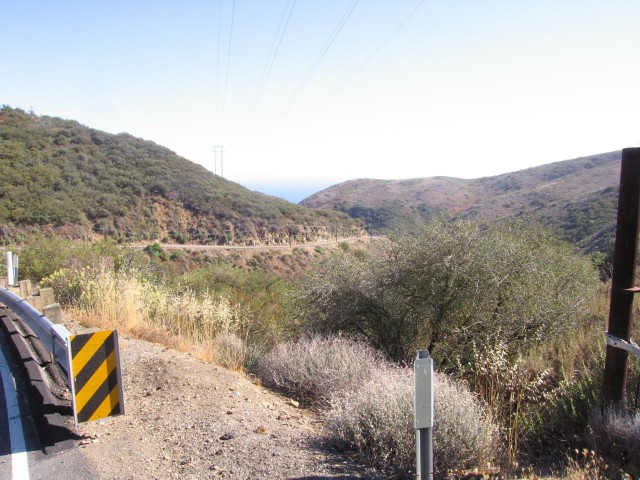 Getting ready to jump in.
The Pacific in full view.
Leo Carillo, end of day two.  40 miles, 6000ft. gain.
Conclusions:
1. Need to shave off some weight and arrange for a better packing system. I have put an order in with Jeff at CDW , should be set pretty soon.
2. Dealing with the heat was the worst of it. I came close to my water limit on the second day. I definitely need to pack water treatment of some sort. I came across at least one live creek on the way. Replenishing my water supply at that point, could have eased my mind quite a bit.
3. I packed way too much food.
4. I need to figure out how to prevent/treat skin rashes.
5. Is it better to have clipless hiking-style shoes for the hike-a-bike section? I wonder…
6. Is having so much fun legal in California?
Third day. I have to ride 2 miles south of Leo Carillo to rendezvous with my truck for a day in the ocean. The idea of getting in the saddle is not very tempting.
Kitty and Helen came to  meet me with my truck and my kitesurfing gear.
A nice way of cooling down and reflecting, as long as my backside is free floating.
Thank you all for the inspiration.