Trip Reports » 2.5 days on the Antelope Peak Challenge
by
goyo
It was time for a bikepacking trip, so I loaded up the Siren with desert winter gear and 4 days of food, and drove to Willow Springs Road. Left the car at the highway at 9 am and rode up the pavement to the AZ trail on Tiger Mine Rd.  The original plan was to combine the Antelope Peak Challenge and the Gila River Ramble, but plans change…
The start of the trail.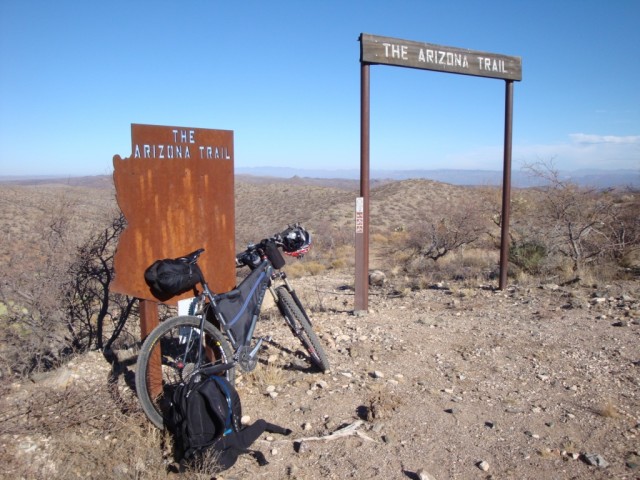 The first day I made it 5 miles north of Freeman Road, and finally camped next to the trail at 7 pm, total 48 miles. It was a long and rugged day, and the bike felt heavy, but the riding is beautiful here, and the atmosphere  just sparkles. The night was cold and windy, and my 36 degree down bag plus Aurora bivy were just barely adequate. Maybe if I ate more calories… Those freeze dried meals for two are only 500 calories total, and how many did I burn that first day? A lot more than that!
The gasline road goes on and on…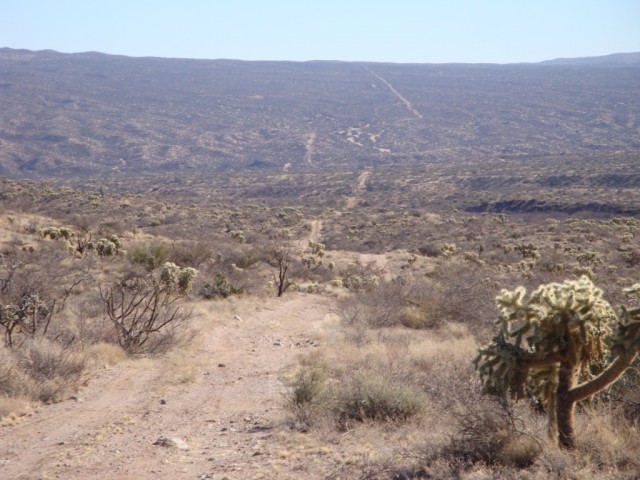 Antelope Peak from the South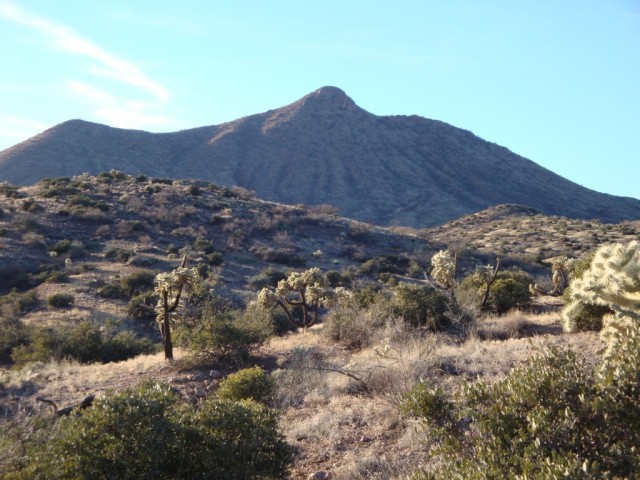 Ride all day through beautiful desert like this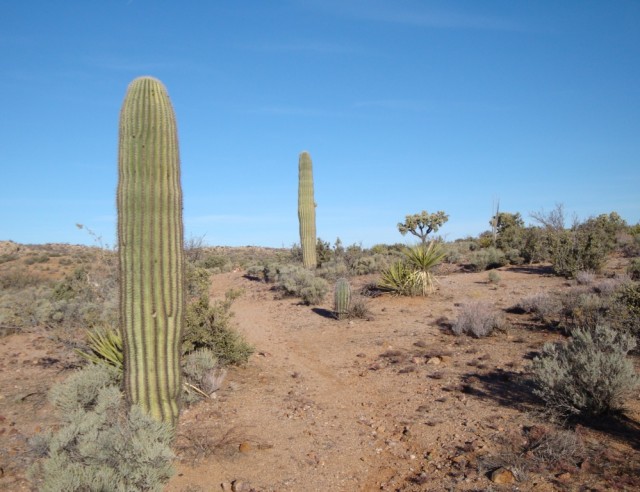 Beware the cholla minefields. They look cute and fuzzy, but don't mess with these suckers. At times you have to carry your bike down the trail, or else your tires will throw prickly balls into your legs.  My front tire lost air every night, but no flats! Flat protection is a must.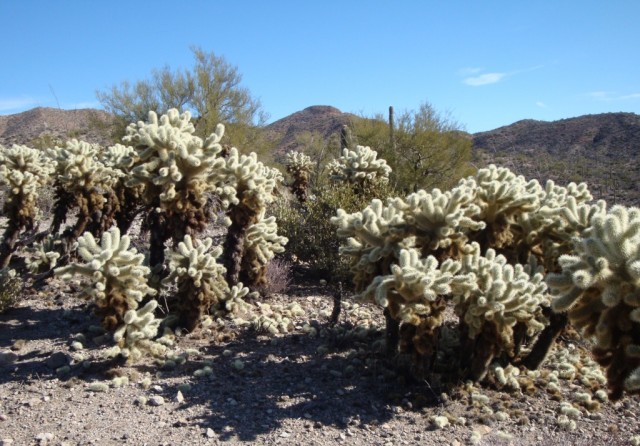 The second day rocked, that Boulders section is really fun.  I filtered a liter of water (it was barely dripping) at Bathtub Spring for emergency and continued.  It looks green, but tasted ok.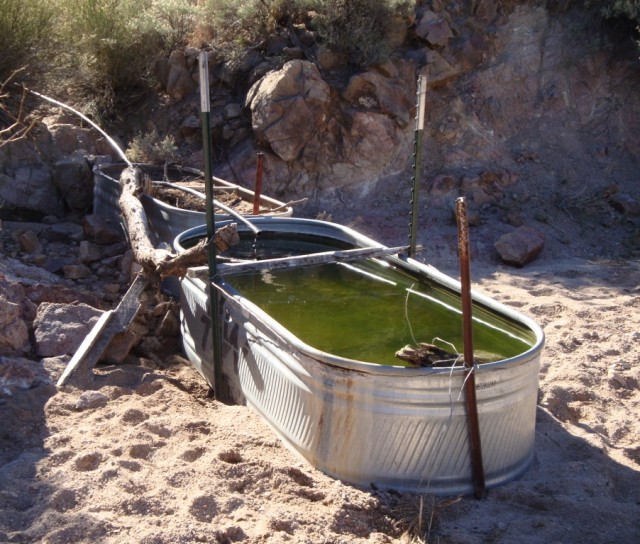 Then you get to Ripsey, oh boy! It really is spectacular, and rivals the best I've ridden (401, Hermosa Creek, Rainbow Trail, etc.) and is likely a lot more fun without all the extra weight. First the climb…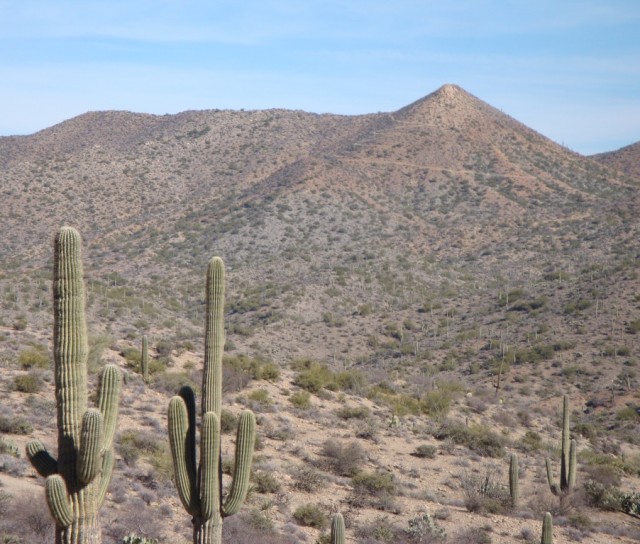 Then the whopping moto-fun 2000 foot descent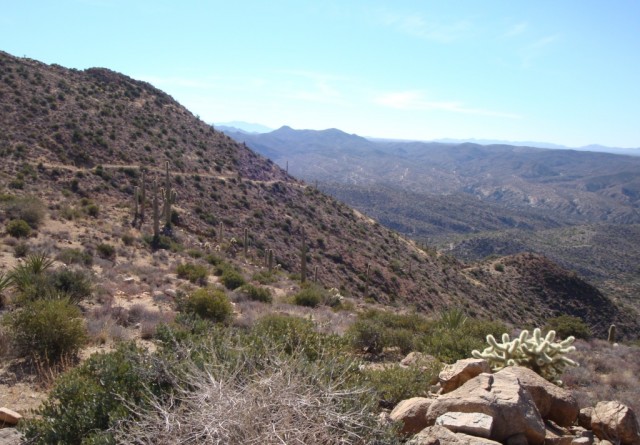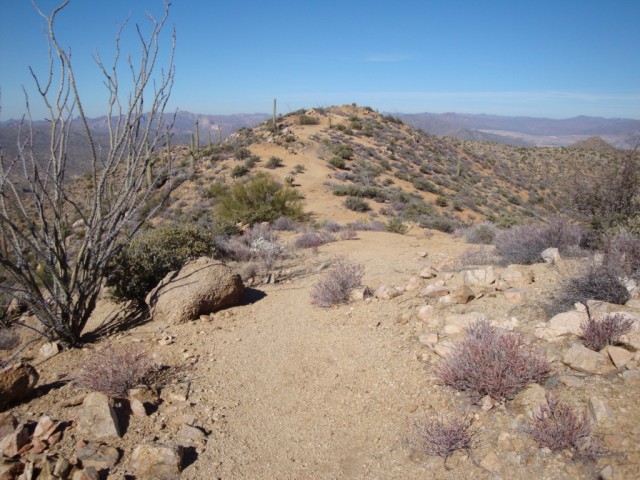 By the time I got to Kelvin, it was 1 pm, so I thought better of crossing the Gila, and just headed back on the Kelvin highway, let the climbing begin. The sun was beaming down and it felt like 80 degrees, so I slathered on the sunblock and rode on uphill.
Made it to Freeman road by 7 or 8 pm, total 44 miles. I'm really starting to enjoy riding in the dark. Towards the end I could feel the bonk coming on, so I had to keep stuffing chocolate in my mouth. I ran out of water a few miles from the cache.  I had an emergency liter I filtered from a dirty cattle tank during the big climb, but I really didn't want to drink it, so I pushed on. 7 miles to go, then 3.5, then 1.5, finally the cache! Thanks guys, I owe you a couple of gallons, that is really a great service. Water is the big problem out here, and dictates your plans the whole way, where you sleep, how much weight you carry, etc. Even in winter you can go through 1.5 gallons a day.
That night was cold with no wind. The coyotes sang me to sleep under the stars.  Early morning  my toes got chilly until the sun rose high enough to warm things up a little.
Minimalist bike camping in the desert is it's own special experience.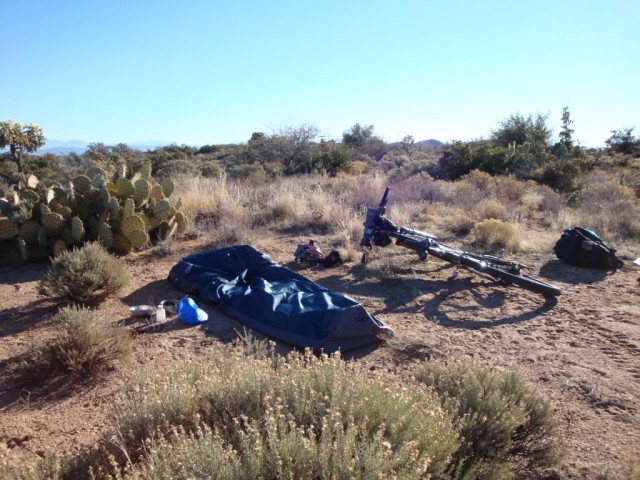 Two pots of coffee AND hot oatmeal and I was ready to get back. I skipped the Painterboy singletrack;  I rode that section in November and the catclaw is pretty bad there, and I was having too much fun rocking the dirt road at speeds close to 40 mph with a tailwind, almost all downhill.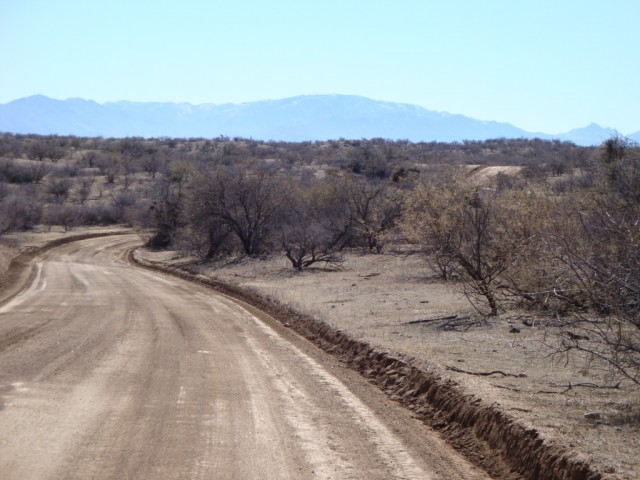 Another great trip!
116 miles total
17 hours 45 minutes pedaling time (I don't think I could do it all in one day, even without all the gear)
14,603 ft of climbing