Europe, Routes » The Bike Odyssey route in Greece
by
gypsybytrade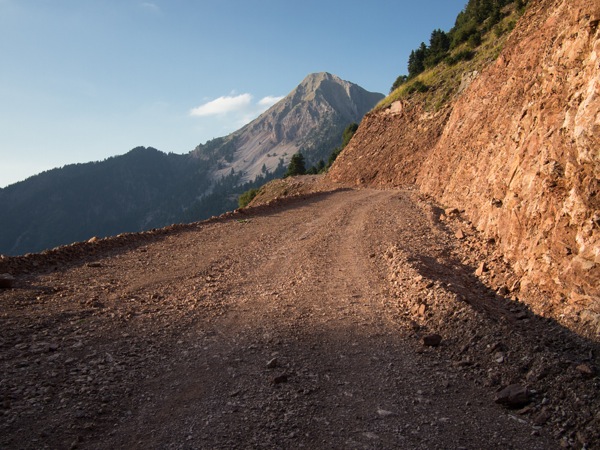 The Bike Odyssey is a multi-day stage race held in June, including one prologue stage in Laista and seven transit stages which begin and end in different villages.  The total distance of the route is about 400mi (600km) with lots of climbing.  The route connects about 80% dirt roads and 20% pavement and is entirely rideable.  Greek dirt roads are most commonly is good condition, with little to no traffic.  A few sections are modestly technical, typically due to steep grades, loose rocks, and erosion.  The mountainous paved roads all feature extremely low traffic.  Water is available everywhere on the route, thanks to a well-developed network of public springs.  Every town center has a spring, and hundreds are available along the route.  A few springs will surprise you at the top of an extended climb.  Many villages no longer have stores, although it may be possible to purchase some bread or cheese, or chips and a candy bar from the cafes that remain.  Best to stock up on the essentials in the few larger towns, and augment supplies along the way as needed.  Over the eight or nine day period we sourced food in Konitsa (a day's ride from Laista), Metsovo (just off route, via a descent), Karpenissi (on the newer race route, a small detour on the old route), and Gravia (on route).
The version of the route which we followed deviates from the route scheduled for 2015.  I suspect our GPS track dates from an earlier version of the race.  The first four days are mostly unchanged.  We rode the route in October 2014.  A 200m section of road was washed out in the Pindos National Park, and was unrideable, but was easy to hike.  Also, our GPS track indicated a few wrong turns which were easy to spot, as mostly no road or trail existed in the direction they suggested.  In such cases, stay on the main road.  At many junctions along the route, Bike Odyssey placards will be present along with red painted arrows and/or red and white plastic marking tape.  Base maps from openmtbmap.org are recommended for Greece and most of Europe.
GPS tracks are available from this archived page on the Bike Odyssey website, in Greek.  KML and GPX files are available at the top of the page if you click through to each stage.
A full ride report of our ride on the Greek Bike Odyssey route can be found on my blog.  I have also compiled a list of European Bikepacking Routes.  Please contact me if you have any routes to add.