Routes » Grand Enchantment Trail
by
ScottM
The Grand Enchantment Trail is the brainchild of Simblissity's owner and operator, Brett Tucker. It's hard to imagine a more passionate and motivated creator of a long distance trail. A powerful army of one, Brett has created the Southwest's premier long distance route.
The GET runs some 700 miles from Phoenix, AZ to Albuquerque, NM. It covers some of the more remote and beautiful terrain in the United States.
Though not an official, signed trail, the GET has an excellent set of maps available from Simblissity. Informal GET flagging also shows the way in tricky intersections.
Without a doubt, this trail is for the adventurous, experienced bikepacker. Exploration of the route continues in 2008 and into 2009. Wilderness detours and in general the concept of a bike friendly GET route are still a work in progress.
GPS Data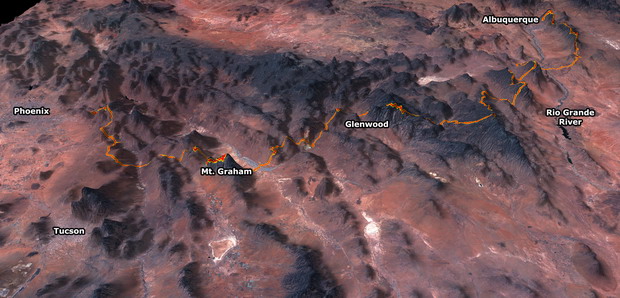 3D image from TopoFusion software – click to enlarge
GET bike route, version 5
The GET "bike" route is a definite work-in-progress, under constant refinement.
GET – Safford to Alma Figure 8.gpx

GET – Alma Magdalena.gpx explorations
Also see GET on Google Earth for a KML file overview of the route. Note this file is not suitable for navigation purposes!
Trip Reports
Solo GET recon by Scott Morris
High stakes bicycle canyoneering on the GET
Looping the GET on roads
Charlie Moore and the Wildbunch
Black hills hike-a-bike
Alma to Magdalena Chapter 1 – Gold Dust and Phantom Trails
Alma to Magdalena Chapter 2 – Wahoo on the CDT
Links
Official Site: http://www.simblissity.net/grand_enchantment.shtml
Wikipedia entry on the GET