Shelters » Adventure Medical "Emergency" Bivy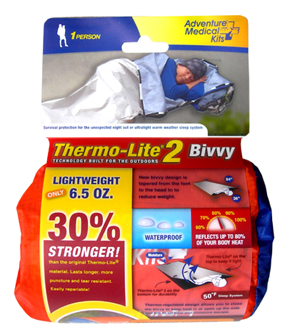 WEIGHT: 6.9 oz
SIZE: 36″ x 84″
* Reflects up to 80% of radiated body heat
* Thermo-Lite non-woven fabric is waterproof and windproof.
* Ultralight, warm weather sleep system to 50F.
* Ultralight stuff sack allows you to store the bivvy before or after use.
Product Page: http://www.adventuremedicalkits.com/
Please rate this product (no login required):






(42 votes, average: 3.29 out of 5)


Loading ...