Rain Gear » Showers Pass Elite 2.0 Jacket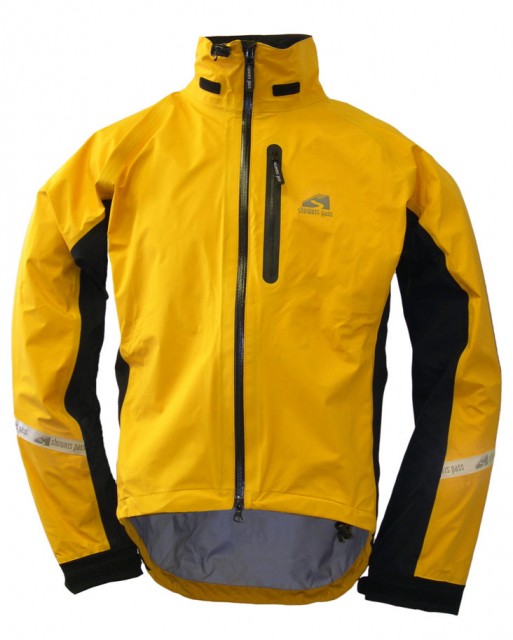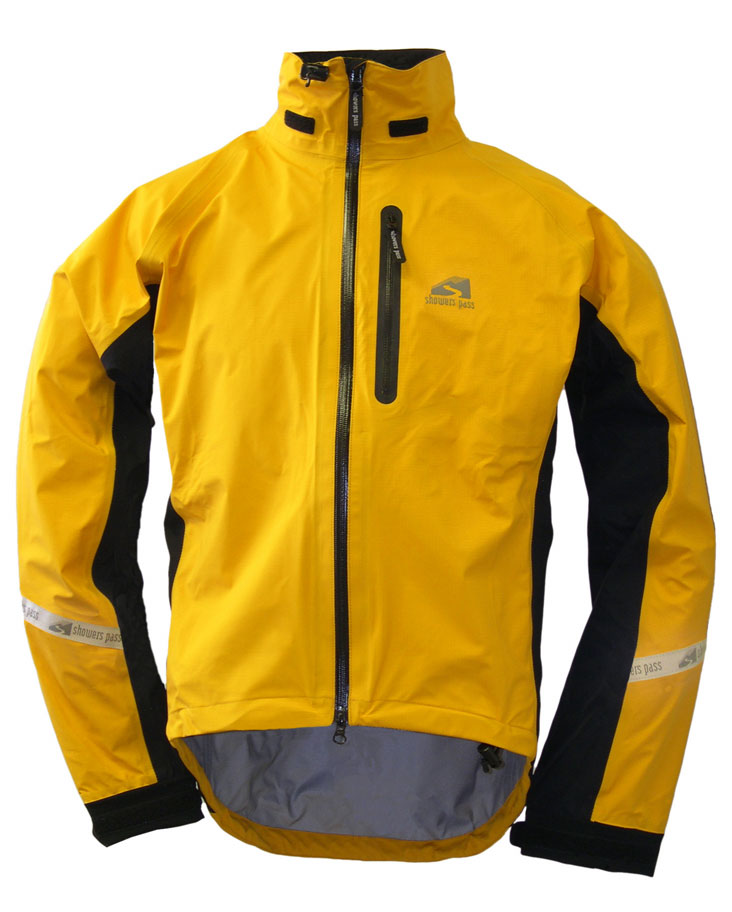 The Elite 2.0 jacket is the ultimate rain jacket that ALSO works well in cool dry weather.
The only cycling specific jacket recently honored in OUTSIDE Magazine's "Gear of the Year Awards" Annual Buyers Guide.
The ELITE 2.0 has become the gold(enrod) standard of technical cycling shells and has been tag-named by the country's top randoneers, long distance cyclist and commuters as the "Pass" jacket….and tell us they don't leave home without it! We carefully engineered the Elite 2.0 as a wet-weather cyclist's best friend. The Elite also works well for Nordic skiing, running, and other outdoor pursuits in cool and/or wet weather. Most people like the Elite 2.0 in weather below 55 degrees in dry weather or 65 degrees if its raining.
FABRIC
eVent™ fabric is a highly breathable waterproof fabric, and its also very expensive. In this case you get what you pay for – eVent is very durable and works super-well for high energy outdoor activity.
Waterproof: The industry standard for waterproof testing is the water column test. This measurement is accomplished by measuring the milimeters of water that can be held by the fabric without leaking. The minimum requirement is 1000mm for a fabric to be considered waterproof.
Breathable: MVTR (Moisture Vapor Transfer Rate) is measured in a chamber, divided vertically by the fabric being tested. A dry atmosphere is in one chamber, and a vapor-saturated atmosphere is in the other. A 24-hour test is run to see how much moisture passes through the fabric from the saturated chamber to the dry chamber.
The eVent™ fabric used in our Elite jacket has a waterproof rating of 30,000 mm and a MVTR of 22,000. The US Military has done extensive testing on waterproof breathable fabric technology. According to Dr. Phil Gibbons, the eVent MVTR rating is about 20% higher than Entrant GII XT from Toray. It is about 80% higher than Nextec from Patagonia, and 100% (or more) higher than Gore-tex XCR, Dermizax, Memebrain from Marmot, Sympatex, Conduit from Mountain Hardware, Omnitec Titanium from Columbia Sportswear, Schoeller WB-400, and Northface Hydroseal. eVent makes the most breathable waterproof fabric on the market today, and only a few companies are licensed to use it. Showers Pass spent almost a year working with eVent to obtain a license to use their fabric – they want their logo on only the best gear!
Features
* weight varies proportionally with size: a large weighs approximately 13.5 ounces (380 grams)
* front Napoleon pocket on left breast with waterproof zipper and internal audio port.
* large back pocket welded to jacket (reduces bulk and weight)
* waterproof front zipper with two-way slider
* fully taped seams
* waterproof armpit zippers
* large, covered back mesh vent
* airflow regulating gussetted cuffs with velcro closures
* tall collar to keep rain off your neck
* elastic cinch-cords at collar and hem
* extensive 3M scotchlite reflective taping
* light loop (for attaching an LED flasher) on rear vent
* micro-fleece collar
* Velcro attachment points for (optional) compact hood
Product Website: http://showerspass.com/
Please rate this product: (no login required)






(41 votes, average: 3.51 out of 5)


Loading ...