Rain Gear » Páramo Vasco Jacket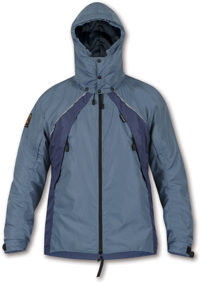 This multi-activity jacket has advanced ventilation features providing high performance in the widest range of activities. Climbing and cycle friendly, the Vasco offers intelligent design combined with a contemporary look.
Technical Information
* Less prone to abrasion or damage through reversed zips. Front zip provides 'two-phase' venting option.
* Fully adjustable, wired and roll-away/ detachable low profile hood with multi-option collar storage.
* Maximum freedom of movement and increased comfort in the shoulder and arm area provided by articulated shoulders and sleeves.
* Less flap and weight through reduced arm volume.
* Adjustable venting and temperature control, with no restriction to movement or comfort through our upper arm vents.
* Further temperature control and weather protection from our multi-adjust, low bulk cuff design which also allows sleeves to be rolled up for cooling.
* Excellent weather protection in all conditions from our 2" drip skirt and scooped tail.
* Single-handed hem drawcord pulls help to eliminate rucking when load carrying and to retain body warmth when required.
* Reflective piping front, back and sides.
* Single-handed 'on the move' cuff adjustment provided by the 'BiteTab' closure.
* Adjustable back venting.
* Two handwarming/storage chest pockets, zipped with hook and loop secure flaps.
* Additional internal mesh secure pocket.
Product website: http://www.paramo.co.uk/en-gb/garments/detail/index.php?pgc=NIKWAXANALOGYJACKETVASCOUNISEX
Please rate this product: (no login required)






(16 votes, average: 3.19 out of 5)


Loading ...