The Background
What's not to like about living with only  whats strapped to your back…or in this case your bike. For me bikepacking has evolved from backpacking.  Having been a avid rider of Mtb's for the better part of 18 years  and a  backpacker for not quite that long, it only made sense to combine the two. Now I have crammed my pack gear in kayaks, on horses backs, to the handle bars of dirt bikes…you name it, so why it took this long for me to come around to putting it on my mtb is beyond me. To say I'm hooked may be an understatement. My treks on the bike usually last from 1 to 5 nights, and cover from 50 to 70 miles per day. I try to choose routes that are 10% pavement, 80% double track (forest service rd) and 10% single track. I prefer to be in the woods so the pavement miles I log are usually from the house to the trail.
The Bike
Frame: Motobecane Phantom pro Ti w/Reba Rl fork
Drivtrain: X-9 w/xo gripshift
Extras: Thomson seat post, Stem and bars. Ergon g2 grips and Profile Design aero bars. Sigma rox6.0 computer.
The Bags
All my packing bags are Relevate design products, they pack well, are super tough, pretty dang water proof, and most importantly to me they secure well for rough and rocky technical single track.
Seat Bag: Pika….holds my tarp, Hammock, down jacket (in winter) with plenty of room to spare.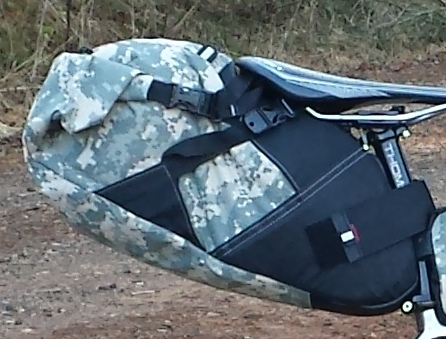 Cockpit: Jerrycan / Gas tank…these hady little rigs  hold tools, spare tubes, tire boot, mutitool, snacks, packlite towel, any small loose Items I may need to store.

Frame Bag: Tangle size large….Im a large dude, so I ride a 22.5 inch frame and still have just barely enough room for the size large. Its a great alternative to a full frame bag and it still allows me to carry water bottles, Bonus! Usually I keep my food items here and a water bladder if I choose not to wear it on my back. Its nice to have the heaviest of my items centered on my bike.  Also keep toilet paper/maps here for easy on the access.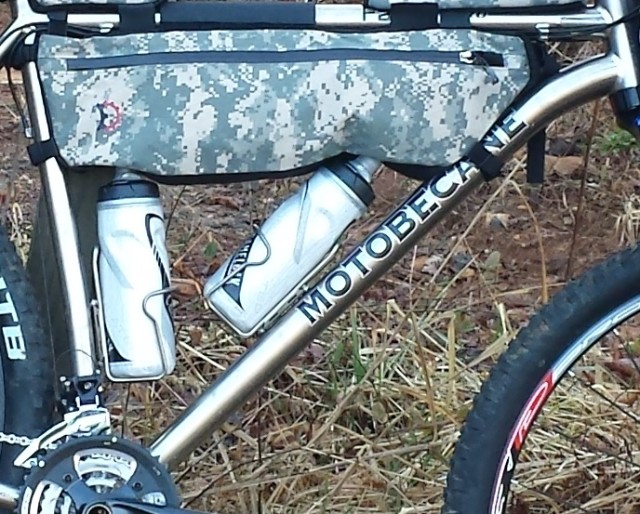 Handle bars: Harness with a 10L O/R dry bag and front pocket…the Harness firmly secures my dry bag to the handle bars and the dry bag conatins my sleeping insulation- Over and underquilts if I'm hammocking or Bivy and and overquilt if I'm on the ground. The front pocket I could do without, but its to handy not to take. Its secures to the harness and holds Items that I may take on and off during the day. (Typically for winter) gloves, xtra layers, wind shirt etc..it also has mesh pockets on each end that are handy for my headlamp/sunglasses and watever im taking for a wallet in the other.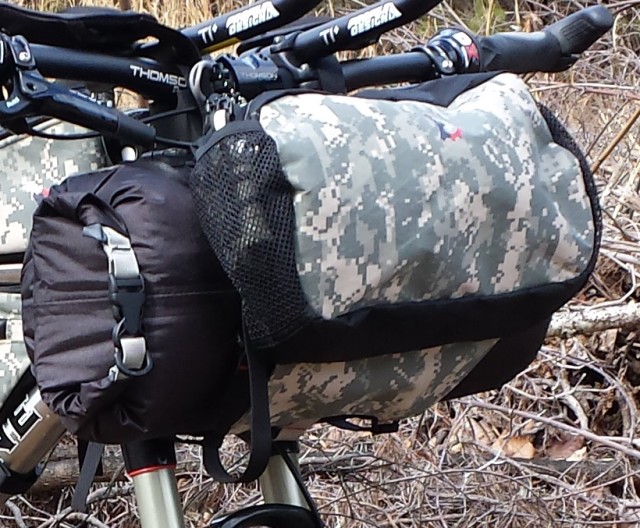 The Rest
Shelter/insulation:  (in the air) MaCcats standard tarp w/diy hammock.  Hammock Gear underquilt/ Golite overquilt. Cacoon hyperlite pillow.
(on the ground) same tarp w/tigoat omni raven bivy. overquilt. Gossamer Gear torsolite pad.
Stove: Fosters 2cup flat bottom pot, trifold titanium esbit stove.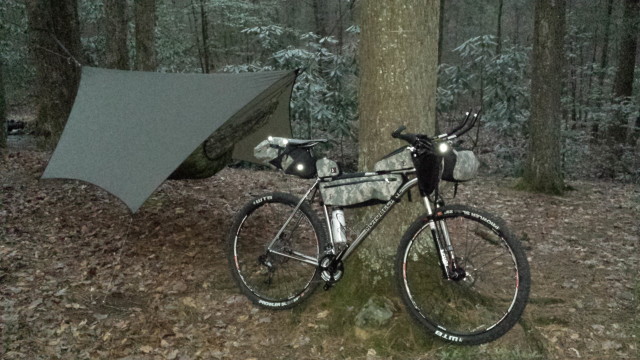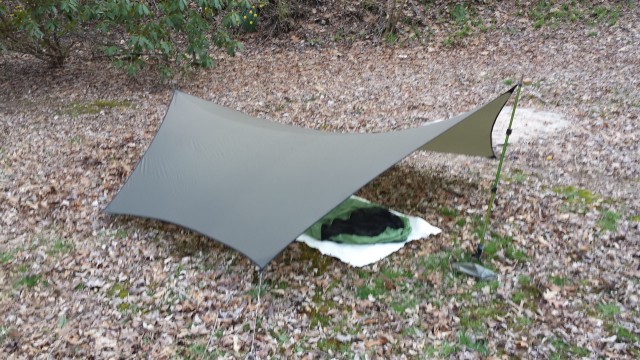 Im fairly new to the game and always looking for new ideas or better ways to do things so I'd appreciate any input more experinced folks may have to offer.
-saw em