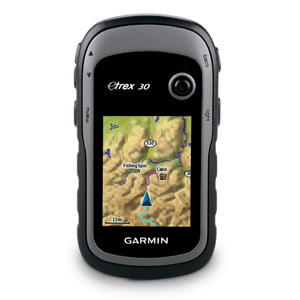 The eTrex 10/20/30 series is an update to one of the most popular bikepacking GPS units, the eTrex VistaHCx, featuring a faster chipset and totally redesigned software. Major new features of interest to bikepackers are the track manager (much easier uploading of routes), custom raster maps and new track following software. In general the unit is easier to use and runs faster than the older VistaHCx line.
Specs:
Unit dimensions, WxHxD: 2.1″ x 4.0″ x 1.3″ (5.4 x 10.3 x 3.3 cm)
Display size, WxH: 1.4″ x 1.7″ (3.5 x 4.4 cm); 2.2″ diag (5.6 cm)
Display resolution, WxH: 176 x 220 pixels
Display type: transflective, 65-K color TFT
Weight: 5 oz (141.7 g) with batteries
Battery: 2 AA batteries (not included); NiMH or Lithium recommended
Battery life: 25 hours
Waterproof: yes (IPX7)
Interface: USB
Basemap: yes
Preloaded maps: no
Ability to add maps: yes
Built-in memory: 1.7 GB
Accepts data cards: microSD™ card (not included)
Waypoints/favorites/locations: 2000
Track log: 10,000 points, 200 saved tracks
Custom maps compatible: yes
Unit differences
eTrex 30 – top of the line unit includes altimeter and electronic compass
eTrex 20 – all features of the 30, but no compass and altimeter. Still same internal memory and custom maps ability.
eTrex 10 – cannot load maps (base maps or custom maps) and has no internal memory. Can still accept tracks for following, however.
Please rate this product: (no login required)






(71 votes, average: 3.62 out of 5)


Loading ...