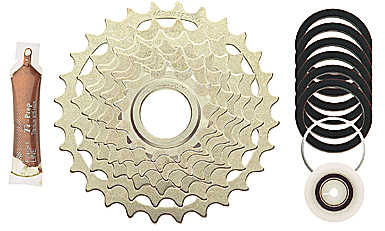 Actiontec makes large single cogs (36 tooth and 38 tooth) for use with their titanium cogsets. However, you can order a single cog and use it with Shimano or SRAM 34 tooth cogsets. A spacer is provided, so you simply remove one of the smaller cogs and add the large one. Note that this is not recommended by the manufacturer, but several riders have reported success.
From the manufacturer:
Our Titanium Cog Sets feature our own unique "Shark Tooth" design. This tooth configuration needs no shifting ramps, delivering flawless gear changes with or without high pedal power as when climbing and downshifting. With our non gated cogs, the cog will not grab the chain and make a ghost shift. Our cogs are separate from each other. This transmits power directly to the hub without the need for a spider. This allows a change of any cog due to damage, wear or a change in your gear ratio, without changing the complete cog set. And, with our "Shark Tooth" design, every tooth has a point, not a flat on top like other cogs. So when the chain makes a shift it can't ride the top of the flats, delaying the shift. It drops on one side or the other, completing the shift. Weight: 136 gr – 237gr.

Product website actiontec.us
Please rate this product: (no login required)






(24 votes, average: 2.96 out of 5)


Loading ...