by
slim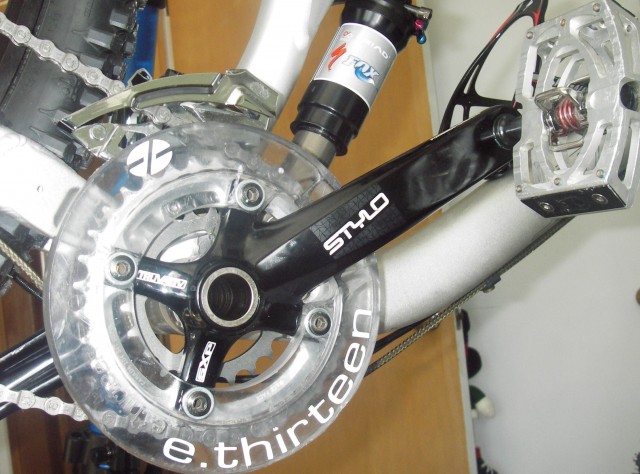 Here is the start of my new bike, built with bikepacking in mind. I'll start by listing my requirements for a bikepacking bike, comment on these would be interesting.
durability – obviously a 'packing bike is subjected to higher loads and will be used for several days in a row, so this is paramount.
comfort and control – a backpack makes cockpit positioning more critical and the extra weight makes impacts harder. It is also less easy to control your body and bike with higher center of gravity.
low rolling resistance – the goal is to cover some ground after all, especially on sand and rocky terrain.
efficient pedaling – it's hard enough work already.
stiff frame, fork and wheels – for better control with a heavier load
low weight – there is enough extra weight in the camping gear and food. Also bikepacking rides have a larger proportion of hike-a-bikes than normal rides.
I addressed these needs with the following choices (budget contraints were in effect):
29er: Low rolling resistance including through sand and better rolling over rocks and holes at low speeds than a suspension 26er, more control.
100mm travel full suspension bike with platform damping and low BB height: Provides control at higher speeds, as well as comfort without sacrificing pedaling efficiency, makes it easy to get on and off the bike.
Replaced stock fork for longer travel through axle fork: with the new offset this yields a similar trail number, stable enough at speed blasting into the unknown but quick enough for easy climbing. Extra travel yields more control at high speeds. I would have liked a travel adjustable fork but supply and budget issues ruled out the Reba U-turn. Through axle stiffens up the front and adds durability (though I don't know of many QR forks breaking).
Stan's Arch rims with butted spokes on Hope hubs, 6 cogs on singlespead rear hub: tubeless rims for less rolling resistance, less flats and more traction, fairly ligh and tough. Dishless wheels front and rear for max strength and stiffness without extra weight or cost. Bolt-on rear and though axle front for more stiffness and reliability. Quick engagement rear hub for 'ratcheting' in rocky sections. Would have used a lighter rim front than rear if available at the time.
High sweep Salsa bar with bar ends and Ergon grips: for ergonomics.  I only ever use lock-on grips for safety and ease of adjustment.
Specialzied Command Post adjustable seatpost: More control on descents and in cornering, more endurance on climbs the best upgrade to any bike!
180 mm cranks with bash: to keep the weight a bit more forward with my freakishly long legs and to be able to just roll over anything.
Long stem: keeps us tall folks from having all the weight over the rear of the bike.
Juicy Seven brakes, 8″ front and 7″ rear: For the same feel you need a larger rotor on a 29″ wheel. Also larger rotors do better at heat dissipation, improving safety on long descents with a heavy load.
Armadillo Elite tire: super durable but reasonable weight.