by
MartijnS
This is my setup for a 4-day tour with MTB which I did in Thailand near the border with Myanmar through forest. All dirt roads, very steep up and down hills, uncountable river crossings, quite hot during day, unexpected very cold during nighttime (lesson learned!).
20 liter drybag with mostly food stuffs, also 1 clean set of cycling gear, and 1 set of clothes for night-time. Tied to a simple seatpost TopPeak "rack". I added 2 short pieces of wood to the rack (about 3 x 3 x 35 cm), which I tied with old inner tube to the rack. This way I could better tie the bags to the rack. I used straps with a small metal 'lock' which works great, the bags never loosened even a little bit. I had a spare bungee cord as well, and a few pieces of rope for tying stuff, drying line, etc.
Hammock from SiamHammock with 'built-in' mosquito net, this hammock can be used as a mini tent as well. Tied to back of bike (green bag).
I also brought a rainsheet for the hammock, just in case (I didn't need it). Tied to handlebar with bungee cord net (small red bag).
Thermarest sleeping mat. Tied to handlebar as well (dark grey).
1 liter bottle with filter (yellow bottle), tied most of the time to handlebar. Useful because there was only river water available.
A bag for easy-to-grab things on the top-tube.
A small frame bag with medicines and some other small things.
Seat bag with innertubes in case the tubeless tires won't seal and some not often to use tools.
A medium-size camelbag with snacks, nuts, electrolyte powder and 3 liter bladder.
2 bottles of about 600 ml each on the frame.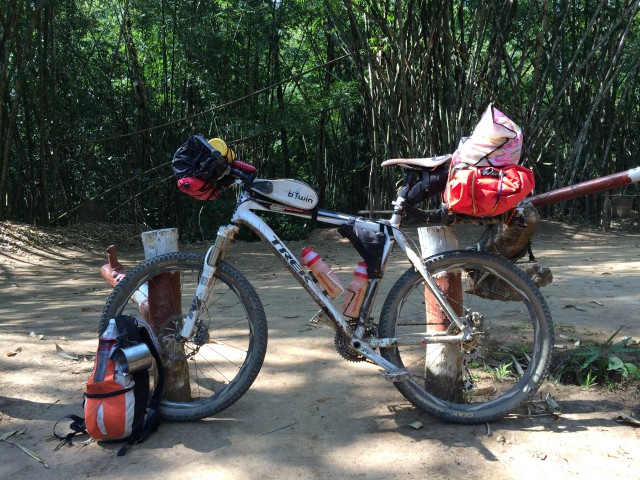 Thankfully I got a blanket from a village at the end of the first day, which I tied on top of the drybag with a bungee cord (in nice pink with flower decorations!).
I carried some tools and some things to repair my bike, but after only 20km a stick flew into my rear derailleur and comletely bent it. I didn't bring a spare derailleur, but luckily nothing was broken. So we carefully bent everything back into shape more or less, leaving me with 2 working gears for the rest of the trip.
The type of straps I used: (doesn't stretch)