Personal setups » 2 days 1 night – 210km personal setup – Nirtzen
by
nirtzen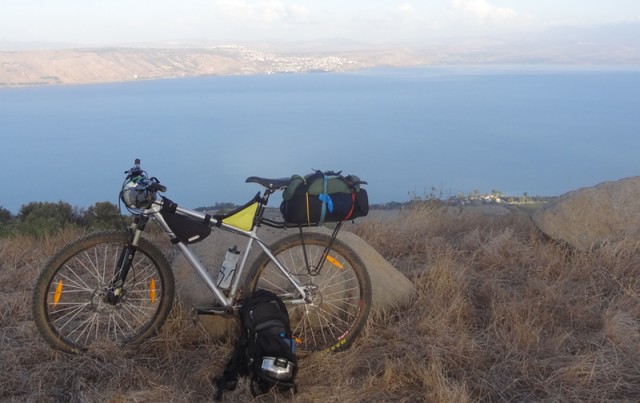 Israel 2013
On September 22nd I went with a friend for a 2 days 1 nigh bikepacking, from northern Golan Heights – a Syrian land occupied by Israel in 1967 and 73, to Netanya – a city on the shore of the Mediterranean sea, where my parents live. It's 210km all together, some 50km of it was on road, and the rest off road.  the road included singletracks,4×4 roads, and dirt roads. it took net of 15 riding hours, 14kmh average. on the first day we covered 130km and 80 on the second.
The setup –
Bike –
Felt Nine Race 2012 – a hard tail 29er, rockshox reba on front, XT and SLX equipped. Front tire – Kenda Nevegal 2.2, Rear tire – Maxxis Crossmark 2.1 – 14KG all together.
On the bike –  2 frame bags – the black one included spare inner rube and repair tools – leatherman, multitool, pancture kit, pump. the yellow one for snacks.
1x 750ml water bottle.
On the handlebar I put my REI half dome 2 tent, without the rainfly.
A saddle pole Rack  (not such a good choice for a road with singletracks and bumps) – on it I had a LowePro Flipside 300 bag – Originally a camera bag. It is a strong bag.
In the bag –   1x camping stove – the most simple one I have. 1xcamping tea pot, just enough coffee, sugar, and tea for 2 days. 2 packages of ready to eat rice with lentils – 5 minutes                                         cooking and it's ready. 1 pasta bag, and 1 Pesto sauce. we only had he pasta with pesto in the end. and the rice came back home with me.
first aid kit, nylon bag. tooth paste, tooth brush, soap. smallest towel  found. another spare tube. lightest long sleeve shirt I found for the night, underwear.
tied on the bag – a sleeping bag – the lightest I found among my friends. weighs around 900Grams.
a backpack – 3 littre water bag, small camera, cooking pot, wallet, smart phone.2 extra batteries for the phone,  maps. when navigation was needed I put the smartphone on the handlebar and navigated according to recorded tracks I downloaded in advance.
the total equipment weight was around 10Kg, including the 3.750 litter of water.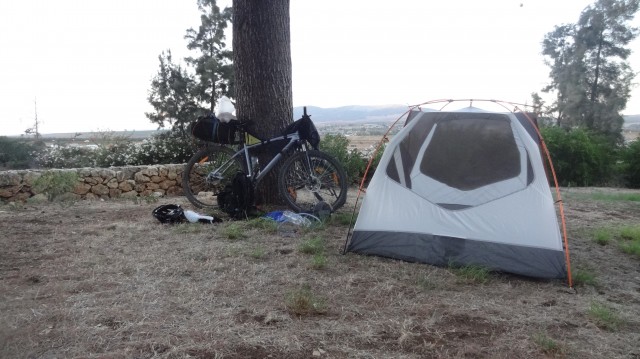 my conclusions from that trip  –
1. learn how to calculate the amount of food to carry.
2. seat post back rack was too weak on singletracks and bumpy roads with this weight on it. buy a good frame rack.
3. the weight center was too high because of the location of the bag on the back, next time I will carry most weight closest to the axels of the wheels.
4. for this specific rout – Kenda Nevegal was just too much. change it to a lighter tire.