by
jhl99
A comment to a prior trip report mentioned the proposed Triple Divide Trail being developed between Rochester, NY, the eastern Triple Point  and Williamsport, PA.   The Triple Divide Trail is an obvious addition to the slowly evolving eastern divide/east coast North-South route.
At 133 miles from the Triple Divide Point to Lake Ontario,  this isn't a very long stretch of route.  For that matter, this trail itself isn't going to excite any hardcore mountain bikers.  As of this writing, it is mostly undeveloped rail trail, grassy snowmobile trail, and near Rochester, urban/suburban multi-use trail.  Although there isn't much single track, there are a few redeeming qualities to this segment.  First, using Rochester as terminus as an eastern North/South puts an regional airport right on the route, within 15 miles of the route's terminus.  Second,  the Rochester area greenway system is outstanding.  Prior to this ride, about all I knew about Rochester was that it is famous for heavy snows, noteworthy corporations (Kodak, Xerox, Genesee Beer and Rochester carburetors) .   What I found was that  the greenway, with trails and parkland, paralleling the Genesee River as it cascades down multiple waterfalls right through downtown, is a true gem.  Finally, Letchworth State Park, with waterfalls and a deep canyon offers some unique geography along the route.
I road the trail as a out and back.  I stayed on route northbound.  Returning southbound, I couldn't stand anymore grassy riding, so I bailed out to the roads.
This link more or less includes the basic route in green, as well as the other routes that have been reported on at one time or another.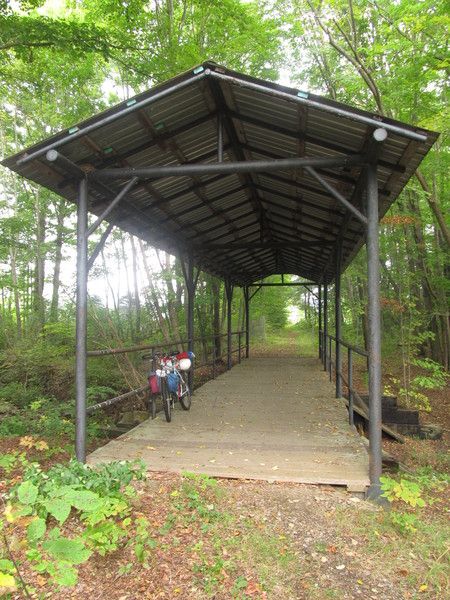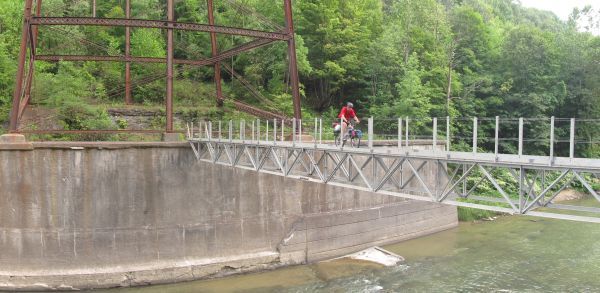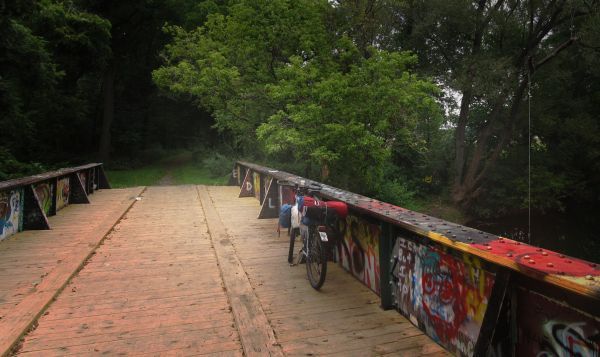 "Boy, could I go for a Genny Now!"