by
fritz
Last math test graded — let the four-day weekend begin. I wasn't entirely sure what I wanted to do, so on Friday morning I threw an assortment of gear on my milk crate commuter rack, biked across Montrose to borrow a truck from a student's dad, and took off for Grand Junction.
There, I met a friend and hiked into No Thoroughfare Canyon to check on ice conditions at the waterfall. They were stellar.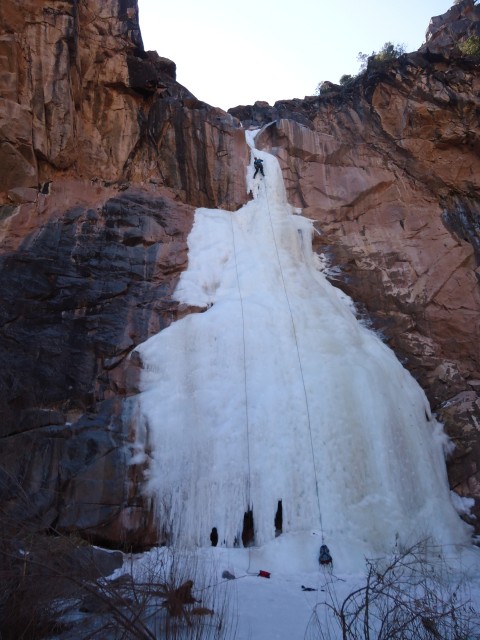 After a couple of simul-toprope-solo laps, we hiked out to blue skies at 50F. Naturally, my mind turned to singletrack.
I headed over to Lunch Loops and secured some major Facebook bragging rights: ice climbing and mountain biking in the same day, in the same zipcode.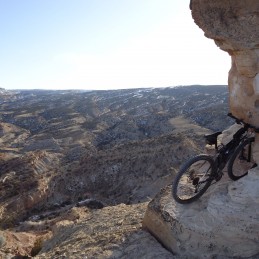 However, delusions of electronic grandeur occluded my common sense and I left the zipper to my gas tank open. Somewhere on the Tab, my wallet went huckster on me. I didn't realize it until dark, so I returned to Lunch Loops on Saturday morning and repeated my route, to no avail.  (Last name's Nuffer if anyone finds it).
It's hard to be demoralized on such a beautiful day with a full bikepacking kit in the truck. I decided to be upset tomorrow and ride the heck out of today. So I loaded up and hit the Kokopelli Trail from the Loma TH, intending to get as far as I could and then turn around the next morning.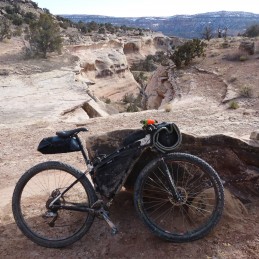 Cleaveland Mountaineering full kit. Felt like a mountain bike!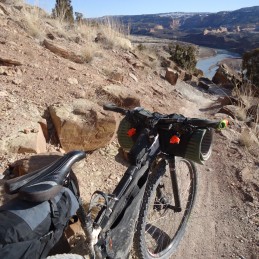 It was fun riding Mary's et al., but I was glad to get outside of the amusement park and into the sidecountry.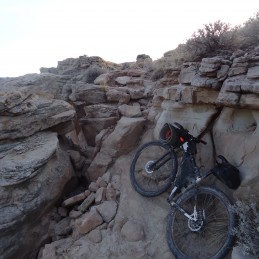 Singin' "I love hike-a-bike / Throw another Snickers in the gas tank, baby …"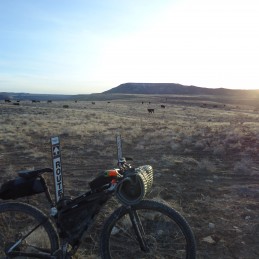 After all that intermittent hike-a-bike, this dirt road was cash money. I rode it until dark, then stumbled across Rabbit Ear Trail, whose trailhead sign promised "one of the best views in the Grand Valley" after 700 vert. Why not? Pushwhacked up until a good spot presented itself near the top, then bivvied up under some scrub for wind protection.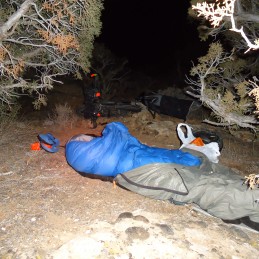 Golite 20F down quilt, Ptarmigan Goat bivy, a hooded down jacket, and 1.5 Ridgerest pads. Should have been bomber for that 15F night, but I didn't have much to bring for dinner since I hadn't planned on losing my wallet. Rather than eat the next morning's sacred Pop Tart, I pounded a plain tortilla and some cinnamon chips. Then, for lack of anything better to do, I went to bed at 7:30.
The next morning I wide awake at 4:00, cursing the inventor of bib shorts whose performance innovations necessitate removing ALL of my upper layers to go about the morning routine. Never again.  And as great as the sunrise view would've been, I didn't feel like waiting three hours for it. Packing up, I half-rode, half-pushed back down to the KT, then retraced my route by headlamp.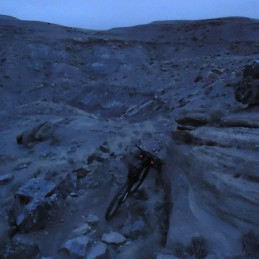 Some sweet dawn patrol riding on the way back to Salt Creek.
I took the singletrack cutoff to the dirt road connecting the trailheads and cruised back to the truck. 7:45 of riding, 17:00 total. Once I got home, I dropped off the borrowed vehicle and rode pavement back to my refrigerator.
Of course, none of this wallet-losing, grueling-rations business would have happened if I hadn't lost my lucky T-rex last month.