by
jordanse2@mymail.vcu.edu
Palmetto Trail TR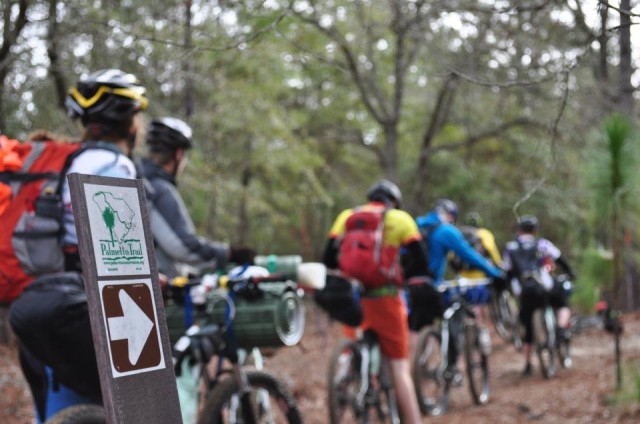 This is a trip report for the Western portion of the Palmetto Trail in South Carolina, ridden by 10 Virginia Commonwealth University Outdoor Adventure Program students and staff in March of 2013.  There is limited information available for the trail, so this TR is aimed at clearing the air and providing quality information about the trail.  If you read the report and want more information, you can drop a line to vcuoap@gmail.com and we'll try to help you out.
South Carolina is not the first place that comes to mind when you think about bikepacking, but it paid huge dividends for our recent trip there on March 2nd-9th, 2013.  The Palmetto trail is a linear hiking/biking trail that traverses South Carolina.  It is not yet complete, but thanks to the efforts of the Palmetto Conservation Foundation, much of the trail is marked and in existence.  Eventually, you'll be able to traverse SC on mostly trail and dirt roads.  Our trip took us from Poinsett State Park to the western terminus at Buck Hall Landing near the coast.
Background
This trip was organized by the Virginia Commonwealth University (VCU) Outdoor Adventure Program (OAP).  Our program runs an intensive leadership training program for undergraduate student leaders that desire to become trip leaders and guides within the OAP.  The training culminates with an expedition-style trip, and this year's expedition brought us to wild and wonderful South Carolina.  This year's class had eight students of varying experience mountain biking, and none of the students had experience actually bikepacking before enrolling in the program.  They were accompanied by the director of the OAP and myself (assistant director of sorts).  We provided them the framework "you have 9 days and a destination" and they were tasked with planning the trip from top to bottom.  Along the trip, each of the students had the opportunity to lead for the day (navigation, resupply, camping, etc.)  The reason that we selected the Palmetto trail was the combination of mellow terrain, absence of information, ability to resupply, and opportunity for backcountry travel.
Gear
Since we are an outdoor adventure program, we've got more gear than you can shake a stick at.  However, a trip of this nature meant that we had to carry as little as possible.  South Carolina is fairly mild at this time of year, but we still needed to prepare for near freezing and wet weather.  The bikes were Fuji 29er hardtails that are our program's fleet bicycles.  We made our frame bags in house with an industrial sewing machine.  Seatbags were purchased from Revelate Designs (highly recommended company).  Most of us used cam straps to attach a camping pad or dry bag to handlebars, but a couple had homemade bar slings for gear.
Trip Report
If you explore the Palmetto Conservation Foundation's website, you'll find that the trail is divided into a number of "passages".  This trip report will break down by passage to aid in matching our information with your trip planning.
We left Richmond, VA the morning of March 2nd with intentions of getting a few miles down the trail on that day.  The plan was to start on Wateree Passage.   Our student leaders for that day picked a place where they believed that we could intersect the trail with a numbered highway, just west of the Wateree passage.  After loading all of the bikes up and saying goodbye to our shuttle driver, we enthusiastically and blindly set out along some lovely railroad tracks on what we hoped was the Palmetto Trail.  It took approximately 30 minutes before Wally the security guard was yelling at us that we were on private property and must leave without delay.  Despite the let-down that we weren't on the trail, our co-leaders kept a clear head and called our shuttle driver back and we caught a van ride to Poinsett State Park, which was our intended campsite for the night.  Tip #1- start at the state park!  The Wateree passage has no western access until the Foxville Road Trailhead.  Everything west of that trailhead is an out and back.  If you want to connect the Fort Jackson Passage to the Wateree passage, you are going to have to forge your own route.  There is no trail and there are no trail markers. You've been warned.
High Hills of Santee Passage
We had a pleasant night at the Poinsett State Park campground (hot showers, electricity, and water).  There was a local mountain bike race occurring on March 3rd so we made it a point to get out of camp early so we didn't interfere with the race.  It was nice to socialize around a big campfire with fellow cyclists, eat their smores, and use some of their tools!  From the campground, you've got to ride North on the paved road out of the campground to connect with a trailhead.  There are multiple mountain bike trails in the state park, so be sure you follow the right trail markers.  The Palmetto Trail is well marked once you find it.  Within Poinsett State Park, the trail is fun, not too sandy, and easy to follow.  Do be sure you don't turn off of the Palmetto Trail onto another mountain bike trail.  Once we left the state park, which is only a couple of miles down trail, we fell off of the fun train in a hopeless abyss of hike-a-bike.  This passage is a textbook example of how multiple-use trails sometimes give mountain bikers the short end of the stick.  The trail was beaten, unconsolidated sand for miles as a result of heavy horse use.  We observed several groups of horse riders on this section.  If you had a fat bike, it would be gruesome but ride-able.  On our 29er hardtails, it was barely ride-able in some sections and unride-able in others.  We did some character building in this section, as we like to say.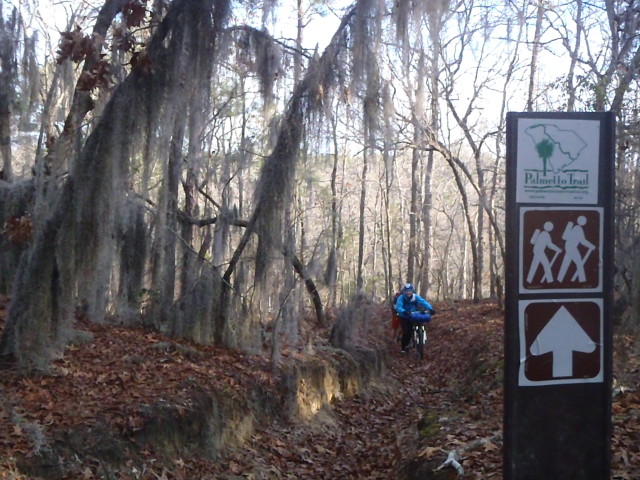 My advice to bikers and hikers is to re-route onto Milford Plantation Road (unpaved) and skip this section.  You won't miss anything too spectacular, and the road is quiet and as scenic as the trail.  The sucky-sand trail mileage is around 7 miles, and the re-route on the road would be about the same mileage.  You can meet back up with the trail on Milford Plantation Road, but if you need water it is easy to backtrack to Mill County Park, which has bathrooms, water, and pavilions.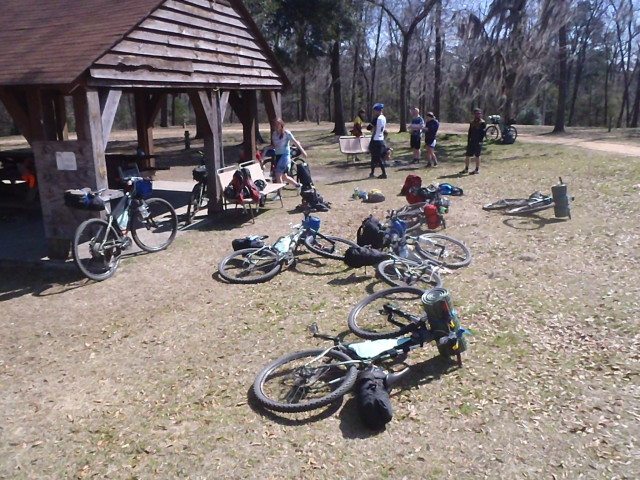 Lake Marion Passage
This 33 mile section of the trail is sure to leave you with some memories (positive or negative).  Once you reach Sparkleberry Landing (yes, sparkleberry) you know that you are truly in the swamp.  Bald cypress trees, Spanish moss, and swamp scenery abound.  This section skirts around Lake Marion, and if you were riding it in wet weather you would have to contend with lots of mud and water on the trail.  The trail is blazed well enough, but other than the first short bit (which has been poached by 4-wheelers) it is not ridden very often.  We wagered that we were the first cyclists through there is quite some time.  There are lots of small bridges that skirt some of the wet sections, but they are mostly unride-able and overgrown.  If you were hiking, plan on wet boots.  Much of the trail is covered with forest litter and you are only navigating by the blazes on trees.  Any fewer blazes would make it difficult to navigate, but there are just enough out there that you can connect the dots.  There are plenty of down trees across the trail as well.  We camped around mile 25 (miles are marked on the map but not on the trail), also, the miles typically reset when you change trail passages.  There was an obvious campsite and preexisting fire ring.  The only water at that camp we had was out of lake Marion. The next morning though, we loaded up on Moon Pies and sulfur-laden water at Pack's Landing.  It is a small-scale marina and has very limited food selection, but has a smattering of camping equipment.
Past Pack's Landing and Halfway Swamp, you jump onto some paved roads and cover miles quickly.  For the most part, the turns are marked by a karsonite sign with the trail emblem and an arrow.  Keep your eyes peeled for these along the whole trail, sometimes they are in tall grass and hard to spot.  Here, you ride through the Hickory Top Wildlife Management area.  The trail is similar to what you've already ridden in the Lake Marion Passage.  Plenty of trail covered in water, skinny bridges, downed trees, and mud pits.  Scenic though!  We re-routed a small section of trail on the road, and if you are passing through and need to make miles or the water table is high, there are multiple re-route options for you on paved and unpaved roads.  You pass by a supposed re-supply spot- Jack's Creek Marina- but we had heard that the general store was closed indefinitely so we skipped it.  We finally popped out into the real world north of Lake Marion, just across a bridge from the town of Santee.  The plan was to camp at Arbuckle's landing, which is marked on the maps as a pay campsite.  Arbuckle's landing is there, and their sign says "camp sites" but if you aren't in an RV then you are a TRESPASSER.  The first thing out of the owner's mouth when we rolled in was "Y'all can't be here!".  No hello, no nothing.  So, we bucked up and rode across the lake to town for our resupply.  It's a very cool crossing, because there is an old bridge that is closed to cars that you get to ride across just on the northwest side of the new bridge.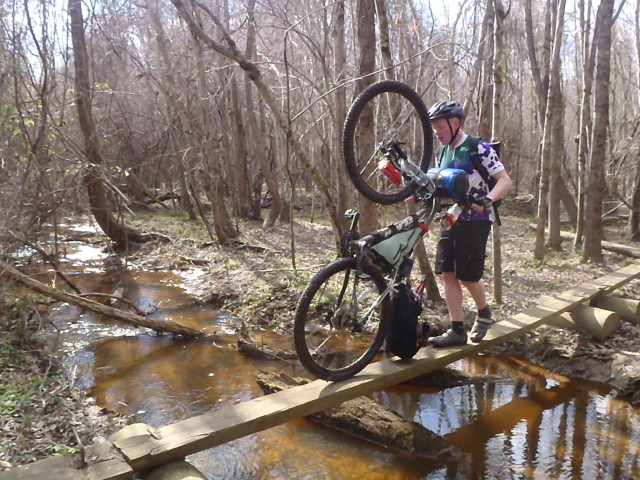 Santee Passage
The group had started with enough food to get us to the town of Santee, where there is a Food Lion (for food) and a hardware store (for denatured alcohol for our stoves).  The students had a slightly stressful experience buying food for the rest of the expedition mid-trip, but we loaded our packs to the gills and managed to get out of town before dark.  When you come into the town of Santee, do not turn of the main drag the trail spits you out on (traveling SW on route 15).  The Food Lion and hardware store are on this road.  There are several chain restaurants, hotels, and other services in town as well.  Nearby is Santee State Park, which offers camping, but it is a few miles off trail.  Once you are loaded up with goodies in town, just a mile or so down Hwy 15 is Brooks Road.  There is a large sign for a Palmetto Trail trailhead.  Don't miss the turn (most people we met in town were unaware of the trail)!  You pass by a large city-hall complex and greens (last chance for easy water) and jump back onto the trail.  There are some turns that are not signed as you get out of town, so keep a very close eye on your map.  We ended up camping trailside about 4 miles out of town in a forested section of trail.  Likely, it was private land.  The group stuck to Leave No Trace ethics and we were in a great position to continue our ride the next day.
The Santee Passage is essentially all fire road and short overall, so we made quick miles and found ourselves in Eutawville bright and early the next day.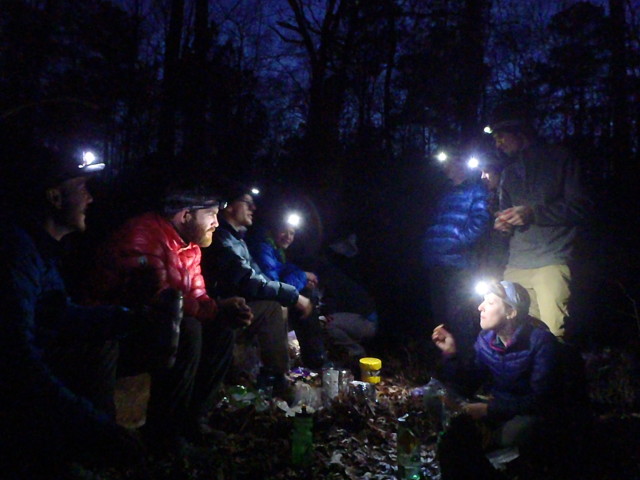 Eutawville Springs Passage
This passage is characterized by dirt roads and fast miles.  There are plenty of turns, so keep your map on your handlebars.  We stopped in Eutawville; there is an IGA grocery store on the route.  We picked up some last minute essentials (toilet paper) and continued on to cover miles.  There is a fair bit of revolutionary war history along this section of trail, and just before you start the Lake Moultrie Passage, there is an awesome restaurant called Mac Daddy's that will fry anything and put gravy on it and they have an excellent candy selection.
There is a mix of paved and unpaved roads.  One reroute we took was Nelson Ferry Road.  It was a pleasant dirt road that saved us overall miles, and since the trail follows roads anyway we didn't feel like we were missing out too greatly.  That reroute paid off for us, but a little misnavigation left us on Hwy 6 for a few miles.  That road is busy, has a rumble strip on the shoulder, and should be avoided if possible.
Lake Moultrie Passage
The Lake Moultrie passage is sure to offer up some adventure!  We had to do some navi-guessing the first few miles.  Evening found us near the Sandy Beach Spur Trail in the first few miles of the passage.  One of our students had been fighting some gastro-intestinal issues and we made the call to camp early.  It turned out to be a great choice as we saw the only alligators (massive alligators at that) of the trip.  Also, Sandy Beach Campground was awesome.  The dike that the Palmetto Trail follows through this section is varied in how good the riding is.  Sometimes it is quite grassy and slower going.  We hit some crazy wind as we traversed the Eastern shore of Lake Moultrie as the trail is lakeside and quite exposed.  Eventually, we hit Bonneau Beach, where there is a small gas station with limited supplies.  After a missed turn or two, we found ourselves riding the Swamp Fox Passage.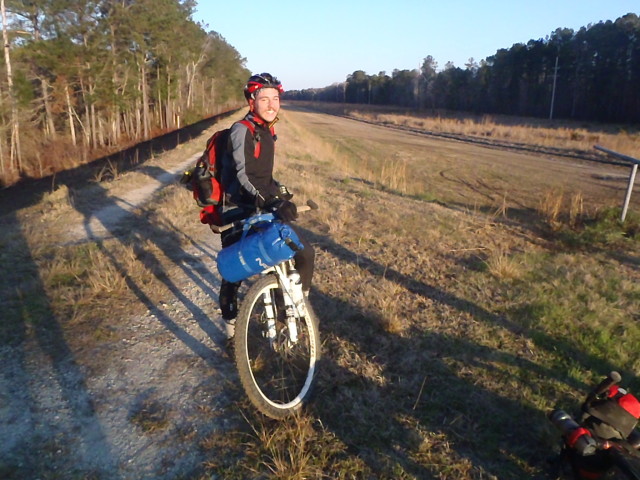 Swamp Fox Passage
The group was excited about the Swamp Fox Passage, and it certainly delivered.  Due to some errors in navigation, we took some roads initially and jumped on the trail at the intersection with Longacre Drive.  After we found the trail here, it was very easy to follow for the duration of the passage.  As to be expected in a National Forest, there was a certain standard of trail marking and maintenance that was adhered to.  The first few miles offered tight, technical and exciting singletrack.  Riding this section on fully laden bikes was a real thrill.  The bridges in this section can be ridden if you have solid technical skills.  After the first few miles, the trail mellows out into flat, rooty trail that I believe is periodically mowed by a small machine.  Well marked, about 4 feet wide, and bumpy.  Our first night was spent at Witherbee campground.  There is no water at the Witherbee ranger station.  The director and myself slipped out of camp before dawn the next day to let the students have the last two days as a solo experience.  The rest of Swamp Fox was all about the same trail, and if you are pressed for time there are options for reroutes on roads in the National Forest.  Our second night was spent at the Halfway Creek campground.  There is no water here and it is accessible by car, so it can be crowded and feels like an overused campground.  The last supply point marked on the map off of highway 17 is marginal at best, but there is an outdoor spigot you can get water at.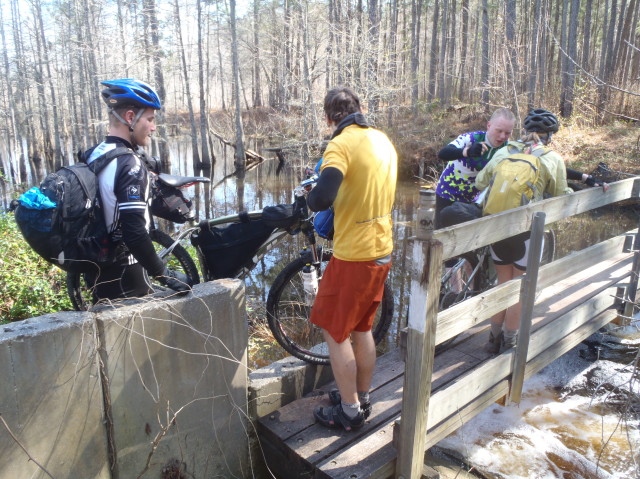 Awendaw Passage
The last passage of the Palmetto Trail is only 7 miles long, but it is well ridden and very enjoyable.  It doesn't take long to crank out those last miles because you can smell the salt air and sweet sweet completion.  There is a very nice campsite at Buck Hall Landing at the Eastern Terminus of the trail.