by
slim
A recent weekend presented the opportunity for a unique adventure, right here in our own backyard.
Lake Superior has frozen over for a large part, including the tip of the lake, at Duluth.
The forecast also called for below freezing temps, including nighttime temps below 0F(-18C), to firm up the snow that had been getting soft in the last few warm days.
All we knew was that there was good, bare ice for a few miles past town, but after that, the lake was open. What the shore would be like was anybody's guess.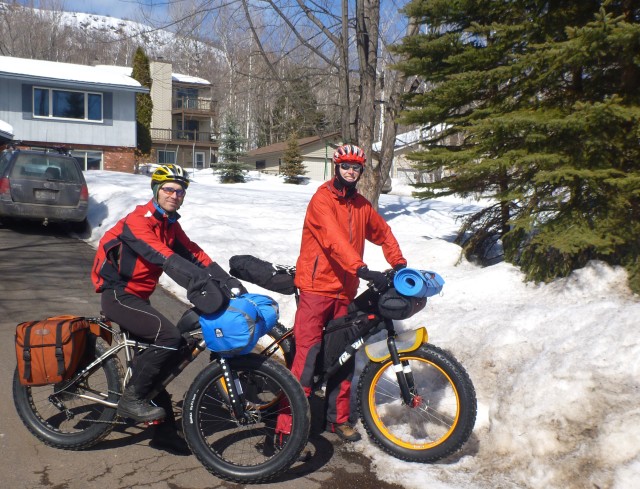 We headed out from home, and rode some singletrack through a city park down to the lake.
Smooth, but very slippery, even with studded tires, the lake ice was fun to ride.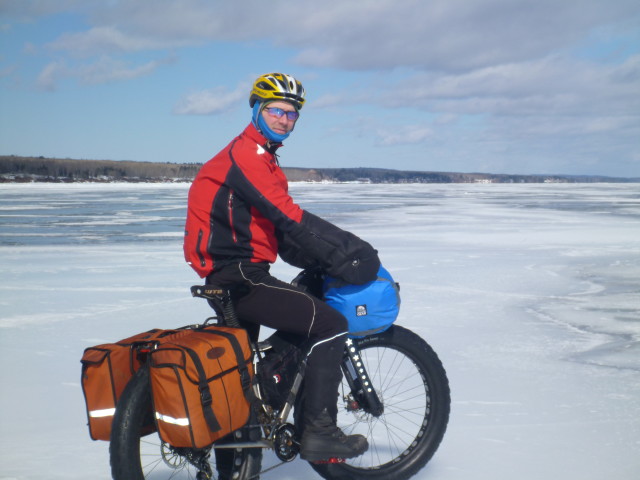 Looking back at the Duluth skyline from the lake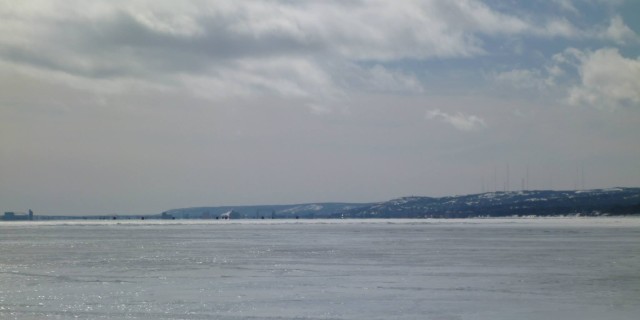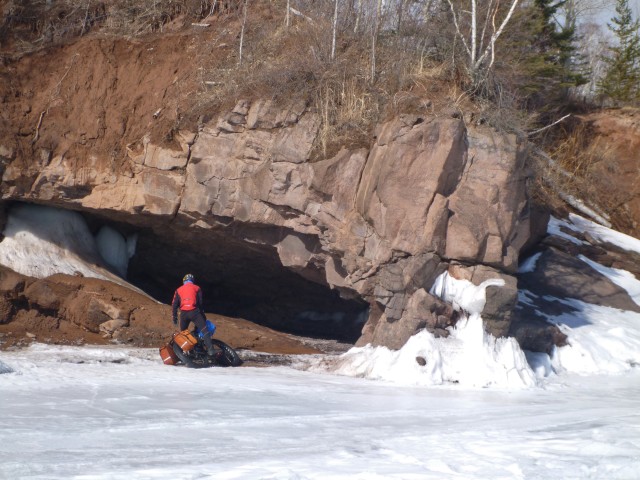 After about 2.5 miles the ice ran out and we hopped onto the narrow strip of cobble beach below some houses.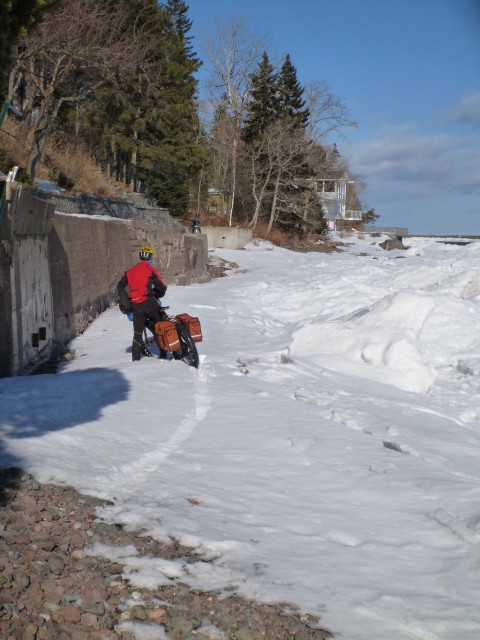 Then we got to the safe harbor.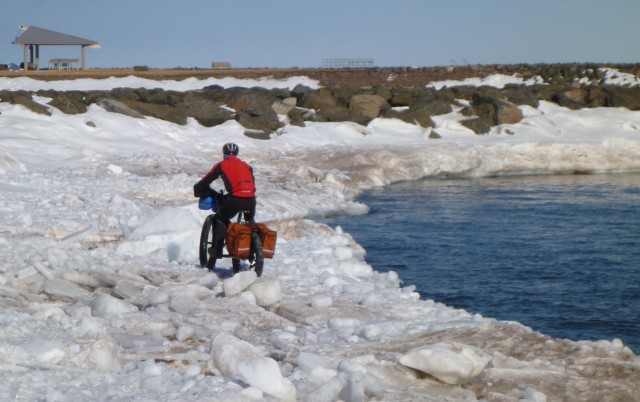 After the safe harbor the shoreline consisted of rock shelves sloping gently down to the lake. This was fairly rideable, the snow filled up the gaps between the rocks, but was soft enough to make for a hard time plowing through from rock to rock. Sometimes we could ride the crushed 'icecubes' piled along the waters edge, as they were mostly hard packed, but very slippery.
At the mouth of the French River we were greeted by open water, but when we realized there were lots of small rocks sticking out we decided to try riding through, and we managed to stay dry.

We put up the tent on the beach just a little bit further and enjoyed dinner with a full moon shining over the lake.
On Sunday morning the snow had frozen into a hard crust and we had easy cruising along the rock shelf back towards the safe harbor.

As the day wore on, the snow softened and we were back to hunting for patches of overflow ice and rock.
After passing the houses south of the harbor we discovered that during the night maybe half a mile of ice that we had ridden in the day before had blown away, leaving rocky cliffs leading right up to the water.
With some serious bike hauling and scrambling we managed to make it past this section, having to detour only one headland section up onto the highway(200 yards). This was the only time we left the shore.
Tired and happy to have pulled off such a unique trip we pulled into my driveway 24hrs after leaving, 20 miles and a whole heap of memories richer.
It was a true adventure to set out on a trip where we would nottry  use any manmade terrain, a route that did not exist before we thought it up, and where we had no idea whether or not it would be possible.