by
Henry Johnson
This a short write-up on a trip I took this past week. The ride took me from my house in Durango, CO (6,500′) to the Colorado Trail (at 11,00′) and back down in three days in June, 2013.
The first day I left fro my house at about 11 am, and headed north up the Animas valley to the Hemrosa Creek trailhead (14 miles of road) and then up into the canyon along some sweet singletrack. It was nice to get into the shade of the forests and off of the hot pavement.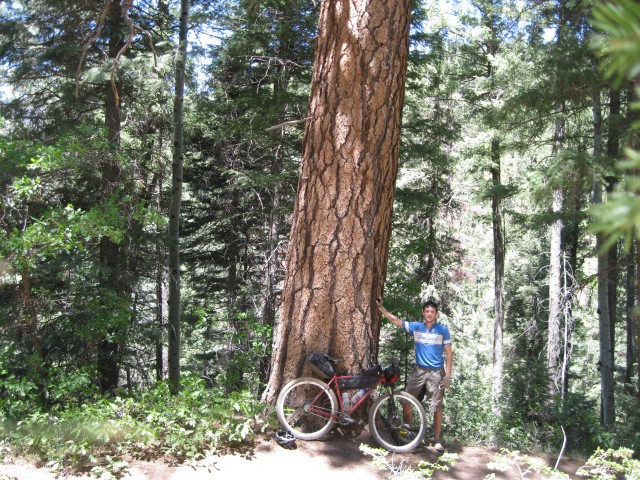 A particularly large ponderosa pine alongside Hermosa creek trail.
I rode another 12 miles up the trail until it spilled me out into a scenic little clearing and fishing hole that beckoned my attention away from the trail. I set up camp and proceeded to catch fish!
I packed along my Tenkara fly rod for the trip. Tenkara rods are great because they are easily packed along in between a handlebar roll and front pocket and they are built for fishing high mountain streams.
I accidentally dipped my camera in the river while taking pictures of all of the fish I caught, and as a consequence didn't get any photos of my dinner at camp that night. I cooked a little 12″ rainbow over the coals of the fire just as the stars began to show themselves.
After a leisurely morning I set off from camp up the valley antoher couple of miles to the junction of the corral draw trail and hemrosa creek. I forded the creek and began what turned out to be a 5 mile hike-a-bike that would take me half of the day to get up to the Colorado Trail. Day 2 was exhausting.
I rode another 10 or 15 miles along the Colorado trail, taking in the amazing views and pulling for air as I pedaled along the ridgetops. I came to the junction with Salt creek trail, and consorted with my map for a while before deciding to descend along the salt creek trail and camp back down along hermosa creek for night 2. I reckoned if salt creek was anything like corral draw it would be a spine tingling, long, rapid descent back into the valley. It turned out that Salt creek trail isn't quite as used as Corral Draw and I found myself hike-a-biking down narrow valley walls and losing the trail all together at times.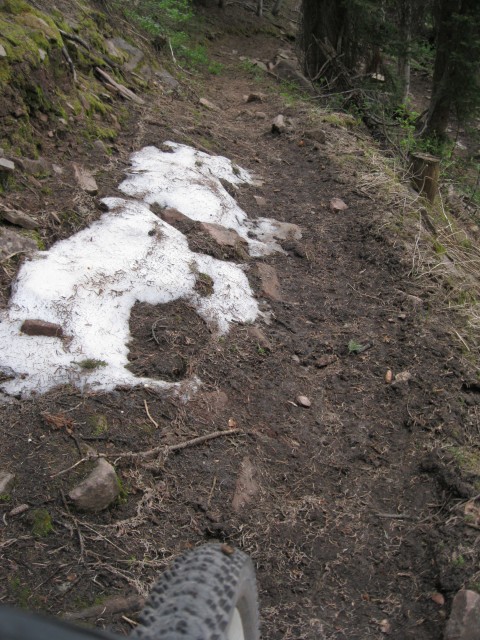 This continued for several hours until, near dark, I stumbled down to the bottom, forded across hermosa creek with my bike overhead and found myself at the exact same campsite as the night before! I didn't fish nor did I have the energy to start a fire, rather I boiled up a ramen bomb (ramen with instant taters added to make broth) on my beer can stove, stuffed my face, and called it a day.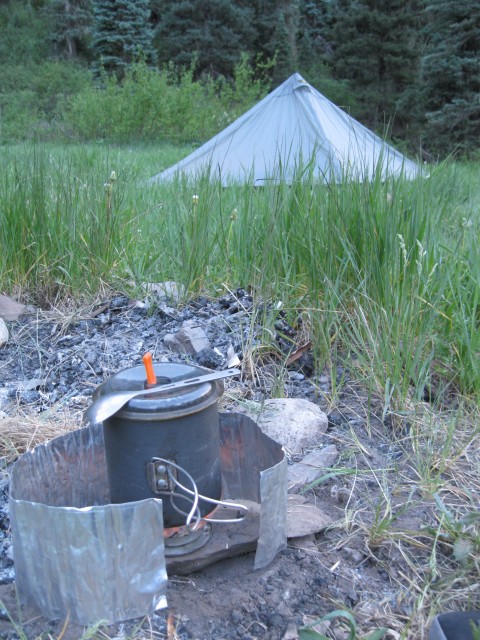 The next day I awoke, saddlesore but refreshed, and road back out of Hermosa Creek and down to town. The ride back down the Hermosa trail was well worth every bit of agony endured over the previous two days.
A short video of the trip can be seen here: www.youtube.com/watch?v=JHQoSO4sGYY
A million thanks to my friend Kurt for introducing me to bike adventuring and sewing me various bikepacking bags over the years, check out his blog, pocket-thunder.blogspot.com
Also thanks to the guys down at Velorution Cycles in Durango for being an awesome bike shop, www.velorutioncycles.com