by
willnesse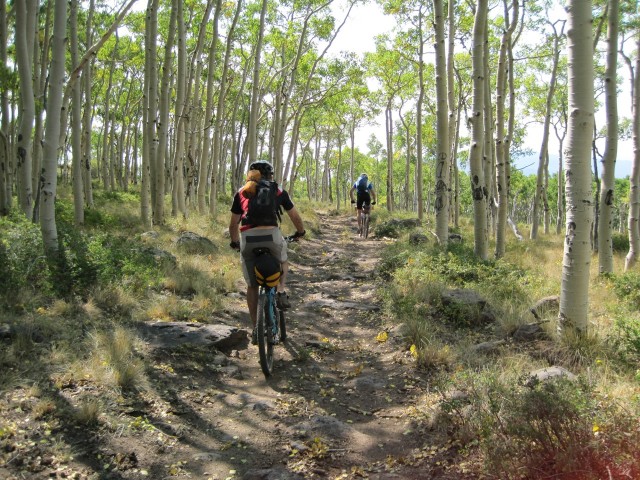 The Great Western Trail (GWT), as it has been proposed, snakes north-south, from Canada to Mexico, on a patchwork of forest service roads, 4×4, ATV, and single track routes. It links trails in Montana, Idaho, Wyoming, Utah, and Arizona. However currently, there are many sections that are not much more than game trail, let alone just a concept. One recurring ambition I've had is to tour different sections of the GWT across the beautiful state of Utah. On other trips, I have traversed sections along the rugged spine of the Wasatch range, as well as the Southern Wasatch Plateau that links Hwy. 6 with I-70. Those landscapes are indelibly marked in my mind. And while being away from Utah for the last year, those memories kept calling me back to once more ride south.
I recruited two good friends to ride the section south of I-70, through the Fishlake National Forest, with the goal of riding to Torrey, Utah. We planned to take two days to go about 65 miles. This section passes diverse landscapes, first climbing through the sherbet sandstone of Salina Canyon, reminiscent of the formations further east in the San Rafael Swell. Further on we passed through scrub oak woods, and then quickly on to the high aspen glades that characterize most of the route.
The trail itself is nearly entirely rough ATV track with constant climbing and descending. We passed many bowhunters out doing their thing. FishLake is ATV country. Despite current controversies surrounding ATV use in the West, just remember that the trails here would not exist without them. All the guys we met out there were courteous, safe, and stayed on the track. I saw several riparian zones that were growing back nicely, and I have to applaud their collective efforts. Not every place is kept so nice.
The first 20 or so miles of the route can be characterized as one big climb, the denoument is to crest a 10,900 ft. pass east of Mt. Terrill (11,546 ft.).
After all that climbing, and some hike-a-bike, the reward is a descent, to which Ben remarked "now I see why we brought bikes."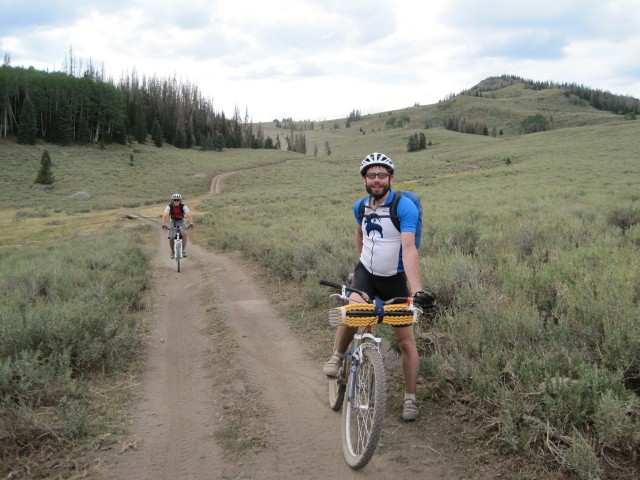 The GWT offers great opportunities multi-day bikepacking. One could conceive of a continuous bikepack starting Salt Lake City-area Wasatch range, all the way at least to Escalante, Ut. The main challenge would be finding food for a self-supported run, since the only towns close to the route would be Salina, Torrey, and Boulder, all in the south. The northern section would have to be cached or packed in. Consider the gauntlet thrown down…
There are advantages of bikepacking in a large group by sharing tools and other heavy items. We shared a two-pound Black Diamond Mega Light floorless tent, modified with a sewn-on drape of mosquito netting to keep the bugs out.
The only miscalculation was on water filtration. We brought one filter. Despite constant cleaning of the filter, pumping was slow. Between the three of us we consumed about 9 gallons in a day and a half, and took roughly 2 hours of riding time away from us. We could have put down significantly more miles if we brought more filters. Also, water is plentiful on this route. However, Fishlake is cow grazing country, so I would not count on iodine alone to keep your guts working.
With about 15 miles to go we were descending onto a ridge north of Torrey that traverses just west of the Waterpocket Fold of Capitol Reef. Up ahead we spotted a forest fire burning furiously right where the trail headed near Geyser peak, and so we retreated down an alternate route to Hwy. 72, to the neighbouring town of Loa to end the ride short. It was a wise choice. Winds were high, and by the late afternoon the fire had spread up the canyon near where we bailed.
I was looking forward to that last section through the red rock, but I didn't really mind. After living a world apart in the flatlands of Eastern Canada for a year, to be out there with good friends, a flask of scotch, and a high-mountain Utah sunset was enough.