Desert Southwest (CO,AZ,UT,NM), Trip Reports » First Bikepacking Trip – Kenosha Pass to Breck & Back 7/12-13/13 (Colorado Trail)
by
discostew
Did a few bikepacking trips in the late 90's around the Maah Dah Hey trail while we rode and built a few portions of it, but this was my first in a long time and first solo.
Planned to ride from Kenosha to Searle Pass and back over the course of two days. Rarely do things go as planned…
Started my day at 6 am and was riding some very fast and smooth singletrack from Kenosha to Georgia Pass (bike path/Peaks trail around the Ten mile range). Great climbing over about 12 miles with no real HAB sections. Enjoyed the view at Georgia and had a blast descending into Breckenridge. The conditions were all I could ask for until about 1130/1145 things began to get wet. I enjoyed the first gentle rain and took a break with a few riders doing a loop from Breck to enjoy the local greenery as we hoped the rain would pass. It let up and we rode on, however as we descended into Breck the rain went from heavy to torrential. I was happy that all of my bags were waterproof…except my backpack. And I appeared to have left the fly at home. I made it into Breck around 1pm and tried to dry some gear out at a local watering hole. I was not wise in the early rain to move my gear to ensure it would be dry so all of my clothing and arm/leg warmers were soaked 🙁
I dried a few things out while the rain pounded down and enjoyed a few milk stouts before heading back up to Georgia pass. I was making fairly good time until the rain made the trails into rivers. I felt it best to start the muddy climb back up to Georgia instead. I ended up getting in 48 miles the first day and camped on the route up to Old Georgia pass. The trails were too muddy to climb so I hopped back onto the road which was as muddy, but offered a bit better traction. I found an broken down log cabin that I made a lean-to with and was able to get myself and my entire bike out of the rain for the night. It rained pretty continuously from about 8pm-4/5am.
On day 2 I continued the climb back up to Georgia pass which involved less riding than it should have due to the muddy nature of the road. I made it back to the pass and enjoyed the descent down the Jefferson trail before returning to the CT. Arrived at the car at 1030 am and enjoyed a cold one before driving back to Fort C. A quick 16 miles back to the car for a day and half total of 63 miles. Wish I had the chance to push for the original plan but it was great regardless.
Overall I learned some lessons about what I needed to bring and had a blast on a solo adventure.
A few more pics: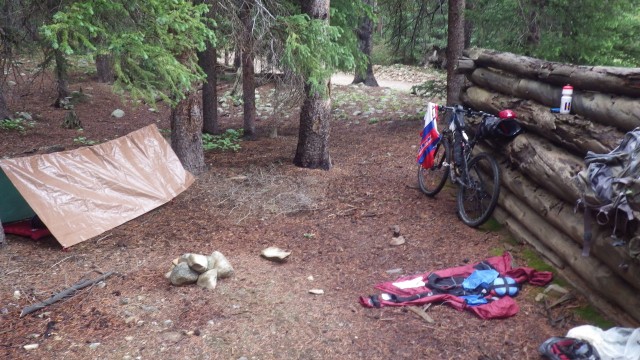 this is where I set up camp. Since I only had a tarp I did the classic A frame set up….then i decided I'd like to keep the bike as dry as possible throughout the night so I moved the tarp onto the wall on the right. Bike, myself and all my gear didn't get any wetter over night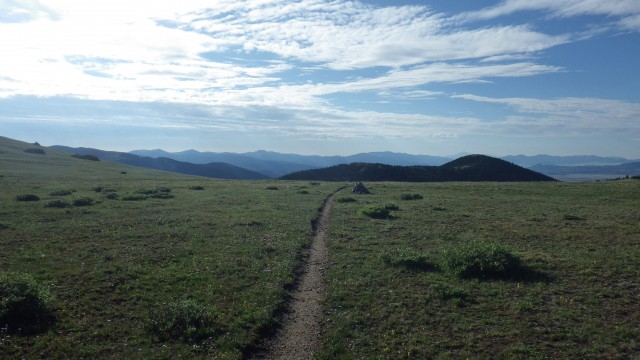 great view back toward Kenosha pass, great descent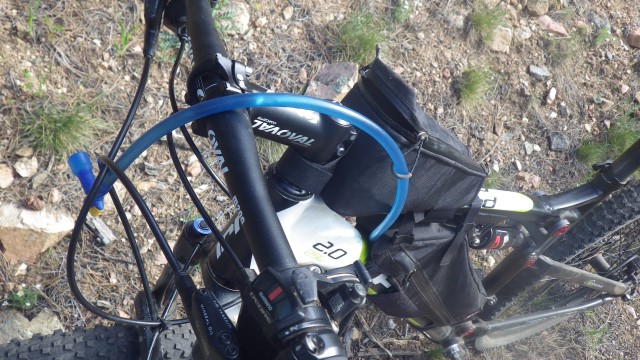 the last thing I wanted to include here is my happiness/success with this hyrdration setup I ran. I'm using Revelate's tangle and gas tank to create a way to get my water off my back. I ran about 80oz in the tangle bag with my tools/pump/misc items in the smaller pocket. I then ran the hose up through one of the two loops on the gas tank and then placed it inside my brake/shifter cable netting. I've run with this setup for many other rides and only on rare occassions does the hose come out from the cable netting. If it does, its held up by the gas tank. If you don't run the gas tank then the hyrdation tubing does not stay put nearly as well.
Thanks for reading…can't wait for next summer….