by
bradh
Who: Brad (whole thing), Maureen (most of it, Waterton – Leadville, Molas – Durango).
The Route: We followed the Colorado Trail Race route & CT suggested bypass route w/ a few shortcuts. Skipped segment 7. I caught a ride (about 10 mi) from Leadville to the beginning of section 11, half moon creek. I bypassed section 13 & the first 3.9 mi of section 14 because I've ridden them several times and wanted to save myself for the new stuff. I rode into Salida for a day of R&R and then got a ride to Monarch pass, skipping the climb up S Fooses. Got a ride from Silverton to Molas Pass. I did ride sections 22 & 23 (Spring Crk – Stony Ps). We took the highway bypass through Bailey, around Lost Creek Wilderness (the only crappy part of the trip).
The Gear: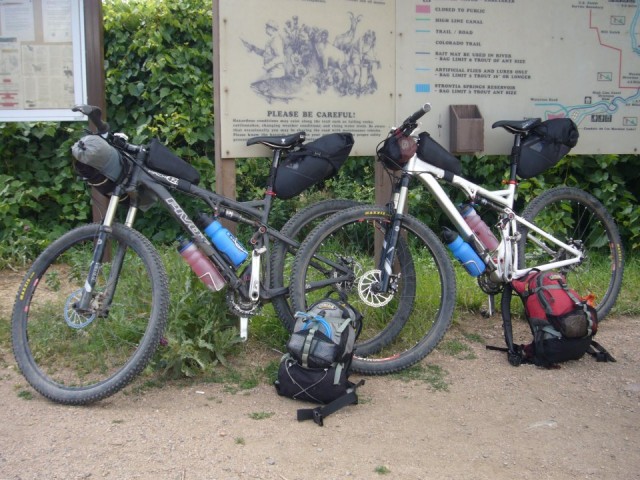 Pivot 429 (both of us)
Revelate Viscacha Seatpack (both of us). It worked great once I figured out how to pack it and keep the back end low, & took it just a bit easy. I put food, down jacket, and sleeping bag in here, Mo put food & clothes. In hindsight the Pika might have been better since I couldn't load this up with out it getting in the way on technical descents & the wheel could hit it sometimes with a good compression.
Revelate Gas Tank (both of us). Worked great.
Revelate Handle Bar Harness/bag (me only). Worked great, awesome harness design. I did have to be careful on big hits or the front wheel would rub for a second. I put my tent & pad in the harness & misc junk in the bag. Mo just strapped her pad to the handlebar.
Camelback HAWG Backpacks. We kept these light w/ no water most of the time. Mo put her sleeping bag, rain jacket, socks and toiletries in here, I had food, clothes, cook pot.
Sleeping Bags. I used a Montbell Spiral # 3, 30 deg bag. It is only 20 oz and packs up very small. It was adequate, but barely. I wore clothes to bed including down jacket most nights. 2 – 4 more oz of down would be nice. Mo had the Montbell Super Spiral #1, 15 deg bag. It is 36 oz and much warmer, and bulkier. For her this was a perfect compromise for the warmth.
Tent: Tarptent Cloudburst 2. Adequate for 2. Worked great in several rains, but 1 night during a hard rain, after much rain earlier, the hard drops hitting the tent knocked condensation off the tent so I felt a bit of a mist. Annoying, but I didn't get very wet. I probably could have had it ventilated a bit better, but I'm not sure you can eliminate condensation in a single wall tent when it's rainy. Another camper w/ a similar go-lite tent had the same issue that nite. We're glad we had a bug proof tent & not just a fly.
Pads: Big Agnes insulated air core
Hydration: We carried two 1liter bottles on the bike so we wouldn't have to carry the weight on our back. Sawyer filter bottles and Zefal 1 liter bottles. I had to put spacers under the back of the cage so the bottle didn't hit the shock adjusters. A 2 liter Platypus for the occasional long dry spell and for camp. I set up a gravity filter w/ the Platypus and Sawyer filters in camp.
The Trip:
Day 0 – to mile 11.8
11.8 mi , ~ 1900 ft., 1:54 whl time,
The wiser half suggested that we start a half day sooner since we had a lot planned for the 1st 4 days and this would put us on the hot climb from the S Fork Platte River earlier in the day.
Day 1 – to Santa Maria
46.7 mi (29 mi single track), ~5000 ft, 6:49 whl time, 9:45 ttl time
Sections 2 & 3 & part of the bypass, to near Santa Maria along the highway.
Climbing up from the river to Top of the World was much better since we hit it early in the morning and it wasn't so hot yet.
Brad was running out of gas on Wellington Lake rd. Rolling hills that seemed like a lot of climbing.  Burrito & Coke at Conoco in Bailey hit the spot.
Riding on highway sucked, lots of traffic even on week day, poor shoulders. Missed a turnoff for camping & had a difficult time finding a camp spot along the way due to wilderness/private property. But found a good spot near Santa Maria.
Day 2 – to North Fork of the Swan
30.9 mi (19.7 ST), ~5000ft, 4:53/5:27 whl time
Santa Maria – up highway 285 to top of Kenosha. Slow tough climb. Nasty camp host wouldn't let us get water.
Up to Gerogia – Maureen fading now and having to walk way too much. In fact, the entire section above timberline.
Downhill to Middle Fork of the Swan. Fun, fun, fun – some reward for all that climbing.
Nice camp at North Fork of the Swan, lots of mosquitoes – no problems, just went to bed.
Day 3 – to Janet's Cabin
35 mi (22 ST), 5:24 whl time
North Fork to Frisco, fun – climb wasn't bad and the downhill again was a blast. Ate in town, tried to take the bus to Copper but it was full – no room for bikes on the front, so we had to ride up the path. Stop in town took too long and our food choices were not as organized as we should have had them. Probably better to have sent a care package, or going to city market instead of health food store.
Ride up to Janet's cabin – steep first section, and then more pushing then we normally have to do. Cabin was great, awesome single track climb.
Great company came in around 8:00 doing a 3 day bike tour. Ashley & ? – from North Carolina.
Day 4 – to Leadville Hostel
30 mi, ~2500 ft, 4:02 whl time
Up over the pass to Kokomo – not too bad
Downhill to Camp Hale, some steep loose rocks, other downhill's in Colorado are much better.
Camp Hale to Fremont Pass – ups and downs, seemed longer than expected.
Ride down CT after top of Freemont Pass was Wonderful. Would be a great Out and Back. NOTE – come back and do this area again
Ride into town on highway was long – got to town about 3:15 though and that felt great
Leadville Hostel was wonderful – they have a group dinner for $10 which is really nice for meeting other folks.
Day 5 – to Browns Creek
59 mi, ~3100 ft, 6:10 whl time
I cheated and got a ride from Maureen to the seg 11 trailhead. Segment 11 started w/ a hike, then the rest was mostly good ST, worth coming back to. Flatted close to the road, but the sealant seemed to be holding. Maureen left to rest up at home (& ride up Mt Evans).
The highway bypass was OK and went by quickly, the dirt rd along the river was pleasant and scenic.  Stopped to watch boats.
Stopped at the Trailhead Store in Buena Vista to pump up my tire and buy some bars. Nice folks, but they don't carry the old fashioned power bars.
Decided to skip segment 13 and the 1st bit of segment 14 since I've ridden them many times, and there would be a lot of hike-a-bike.
Rejoined the trail at Raspberry Gulch
Camped about 100 ft away from Brown's Creek, but still lot's o skeeters.
Day 6 – to Salida Hostel
30.7 mi, ~2000 ft, 3:33 whl time
This is a really fun technical section. I had to walk much more than usual due to gear & fatigue.
Before I got to hwy 50, I hooked in a little bit of the railroad grade, then more later along the highway.
Another great hostel
Day 7 – Hang out in Salida
Picked up my food package, which I had mailed here,  caught up on email at the library, bought new insoles.
Ate food, drank beer
Day 8 – To hwy 114
46.4 mi (all dirt), ~6000 ft, 8:00 whl time, 11:00 ttl time
Got a shuttle ride to Monarch Pass from Kimberly, one of the hostel owners. My brother & sis-in-law joined me up to to Silver Creek
The sidewall hole that I got on day 5 blew out again so I put a tube in.
I wasn't tired yet, and didn't want to make the 0.5 mi, 250′ detour to Baldy Lake, so continued on. Planned to camp at Razor Creek, 3.6 mi ahead. In retrospect should have camped here.
Up to this point every water source that was shown in the CT data book as a half cup, and many that were shown as empty, or not shown at all, had water. Razor Creek was virtually dry. There was a little wormy water, but it wasn't even deep enuf to put a water bottle into. I continued on.
WARNING: This segment doesn't look hard on the profile, but it follows the continental divide and goes up and down every hill along the way. Every climb was a steep rocky hike-a-bike. Or maybe I was just tired. I didn't run out of water but I was completely spent by the end of the day.
Got to the bottom of the ST (finally a long descent!) near Lujan Creek and there was a 'trail angel', Apple, w/ shelter set up. Four hikers were hanging out so I joined them & enjoyed an orange soda and hot dog. Nice company after a hard day. Set up camp at the first marginal spot I could find.
Summary, some really good ST on this day,  some heinous, but rideable descent, lots of hike-a-bike.  Some ST intersections that might be worth coming back to.   NOTE: For those who think hike-a-bike doesn't sound fun, I don't think it's too bad, much better than hike-a-backpack.
Day 9 – To Spruce CG on FS 788
54mi, 5:48 whl time, 7:10 ttl time. Arrived at camp at 4:20 which felt early compared to yesterday.
Some good ST on segment 18, then a long bypass.
LONG bypass, lost a bunch of elevation going down to road NN14, then a long climb up to Los Pinos Pass. It isn't that much gain, but I was dragging. After dropping down to Spring Creek, the climbing up Cebola Creek was much nicer. I'm sure it was all mental.
Met Andy who stopped by on his CT race scout trip.  I lost my knife a day ago, & he gave me one!  Awesome guy, GO Andy!
Day 10 – To Big Buck Creek
21.9 mi, 3:42 whl time
Short day due to rain
About 2 more hours of climbing to get to Spring Creek Pass. I found a logging rd short cut which probably saved about 1 hr of road riding. It's not quite legit since there is a sign that says it's closed for logging, but there was no logging, or evidence of recent logging, and at the other end of the road it didn't say anything. I'm going to write the FS and CT foundation about getting it legalized. About 3 miles before and 900 ft below Slumgullion pass go left on a road, it eventually runs into county rd 17 or FS 729 in the Cebolla creek drainage before Spring Creek Pass.
Some gorgeous rough riding (& hike-a-bike) above treeline in segment 22 across Jarosa Mesa.
Thunderstorms came in early, at 11 AM I was hunkered down in some 4 ft willows btwn Jarosa Mesa and the next mtn. Hail and rain lasted about ½ hr. Looked clear ahead so I hurried over the next saddle and camped in the 'marshy headwaters of Big Buck Cr'.
Rained off and on the rest of the day, and rained hard that night. Met 4 nice hikers from Boulder, need to right names down, cuz I sure can't remember.
Day 11 – To Silverton Hostel
25.1 mi, 6:11 whl time, 8:30 ttl time to Stony Pass. Another 11 miles and 45 minutes down to Silverton on dirt rd. About 2 hrs to finish section 22 quicker than my guess, about 4 hrs for section 23 (longer than my guess)
Beautiful scenery and hard riding (pushing). Weather was cloudy and threatening, but no lightning. Started raining just as I was getting to Silverton.
This section is really hard but really cool.  I'd do this again.
Another great hostel.
Day 12 – Hung out in Silverton
Ate food, drank beer.
Maureen rejoined
Rob at hostel is great.
Day 13 – Molas Pass to West Lime Creek
8.7 mi, 1:50 whl time
Got a ride from hostel owner Robbie to the Molas Pass trailhead.
Several ups and downs, easy water access, picturesque,
Camped 8.0 miles in because of rain, had to backtrack a mile.

Met some other folks camping and taking a break due to the rain. 2 bikepackers from Colorado Springs trying out their gear. Richard & Dave from Arkansas rolled in about 4:00. We debated about going on but since the tent was set up and we didn't know how long it would take to get off the ridge we decided to take it easy. Instead had time to get to know Richard and Dave. (Good thing)
Day 14 – Mechanical Detour, ended up at Bolam Pass
35.3 mi, 4:43 whl time. Seemed longer.
Dropped down, a bit dryer climate, water still easy access.
Pushed on to Bolam Pass, made good time; about 1:50 into ride derailer hanger broke just before Cascade creek on the downhill. Tried single speed, but wouldn't stay put w/ any suspension movement, locals riding the CT Jamboree suggested some bailout.
Turned off 3 miles short of Molas Pass. Took road 578B to ski area – was 10 miles long with ups and downs
Made it to ski area, took wrong turn (no signs to highway) and went 6 miles downhill out of our way. Ended at Hermosa creek and figured out where we were and turned around.
Backtracked the 6 miles up hill to correct turn marked Harris Park.   Fortunately after that, it was a fast, steep, easy downhill to the highway.
The folks who showed us the map in Hermosa Creek parking lot agreed to take us up to Silverton where the car was parked. Craig was from Tuscon and he kept an eye out for us. Showed up with 2 turkey sandwiches from his biking companion Laurel (sp) very sweet. Between gas and cash we gave him $20.
We had a spare derailer hanger and were able to fix the bike. Decided to forge ahead and get back to Bolam Pass that night so we could continue the journey. Figured we would drive up to the pass and figure out the logistics later. (We could get a ride to the ski area and bike up to the car – probably a 3+ hour ride up hill – how trusting we were that it would work out OK.) The drive took over an hour to go 17 miles, 9 miles of slow rough road with holes from rain. Got to top about 6, had to set up camp and cook in the rain. 11200 elevation. Other campers up there in their tent due to rain.
Summary of riding: Probably could do the entire section 25 in 4 ½ hours wheel time maybe less if you were fresh and pushing it. We didn't do the last 3 miles so have no real idea of the difficulty of the last climb.
Day 15 – To mile 12.3 of segment 27 (might be called Cape of Good Hope, or Indian Trail Ridge)
23.5 mi, 4:35 whl time, 6:10 ttl time. Left at 9:05, rode until 3:15. Note, this is about the right amount of riding for us, & the only time we hit it.
This was the day of the Colorado Trail race – 5 folks were trying to complete the entire 4 sections in one day. First guy rolled through Bolam Pass at 8:30, 2 more at 9:00. We took our time so we could clean up, wash shorts and take advantage of the cooking tools from the car.
The other campers turned out to be Richard and Dave from Arkansas – who we camped with the night before. They had a knee injury and had to change plans as well. They agreed to take our car down to the ski area and leave it in the parking lot for us to get when we finished. This would be much easier than having to get to the top of the pass. What a stroke of luck for us. They were so wonderful.
Went from Bolam Pass – over Hotel Draw and then beyond Straight Creek – (another high spot for Maureen, So beautiful with flowers in full bloom – green and lush) Weather threatening again. Seemed to rain daily by 2:00
Camped at ridge about ½ mile above a seeping water source, the headwaters of Deer Creek, 11,220' . Lots of mosquitoes so had a fire for the first time to give us some peace. Water source was a hike but turned out to be easier then we thought.
The ride, Still quite beautiful – especially Blackhawk – fields of wildflowers and a hillside of columbines the size of bushes. Amazing. Mountains very colorful due to mineral content. Can't remember any hike-a-bike, except for brief times when the lungs couldn't take it like Blackhawk Mt.
Camp turned out to be a great spot, nice overlook where trail had been rerouted. Great Spruce tree protecting us from the rain. And that night the weather was intense all around us. We were protected. Winds were really blowing as well.
Day 16 – To Durango
30.2 mi, 5:20 + whl time, 8 hrs ttl time
Next morning – not sure of the cause for this – but the fog was rolling into the valley below and rolling over the ridge across from us which was higher than we were.. It was so pretty and amazing. Left camp at 8:15 to try and keep ahead of the weather again.
Stop – we've been riding for 45 minutes and what? Another broken derailer hanger?? On no – once again, fixed it up as a single speed, which worked out OK since it was climbing and hike a bike to Kennebec.
Climb ahead of us was to be 1000 ft (No big deal). Three hours later with tons of hike-a-bike, we arrived at Taylor Lake. With the ups & downs it was way more than 1000' . You have steep switchbacks up to timberline and climb up and over the top of 2 ridges – all rock fields which are impossible to ride up. Some of it you can ride down. Views are amazing and again we got to watch the clouds/fog roll around. The low fog was building, but we seemed to be just 1 step ahead of it. So far, weather was holding and we were safe.
Taylor Lake was absolutely amazing. 1 mile below Kennebec Pass. Worth the effort for anyone! Climb out of lake to pass was easy.
Reached the pass around noon, after taking a lunch break and some pictures. Feeling good, 26 miles to go and mostly downhill (Yea, right!)
First 3 miles – fun, then some climbing, not bad, but Brad had his chain totally off by this point, so we were a bit slower. Not a problem though, fun descent with mild climbing until Junction creek. Getting lower now and warmer and a bit less threatening on this side of the mountains. No concerns for rain at this point.
Climb begins at Junction Creek. Total about 1 mile straight up, another mile where you go up and down and then another 1 mile of pushing your bike. Very hard and Maureen started to bonk. Finally the last 1 mile – although it felt like Déjà vu because every turn looked like the last one, was rideable and a nice change of pace. At this point you still have 17 miles to go so you get a bit worried you have the energy regardless of the elevation gain or loss.
Once at the high point, it was a fun, varied descent. Some really rooty sections, rocky sections, smooth sections, cow shit areas and slippery mud. The last 6 miles are the best. Steep switchbacks and rolling smooth areas with some obstacles.
Finished at 4:15 and a female runner at the end took our picture. Brad asked her for a ride and she decided to give us a ride up to the car at the ski area. Maureen went and Brad stayed behind with the bikes. It was about 25 miles and she wouldn't take any gas in exchange. The quick ride was great AND finding the Rav at the ski area was a relief as well. You never know when you hand your keys over to complete strangers. Thanks Dave and Richard, and runner girl!
.