Eastern USA, Trip Reports » By Gravel And Rail — A Ride on the Katy Trail
by
shelbystop
 About two years ago, my uncle Bruce, who is in his sixties, began using a bicycle to stay in shape. He was a previous marathon runner who had begun to suffer some of the physical challenges of distance running and decided to at a minimum supplement his other physical endeavors with bicycle riding. Being of the travelling sort, he decided that he would venture down the Katy Trail and ride from Saint Charles Missouri (suburb of St. Louis), where he lives, to Clinton Missouri. After listening to him speak of the adventure, we began to entertain the idea of riding the trail together.
 For those that are not familiar with rail trails, they are patches of old abandoned rail road right of ways that have been converted into recreational trails for the purpose of walking, riding bicycles and sometimes horseback riding.  The Katy trail compasses a little over 237 miles if ridden from Clinton to St. Louis, and is a designated Missouri State park.
 Riding rail trails was not new to me at the time. In Iola, Kansas, where I currently call home, there is a rail trail that runs from Ottawa, Kansas to Iola. My youngest son had ridden the entire trail to Ottawa and back the year before and I had been riding the trail quite often to the north of Iola. I had actually ridden a small portion of the Katy trail in my late twenties which left me the desire to complete the trail in its entirety. After speaking with my uncle several times and kicking the idea around with my college age sons, we decided to turn the idea into reality and ride the Katy Trail in May of 2013.
 My uncle is a college professor in St. Louis and his schedule would allow for a narrow window of opportunity for a multi-day ride between the end of May and the middle of June when summer classes began again. After kicking around a few possible dates, we agreed to meet in Sedalia, Missouri on May 23rd of 2013. He was going to ride the trail both ways from Saint Charles to Sedalia and meet myself, Kyle and Tyler there. We decided to camp in Sedalia on the 23rd and begin the ride east on the morning to the 24th. We did not have the time to ride the trail in both directions so the boys and I had planned on riding from Sedalia to St. Louis and then take the Amtrak train back to Sedalia. We planned a couple of extra days to see some sights in St. Louis and spend some time with my extended family.
 The train is a great way to go; it was $35 one way from St. Louis back to Sedalia with an extra $10 for the bicycle. They can only take a limited number of fully loaded bicycles on a train however, so if you are planning this trip with a larger group of people, it would be wise to contact Amtrak prior to the trip and make sure that spots are available for you and your ride.
 On May 23rd, 2014, I left Iola and picked up the boys in Pittsburg, Kansas. We stopped at Tailwind Bicycles in Pittsburg and picked up a couple of last second items and then headed east to Sedalia, Missouri. We arrived in Sedalia and parked the van in the parking lot of the Amtrak train depot. We then unloaded our bikes and equipment.
 For this trip I chose to ride a 1980's model Specialized Crossroads bicycle with straight mountain bike style handle bars. I rode with 700cx35 off- road tires which provided great comfort and traction on the trail. Most of the rail trails that I have ridden are very smooth and fairly level trails that are covered with compressed pea gravel.  As such, they can be ridden on almost any type of bicycle and all sizes of tires. I found that the 700cx35 tires were very comfortable and kept the drag to a minimum. I did not take any real fancy high- end equipment with me for the trip. I did carry a Camel backpack with a water bladder, which for the record I will probably leave behind the next time I ride the Katy Trail. Water sources along the trail are plenteous, and I had no real need to pack extra water on my back. I also carried two water bottles attached to standard water bottle holders on my bicycle frame.
 I did purchase an inexpensive rear rack and some small water resistant panniers from Nashbar, in which I carried the majority of my travel items and food. I also travelled with a Koppen Lokal 1 single person tent and a North Face down sleeping bag, supplemented with an inexpensive self- inflatable mattress. I attached the tent on my top tube. I attached the mattress across my handle bars with Velcro straps and the sleeping bag I stuffed inside of an old backpack that I had removed the shoulder straps from. I mounted the sleeping bag on the top of the rear rack and secured it with bungee cords. The backpack was just the right size to stuff the sleeping bag in without being too bulky for the ride. It also contained some additional room for a few extra items. The bicycle and above mentioned gear is pictured below.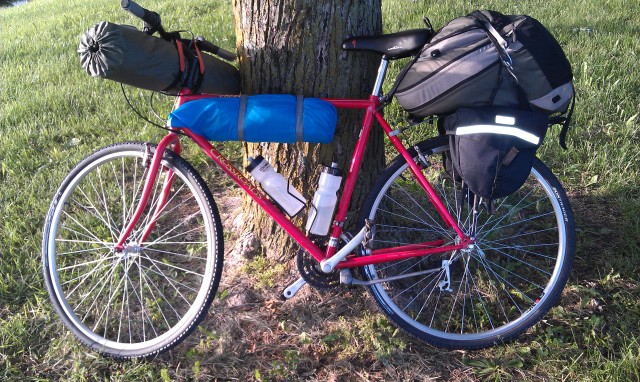 Once we had unloaded the bicycles and secured the van, we were off and riding to the Sedalia fairgrounds which is only couple of miles from the train station. We had agreed to meet my uncle at the fairgrounds and camp there for the night and then hit the trail in the morning. The ride to the fairgrounds was for the most part uneventful. Once we arrived at the fairgrounds we were able to locate my uncle who had arrived earlier and had already set up camp on the northwest side of the park. The campgrounds included water and shower facilities. There were also outlets in the bathrooms with which to charge up your cell phones or other electronic devices as needed. The park security guard came around later in the evening and picked up the five dollar tent camping fee which I considered a very fair price considering the accommodations.
The fairgrounds are within easy walking or riding distance from several convenience stores and restaurants. After setting up camp, the boys and I took a small ride to the Katy Trail entrance which is just to the south of the fairgrounds and very well marked. Upon our return we walked into town and found a local Starbucks and had dinner and coffee and spent some time catching up with my uncle. After we had our fill of coffee and conversation we returned to our campsite and turned in for the evening.
 Camping at the State Fairgrounds in Sedalia Missouri
On May 24th, 2013, our ride began. We arose to cool weather and a slight chance of rain which never materialized. After having a quick breakfast we headed out onto the trail. Our goal for the first day was to reach New Franklin which is approximately 38 miles from the Sedalia Fairgrounds. The weather was beautiful for riding. It was cool and the wind was minimal. The ride itself was beautiful. The majority of the ride to New Franklin was mostly wooded and canopy covered which provided for some great shade as the day warmed up. We were in no rush so we stopped often and took pictures various locations.
 There is quite a bit of history to be seen along the Katy trail as you traverse old rail bridges, creeks and waterways. There are numerous signs which point out historical landmarks and tell tales of days gone by. 
 The Lamine River Bridge was built in 1909-1910 by the King Bridge Company of Cleveland Ohio. It replaced an earlier wooden trestle bridge and carried the Missouri-Kansas-Texas railway across the Lamine River. This bridge is just one of the many historical sites that you find along the trail.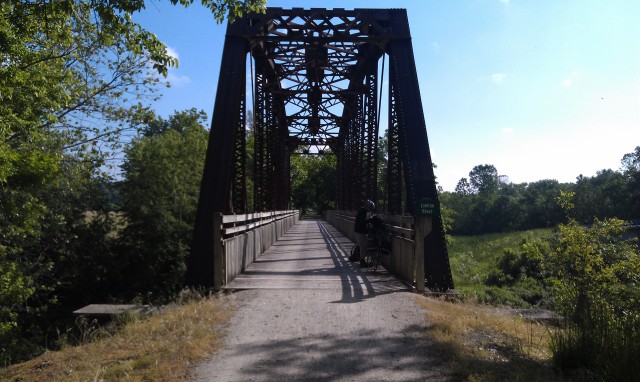 As we continued our ride, we of course had to work out a few small kinks in our equipment and means of attachment. The first problem was with the rack that I had purchased for my youngest son's bicycle. I did not put Lock Tight on the nuts and bolts used to attach it to the seat post mount. At one point during our first day's ride, the nut fell off of the mount. Fortunately, I had brought along some extra nuts and bolts just in case of such an emergency. If you should decide to take a trip such as the Katy Trail or other multi-day distance ride, I highly recommend getting to know your bicycle and at least familiarize yourself with basic bicycle maintenance. Things like changing tubes and making minor adjustments to spokes and shifters, at times, can be very helpful. Fortunately, the Katy Trail passes through many small towns and bicycle shops are readily available for any major repairs that may hinder your progress. My younger son also had a flat in route to Boonville. Other than these two instances, we had no other mechanical issues for the remainder of the ride.
As you enter Boonville, you are immediately rewarded with the discovery of the Boonville Train Depot which has been restored and is a small museum of sorts.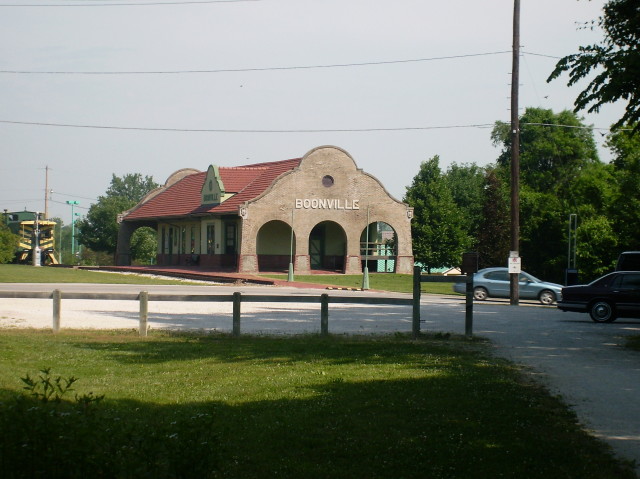 Between Boonville and New Franklin Missouri, you must cross the Missouri River. The Katy Trail follows the Missouri River for the most part from Boonville to St. Louis. The river is not always in sight but you are never far away from a fabulous view.
 The Boonville Crossing is fabulous. The view of old MKT Lift Bridge is wonderful. The center section of the MKT Bridge raised and lowered allowing river traffic to pass beneath. The bridge was constructed in 1932 and at the time its 400 foot central lift span was the longest in the country.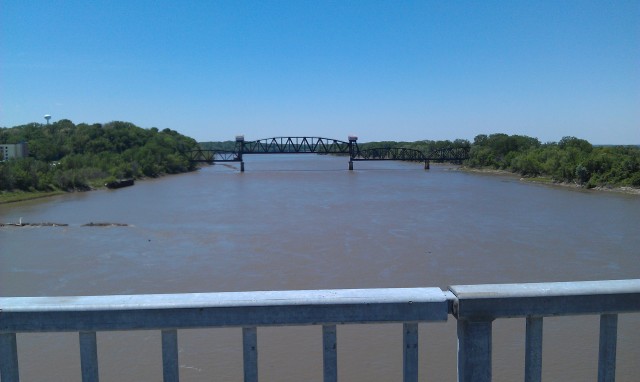 After passing through Boonville, we found a local grocery store where we picked up some sandwiches and snacks for the evening to come. I have discovered that my appetite when riding bicycles goes through the roof. After obtaining our evenings grub, we headed up the trail a couple of more miles to the Boonville Camp Ground which was just shy of New Franklin Missouri. Again the campground was fantastic and included water, showers and electrical outlets.
 We had arrived with plenty of daylight left and were able to spend a lot of time enjoying each other's company and relaxing. Fortunately we had called ahead to reserve a campsite at the Boonville Campground.
We did not realize it but he had decided to ride on the same weekend that the Pedaler's Jamboree is held. The Pedaler's Jamboree is a weekend biking, camping and music event in and around the area of Rocheport, Missouri. The event includes a seventy five mile bicycle ride from Columbia, Missouri to Rocheport along the Katy Trail and attracts somewhere in the neighborhood of two thousand (that's right, 2000 riders) each year. The event includes music in and around Rocheport, some of which is directly along the trail. This created a small dilemma for me being a music lover. I really wanted for stay around the area and attend some of the local concerts over the weekend. It would be a great time but we decided to go ahead and continue on. I went on a small evening ride along the trail and around the campground and then returned to turn in for the evening.
 The Boonville Campground which included water, showers and electricity all for a five dollar fee.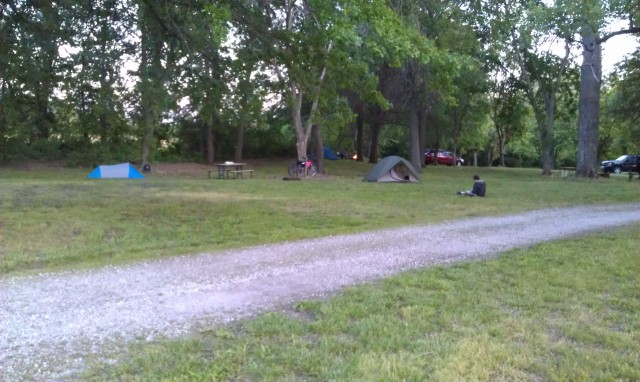 We awoke on day two of our Katy Trail adventure with a strong possibility of rain. Our goal was to ride to ride from our current location just to the west of New Franklin to Tebbetts, Missouri, a span of approximately sixty miles.  We were not sure of what the trail traffic would be like heading out on the other side of Rocheport. The idea of riding into 2,000 bicycle riders heading our way for the Pedaler's Jamboree presented an odd mental image, so we hit the trail earlier hoping to miss the traffic.
 While in route to Rocheport, we rode into our first and only rain storm. It was a gully washer however. Being younger, the boys kept a much faster pace than Bruce and I did (at least that is the excuse I am using). We had agreed that we were going to stop in Tebbetts and therefore we could meet there if our riding pace was not the same. As Bruce and I approached Rocheport, the rain began to fall. We rode it through to the Rocheport tunnel where we were able to stay dry for a few minutes until the next lull in the storm.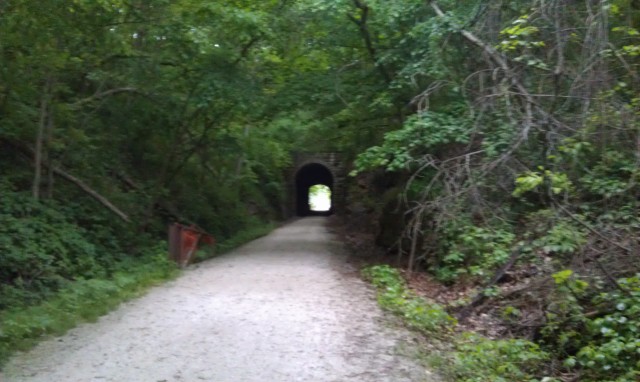 The rain let up enough for us to exit the tunnel and ride to the Trailside Café and Bike Shop which is conveniently along the trail in Rocheport. Bruce and I decided to ride the storm out over bacon, eggs, hash browns, pancakes, coffee and orange juice. The Trailside Café and Bike Shop is a diner that is directly connected to a bicycle shop as the name implies. The shop is a great place for riders to obtain parts or get repair work done along the trail. They also rent bicycles for those that want to go out on the trail for a day ride or tool around town.
 Rocheport is somewhat of an anomaly. It is a very artsy community in the heart of Missouri. I would compare it to a mini-Boulder, Colorado along the Missouri River. The area is beautiful and the town is filled with old Victorian style homes and buildings. The town also has numerous museums and galleries. There are several bed and breakfasts in town which make Rocheport a great weekend getaway.
 A tent where a live band was playing along the Katy Trail just to the east of Rocheport, Missouri. This gathering point was part of the Pedaler's Jamboree which is a bicycle event held in and around Rocheport every year.
Once the rain stopped, Bruce and mounted up and continued our trek to Tebbetts. Between Rocheport and Tebbetts lies the small town of Hartsburg, Missouri. A couple of miles outside of Hartsburg, we met a fellow trail rider who was from Finland. He was riding across county and riding along the Katy Trail as part of his journey. He was very entertaining and had previously ridden the Great Divide Trail which is on my bucket list of things to do by bicycle.
 As we all three rode into Hartsburg we found the two younger members of our entourage on the porch of Dotty's Café. For a moment I felt like I had walked into their bedroom back at the house. They had their shoes, socks and other gear strewn all over the place. I did not realize that while Bruce and I were staying dry and enjoying breakfast, they had been forced to drive through the down poor which had actually become somewhat frightening. They were soaked to the bone. They had rain gear but it will only go so far in an all out hour long downpour. I must admit, I smirked a bit at their misfortune. I was feeling a little left behind by their youthfulness. Obviously the slow patient wisdom of age had paid off (at least that is my excuse).
  Dotty's Café in Hartsburg Missouri is a great little diner and her blueberry cobbler ala-mode is to die for.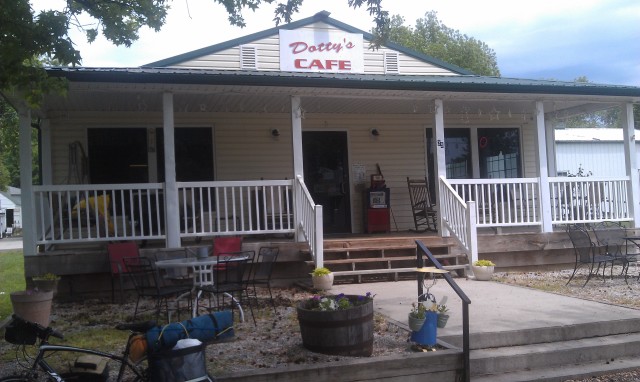 The opportunity for dining along the route is plenteous as you encounter small towns all along the way. We decided to have lunch with our newfound friend from Finland. One of the great things about touring on the back of a bicycle is the people you meet along the way. How often in our day to day busy life do we make the time to meet new and enlightening people?
 After topping off our lunch with some of Dotty's homemade blueberry cobbler, we hit the trail once again. Being from St. Louis, Bruce had given our new acquaintance some good tips on riding through the metropolis and we parted ways. May the wind still be at your back wherever you may be. The boys' things had dried out a bit and they packed up and we all headed out.
 We arrived in Tebbetts in the late afternoon. Bruce had told us that there was a hostel in Tebbetts that was a good place to stay. The hostel was just a block off of the trail and was very visible. Tebbetts is a very small community and there were no stores or places to get food, so be sure to plan ahead and pack a meal if you are looking forward to dinner.  Since we had eaten two good meals earlier in the day we got by on some fruit and nuts that we had brought along for the ride.
 The Turner Katy Trail Shelter is a house that was donated to the Katy trail. The home was converted into a comfortable place for trail travelers to spend the night. It includes multiple bunk beds, three showers, a kitchen including microwave and refrigerator. It also has a small bike shop in the back room where you can clean, repair or make adjustments to your ride. For us it was a night out of the tents and a great place to dry out our gear. The shelter encourages a small donation but it is not required.
 The Turner Katy Trail Shelter in Tebbetts, Missouri. Donations of five dollars are encouraged but not required.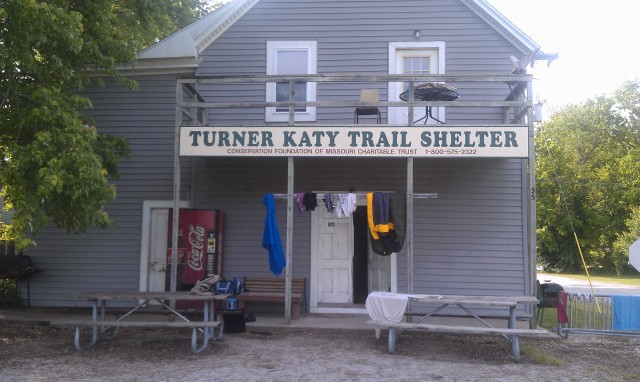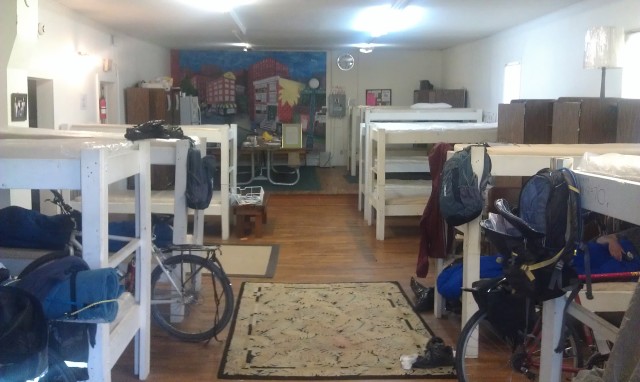 While at the hostel in Tebbetts we met several young men and woman that had just graduated from college on the east coast. After graduation, they decided to ride across the country before starting their new careers. They were also supporting cancer research along the way. We also met a wonderful couple who were traveling from St. Louis to Clinton and back again with their children. The ages of the children varied from preschool to middle school. The parents said that they were on their second day and things were going well. They said that the children were doing wonderful along the way. The Katy Trail along with the other rail trails that I have ridden provide for great riding opportunities for families including children of all ages. The nature of the trail, the level riding and lack of traffic make for extremely safe conditions for children.
 After sleeping well on the mattresses inside the Turner Katy Trail Shelter, we arose the next day refreshed and ready to ride. We had kicked around the idea of riding through to St. Louis but instead decided to just head out and see what the day would bring. We had plenty of time and were in no rush to get anywhere in particular.
 The trail to the east of Tebbetts was beautiful. We stopped at a local grocery store in a small town to the east of Tebbetts and grabbed a couple of sausage and egg biscuits from the local retailer. Unfortunately small local grocers such as this are becoming very rare.
 We stopped at a small local grocery store for breakfast. The small local grocer has become very rare today.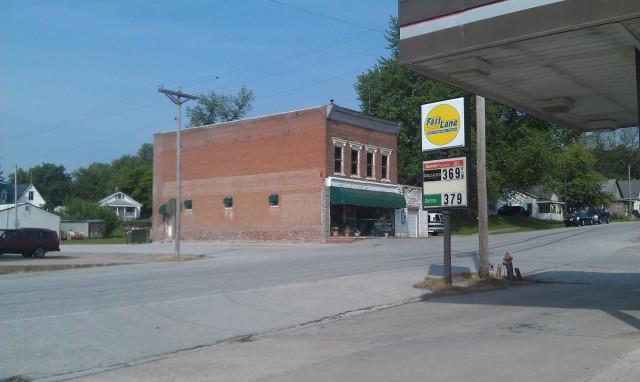 After our short breakfast stop we continued on to Marthasville. The ride was glorious with numerous views of the river. We also encountered some central Missouri wildlife along the trail which included dear, squirrels, rabbits, turtles, and several snakes including one Copper Head that had coiled up right in the middle of the trail with his head sticking up. I lifted my feet up considerably as I rode past. We also encountered one large rock which begged to have its picture taken. I am not talking about me; I am talking about the actual rock.
 River scenery also provided numerous views and photo opportunities.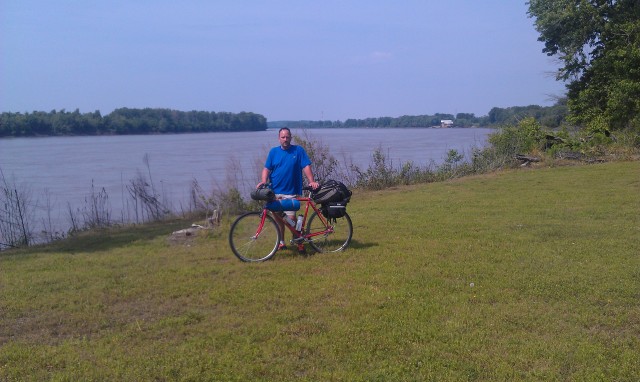 Upon entering Marthasville, Missouri, we immediately located the camping area which was just to the south of the trail. The camping area was no more than a field that had been designated for trail riders to set up tents. It did include a rustic settler's cabin as a piece of local history. Although there were no facilities directly on the campground itself, the town, as part of its hospitality to travelers leaves the facilities at the local baseball fields open for bikers and hikers to use. The facilities included several bathrooms, showers, water and electrical outlets as well. The income to local businesses and additional tax base returned to the town more than covers the expense.
 After setting up camp and cleaning up a bit we decided to grab dinner at Philly's Pizza which was about two blocks from the trail and very accessible. Philly's is a great sandwich and pizza shop. Speaking from experience, they also serve fine lasagna. After dinner we returned to our camp with full tummies and quite prepared for a good night's sleep. While in camp, we met a retired couple that was travelling the trail. Given the economy and their love for bicycling they informed us that they had decided to buy bicycles and travel the countries rail trails together over the summer. They were in no rush to get anywhere in particular and just rode every day until they became tired and decided to stop and set up camp. They had toured quite extensively and planned on continuing to do so. Not a bad idea if you ask me. May the wind be at your back wherever you may be.
 Our campsite in Marthasville, Missouri. The trail runs along the tree line just beyond our camp.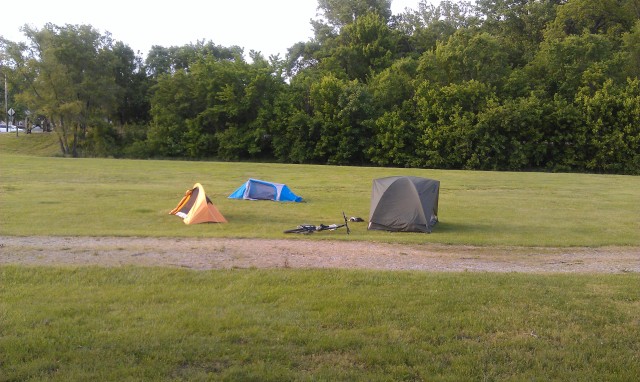 Our fourth and final day of riding was going to be a fairly short one which would consist of riding from Marthasville to Saint Charles, Missouri, a suburb of St. Louis. It had rained a bit during the night so we allowed our tents to dry out for a while and loaded up. The wind was against us most of the day and another large storm was expected so we continued ride pretty steady throughout the day. The last day for me is always a bit rushed. With the end in sight, I tend to begin thinking about getting back home and getting back to the daily grind.
 We did stop to take in some of the scenery along the way though. We also discovered a bicycle shop just off the trail in Defiance, Missouri that had an ice cream cooler (bonus). As I have said before, the facilities and services along the Katy Trail are simply outstanding. You can ride and remain as remote as you desire or you could plan your trip and stay in a hotel, hostel or bed and breakfast every night. There are opportunities to resupply or eat out around every corner. Due to the numerous amenities along the way, you can pack as heavy or as light as is comfortable for you. In my opinion you could simply pack some clothes, water and a small bicycle repair kit and go ultra light all the way across the state. The hotels and bed and breakfast would be a little more pricey than free to five dollars, but it is nice to have the option.
 A bike shop in Defiance, Missouri along the trail included an ice cream cooler inside.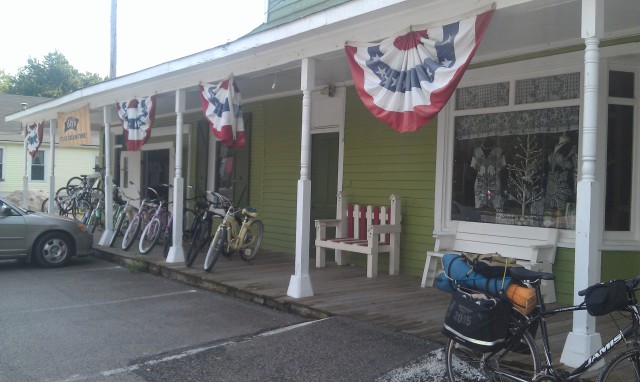 Bruce and the boys along the Missouri River between Marthasville and Saint Charles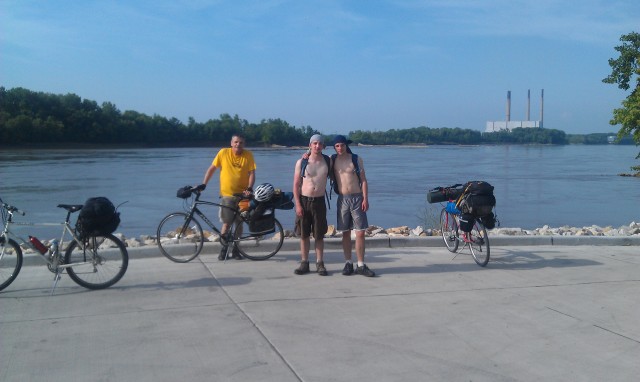 After stopping in Defiance for ice cream at a local bike shop we cruised on into Saint Louis where we arrived shortly after noon. Having family in St. Louis, Bruce had arranged for my cousin to pick us up at a restaurant in Saint Charles and transport us back to the house.
 After spending the next two days touring St. Louis by car rather than bicycle it was time to head back. Although we were dropped off at the train station in Saint Louis, there is a depot in Saint Charles that is fairly accessible by bicycle so you can either ride directly from the trail to the station or you can find a hotel or local camping spot and ride directly to the station and get on the train. Getting on the train was simple enough. They had us load our bicycles on the train inside the rear of the last car. The bicycles are transported fully loaded so all of your gear and equipment remains strapped on the bike. The train ride back to Sedalia was very relaxing and allowed me to recount the overall experience of my first multi-day Katy Trail ride. It was a great time. I met some wonderful people and saw some wonderful things. I also got to spend some time and create some cherished memories with my sons and my uncle which I will not soon forget. We eventually arrived in Sedalia and hopped off the train, loaded our bikes back in the van and headed home.
 Hopefully this will encourage you to ride the rails by bicycle. Take advantage of the time you have to slow down a bit and enjoy the wind in your face, the sun on your back, and see the scenery that we so often miss by not making time for the simplest of things.