by
shelbystop
I just returned to the flatlands of Kansas after a few days of touring the Great Divide Mountain Bike Route which led me on a course form Steamboat Springs, Colorado down to Ute Pass. I had been planning this trip for the better part of a year. I had been doing a fair amount of riding prior to the trip in preparation for some of the distances. I had initially planned on riding from Steamboat Springs to Lynx Pass on day one. This section would have encompassed about forty miles about half of which would be on pavement. The remaining dirt road would be mostly uphill. Day two would entail riding from Lynx Pass to Kremmling, which would be another thirty five to forty miles of what was thought to be mostly downhill to Radium and then uphill to Kremmling. Day three we were to ride from Kremmling to a campground on the eastern side of Ute Pass during which we would have traversed another thirty five or so miles. The plan was to then go over Ute Pass and down in to Silverthorne which would have been about another twenty three or so miles.
Our taste of the divide started on Tuesday night in Denver with some friends whom we had not seen in several years. Part of our planning included a couple of days to acclimatize in preparation for the altitude in comparison to my normal riding conditions in southeast Kansas. The night was well spent. Wednesday morning, we then than loaded up in the van and headed up to Steamboat Springs. The drive and views were wonderful. We had rented a condo at Steamboat Springs for two days. Our trip was to include several components, one of which was a family vacation including my lovely wife and our three daughters, ages nine, eleven and thirteen. My son and I were to do the riding and meet the ladies of the house at various spots throughout the trip.  So although we did ride equipped to camp, Kathy and the girls, along with the van (affectionately dubbed the chuck wagon), met and at times picked us up following sections of the ride at which time we would then drive to a camp ground if needed.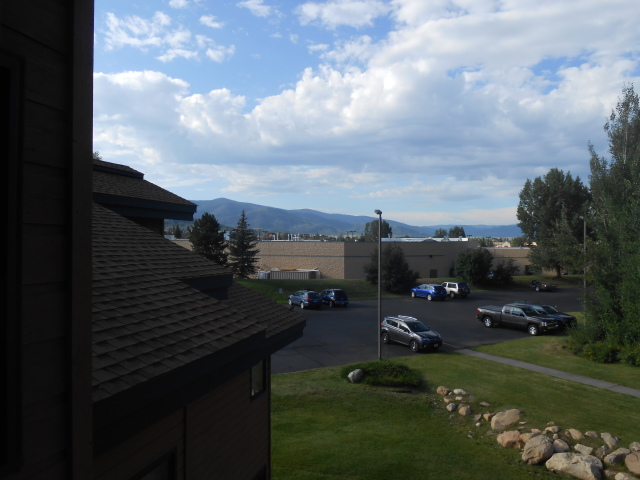 View from the condo balcony at Steamboat Springs
On our second day in Steamboat Springs, we decided to go on a five or so mile hike to the north of town. After arriving at the trail head, we set out on foot to see what we might discover. Not being familiar with the trail and attempting to follow the instructions on the material in hand, we ended up taking the long way around which made things a bit more challenging. However it was a great walk and we did not get rained on given our late start. Our hike included several notable discoveries.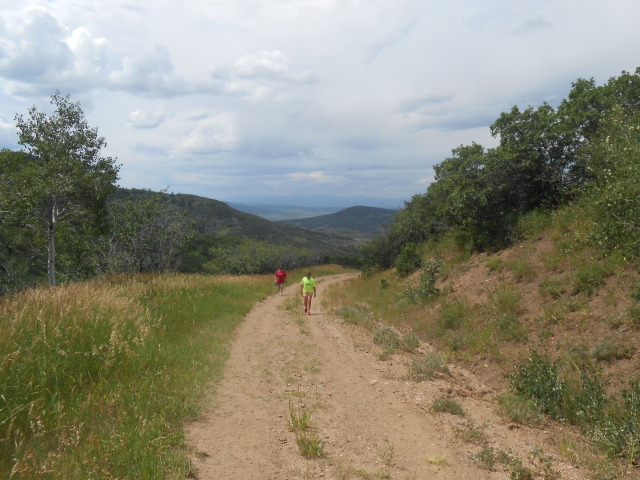 Kathy and Sidney on the hike north of Steamboat
Poop is not something that I have spent a lot of time studying. However, in the mountains it does come in handy to be familiar with that which is left behind from certain four-legged beasts which although may mean you no harm, can at times present certain potentially hazardous encounters. After hiking up and over a pass, we entered a fairly wooded section of the trail and discovered what I considered a large amount of poop which appeared to my untrained eyes to be similar to that of the standard cow pie found in eastern Kansas. However some of the excrement also appeared to be similar to that which may be discharged from the local bear populace. As we continued down the trail, we began to hear things. I first heard what sounded to be like a low beastly growl off in the distance. We also noticed that there were numerous areas in the grass along the trail that were matted down and had clearly been used as a bed for by some large animal or animals in the area.
As we continued down the trail the animal noise began to get closer. I had never known bears to make a lot of noise and I have also never known bears to stick around much when people area around so my mind then went to that of a moose. As we slowly continued down our path, we began to hear more than one groaning beast in the woods. As we were coming around a corner, I noticed movement in the woods. As I focused my attention on the area of the movement, I then noticed the brown face of a cow staring back at me with the normal bewildered cow face that you so often see when riding down country roads in Kansas. I had forgotten that there are a number of free range areas in Colorado and this was one of them. Before long we were being followed by a number of cows that had appeared from the woods along our isolated trail. We continued our trek somewhat relieved, with cows in tow.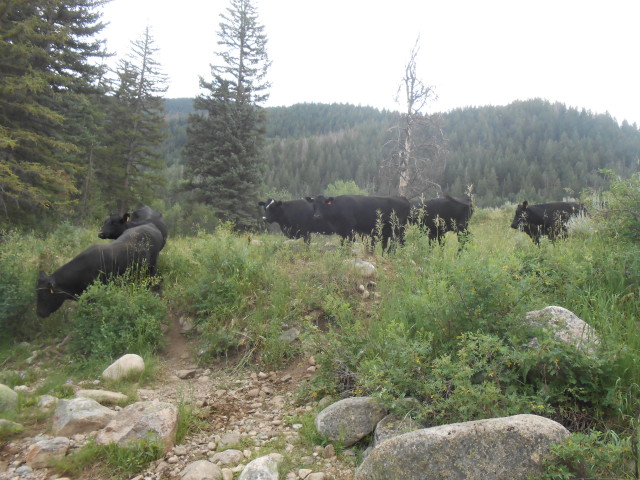 Local wild life
The trail wound down to a beautiful creek where we stopped for some lunch which we had packed along the way. Another family came from the other direction of the trail and was enjoying the other side of the creek while we ate our lunch. After finishing our brief siesta, the lady that was across the creek hollered over to us that there were some cows coming down in to our area of the creek bed. I guess I should say it was the cattle's area of the creek bed. Several cows then appeared from the trail above us and slowly walked down to the creek right next to us and stopped for a drink. It was all very entertaining. The cows eventually headed back up out of the creek bed and we picked up our stuff and walked on.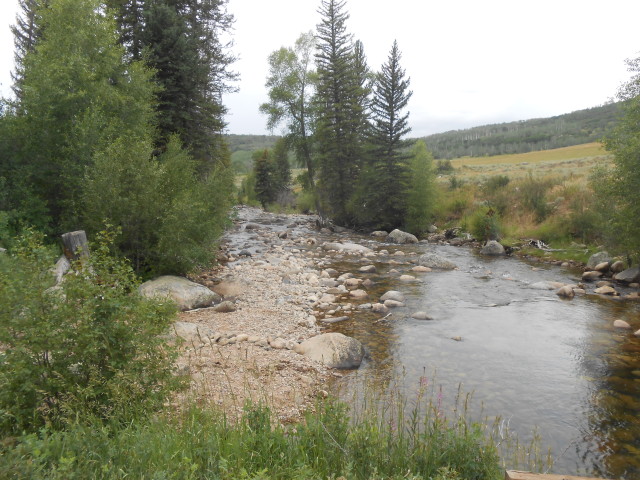 This creek made for a great lunch stop
One of the features of this trail was an old rustic barn. Upon arrival, the girls and Tyler decided to climb up and explore the hayloft. It was a great time for all including Kathy who joined them for a picture up top. Everyone then came back down and we continued along the trail which continued along a mountainside above a creek that roared below us. We eventually made it back to the parking area after walking the full loop and headed back to the condo. It was a great family hike and a great way to get our lungs ready for a ride at the altitude. Just as we arrived back at the condo from our little hike, it began to rain and hail heavily. The weather in Colorado this year had up to this point been very wet. We hoped that this was not foreshadowing of days to come.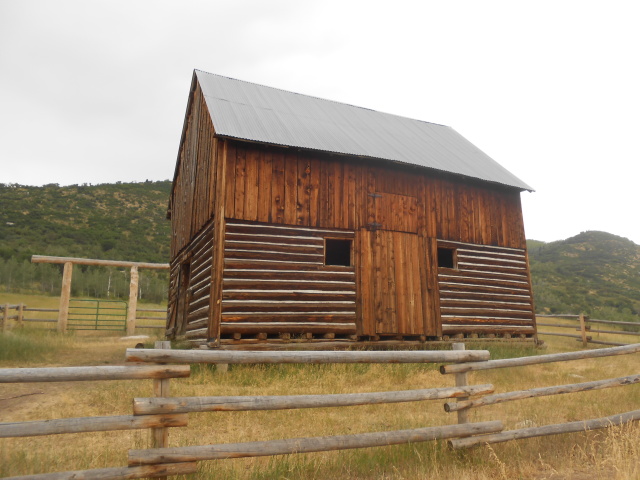 Old barn along the trail
Day One: Steamboat Springs to Lynx Pass
After enjoying a decent sleep for the second night in the condo, Tyler and I rose early the following morning to begin the biking portion of our family adventure. The goal for the day was Lynx Pass. Based on the maps and other computer resources, we determined the mileage to be somewhere in the neighborhood of around forty miles. I had initially planned on taking a Camel Back with me to carry water and a few extra supplies that might not fit in my small panniers and my small frame bag. In consideration of the mountain terrain and the fact that we were meeting the girls at the top of the pass, I chose to lighten the load and just take enough items for one night should we be stranded due to a mechanical or some other unforeseen reason. This ended up being a good move for me.
The equipment that I took consisted of the following:
Bike (Salsa Fargo)
Eureka Two Man Tent
North Face Sleeping Bag
Small Back Pad
Extra Clothing             (1 pair of socks, 1 underwear, 1 shirt, 1 shorts, 1 long sleeve shirt, 1 rain gear)
First Needs Water Filter
Three Bottles of Water
Tool Kit (2 tubes, tire wrenches, Allen wrenches, star wrenches, multi-purpose tool, chain lube)
Food (Trail mix, dried fruit, power bars)
As far as positioning goes, I strapped the tent across my handle bars. Tyler carried the poles and the tent cover. I combined the tent and the back pad inside of a water resistant bag and strapped it on the top of the rack on the back of the bike. The tool kit was stored in the small frame back and all other items were tucked away inside of the panniers on the back of the bike. Everything was positioned well and secured tightly for the trip. In retrospect, I would have been fine for a couple of overnight stays if we would have wanted to. If we were going to be bike camping on our own, I would have added my penny stove, a very small mess kit and a couple of dried meals. But as it was, those items were not needed.
Once we had loaded up the bikes we rode out headed south from Steamboat Springs. The weather was perfectly cool. The ride from Steamboat was on pavement for several miles. As we headed out, we passed a road rider that was taking a break just outside of town. He caught and passed us pretty quickly as we continued south. The early part of the day consisted of mostly rolling hills. These hills were a good warm up for what was to come. We stopped a couple miles south of Steamboat Springs to take a few pictures looking back at the town before it was finally out of sight.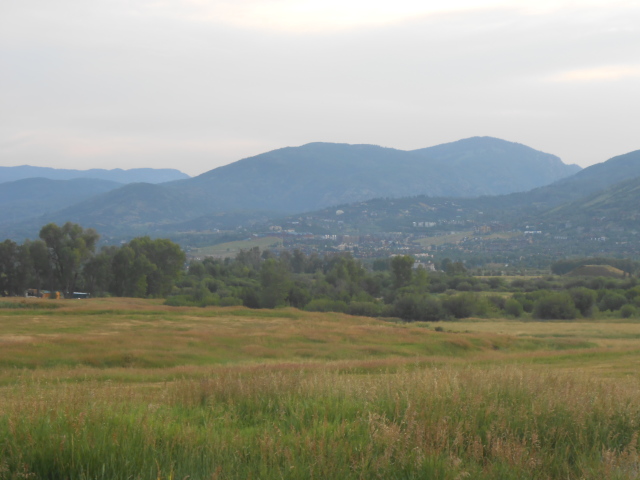 Farewell to Steamboat Springs
Continuing our trek south, we missed our first turn which exited the road and added about four miles to the days riding. When we realized it we had gone up the road about two miles up hill so the two miles back was nice. Our road rider came up behind us again at this point. He was flying. A pickup truck had just passed us and he was keeping up and in fact almost passed it on the way by. It was impressive. I cannot imagine a better training ground for a road racer than the Colorado roads. The rider turned around after the truck sped off and came back to join us on the ride. He asked us what we were doing and I told him that we were riding a section of the Great Divide Mountain Bike Route to Lynx Pass. He said that he had a friend that had ridden to Lynx Pass the week before. He said that it was a really nice ride but that his friend had advised him that it was really "buggy" up there last week. Given all the rain that the state had received this year I did not doubt it. He confirmed the turn off that was ahead and then took off and disappeared in the distance.
Once we made it back to our missed exit, we headed south again until reaching Highway 131 which we road on for about a quarter mile then continued our trek to the south which brought us to Catamount Lake. The view of the lake was spectacular and the mountain backdrop was incredibly beautiful. We ran in to another rider out for a morning ride, who had stopped to watch a deer with two little ones in a field of tall grass just south of the lake. He said that he had been up to Lynx Pass in years past and it was some great riding. He had been up in Steamboat on business so he was headed back but he wished us well. One thing I have really learned to enjoy about bike riding is the community nature that exists between riders. I very rarely come across a rider that is not willing to share their experiences on the road or help out when needed.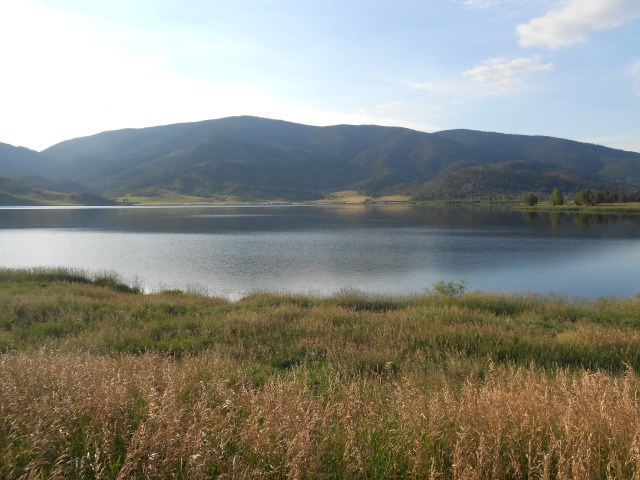 Catamount Reservoir to the south of Steamboat Springs
 After leaving the lake, and continuing for several miles, the route takes you off the pavement onto a forest road most of the way to Lynx Pass. There was very little pavement between the first forest road and Lynx Pass, if any. The forest road we were on was wonderful and for a while it was only slightly uphill running next to a small river that was flowing very fast creating a wonderful watery orchestra of sound in the woods. The road was mostly dirt with a few potholes to bring you back on focus should you be spending a little too much time watching the river, rather than the road.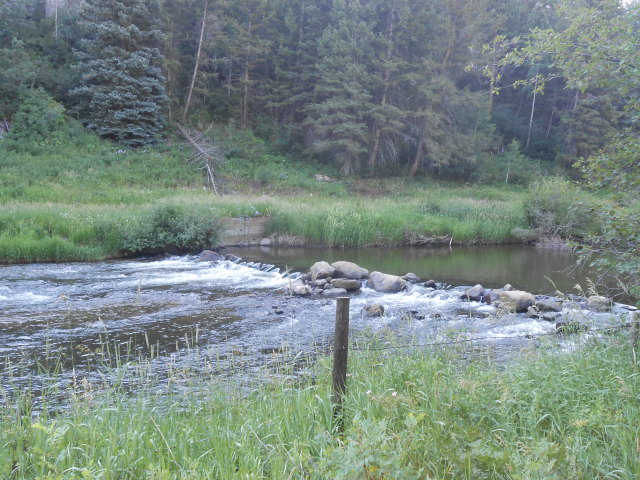 Creek on the way Stage Coach Lake
The road eventually wound to the west and began some consistent, albeit not extremely long, climbs. It rose above the river and a number of other creeks where we could see a few fly fishermen enjoying a great morning in search of brown and brook trout. Eventually the ride brought us to Stagecoach Lake.  Stagecoach Lake is an 820 acre reservoir that is surrounded by mountains. The trail around the lake was incredible with some really good single track directly next to the lake. It was not technical and very smooth and rolling. The trail made for a great ride for a couple of miles.
The lake and area also has a great history beginning with the Ute and Snoshone Tribes using the area for hunting, gathering and making stone tools. French trappers and traders began using the valley in the 1700's and paved the way for mining and cattle and sheep ranching which continues today. The park was also a stop on a Stagecoach Line running from Toponas to Steamboat Springs. The stagecoach Line went our out of service in 1907 (information provided by Colorado Parks and Wildlife).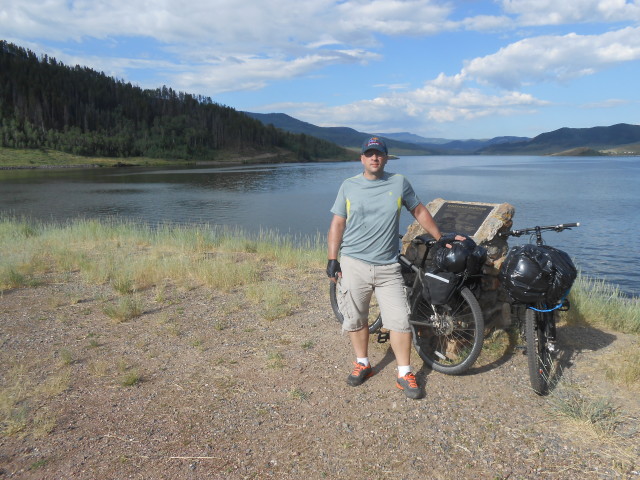 Stage Coach Lake
At Stagecoach Lake we were at approximately 22 miles into our planned 40 or so mile day. When we left the lake we began the climb up to Lynx Pass. Having done the majority of my riding in Kansas recently, I had somehow forgotten how long some of the climbs in Colorado can be. Since the ride, I have looked at the elevation chart and realized that we had in fact been riding uphill since we left Steamboat Springs. This however became very noticeable as we continued on from Stagecoach Lake to Lynx Pass. In Kansas when we come across up hills sections either on pavement or gravel, the hills tend to be rolling and generally no more than a couple of miles long. There is are also a number of places in between even on longer uphill sections where it levels out or the climb lets up a little to rest. In mountains you are either going up or down. And from a time perspective you are always going up much longer that you are going down. In eighteen mile stretch from Stagecoach Lake to Lynx Pass you are primarily going up. Fortunately the beauty of the surroundings provides a great backdrop for slow riding.
Somewhere between Stagecoach Lake and Lynx Pass, I was passed by another rider who was from Minnesota. Neil told me that he was riding from the Colorado section of the trail from the northern border to the southern border with New Mexico. He said that he wanted to eventually do the entire route from Canada to Mexico but could only get a couple of weeks off this year to do the section that we were on. We talked bikes, riding, and distances. We also talked of things we had seen and people we had met along the way so far. Again I discovered another friendly ride to share some time on the ride with. Best of luck Neil and hopefully your ride was completed safely.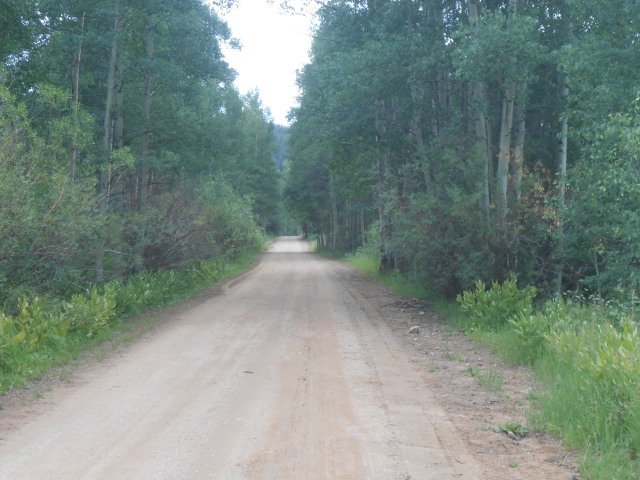 The road up to Lynx Pass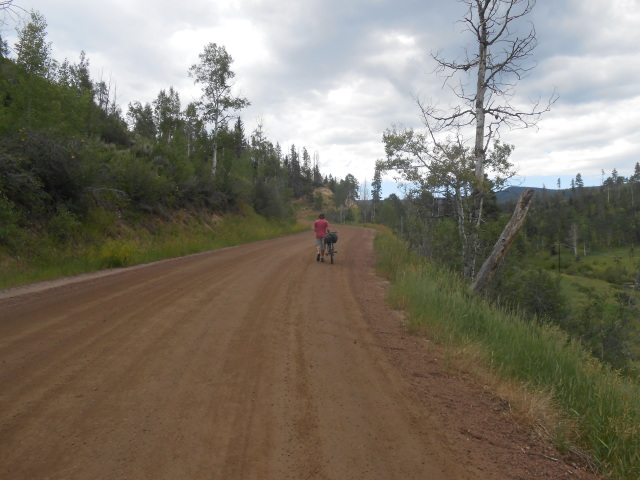 A little push following a long uphill
After climbing approximately two thousand feet in altitude over approximately thirty seven miles of riding, I finally came to the conclusion that there was no shame in walking the last two miles to camp. If there was any shame in pushing my bike up the last steep two miles to the top of Lynx Pass I really didn't much care. So much of bike riding is mental and my mental had melted in the sun so I turned the remainder of the uphill into a leisurely stroll. Truth be told there was nothing leisurely about it. It was a pain in the neck, back, legs, feet, posterior and other places. As we crested the top of Lynx Pass, we hopped back on the bikes to ride to the campground which was just on the other side. It was nice to see the girls and Kathy waving as we rolled in to the campground after a long day of riding. In total, we had ridden somewhere around forty miles and gained 3485 feet of altitude. Not bad for a couple of flatlanders. It was early afternoon as we set up camp and got dinner ready as a family.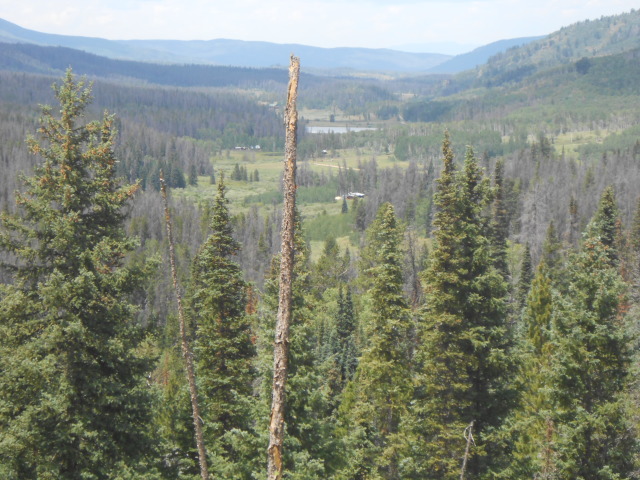 A look back just before the top of Lynx Pass
Day two: Lynx Pass to Radium
After resting in the tent we arose the next morning to a beautiful day for riding. Truthfully I thought about packing it up and just doing a driving campground tour for a couple of days after the last couple of mile walk up to Lynx Pass. But I would have felt very defeated if we had not at least ridden to Radium which according to the map was predominately downhill. I did learn however that you must be careful not to assume that just because a map indicates that you may be losing altitude, that it does not mean you are always going downhill. In fact the ride down to the Colorado River ended up being filled with numerous up and downs which were both thrilling and daunting.
As I said earlier there is no level ground in the mountains. You are either going up or down, sometimes at a very rapid pace. I had talked to the camp host the night before and told them what we were doing. They shared the ominous news that they had just spoken with some bike riders that were doing the route going north from Mexico. They had shared the news that the section from the Colorado River to Lynx Pass was the most difficult of the ride so far. From my perspective, this was good news since we were going the opposite direction.
We headed out going downhill for a couple of miles until crossing highway 134. The first section of the day's ride was beautiful. We passed a field where we could see several antelope grazing making the mountain scenery even more spectacular. Once we crossed the highway, we entered a section of rolling hills that eventually dropped to a creek that we had to cross. Prior to the creek, we came across the old Rock Creek Station which was an old Wells Fargo stop in to the 1880's.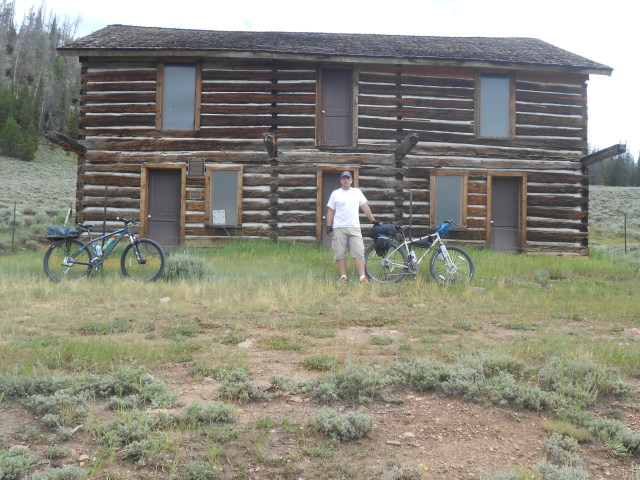 An old Wells Fargo station along the route
A climb began after crossing the creek which continued for several miles until reaching highway 134 again. Another gravel/dirt road headed south towards Radium. We headed towards Radium expecting a downhill to the river to start shortly. Let's just say that it did not quite work out that way.
The next several miles that lie ahead were filled with numerous climbs and drops. The drops were great. The climbs were steep. Some of the drops were very fast and at times a bit slippery for the bikes. Not due to the recent rains but rather the loose surface of rock, gravel and dirt. I must admit that it was quite exhilarating. Tyler was about taken out by a cow in the road and I fish tailed several times throughout the day.
During one downhill section, we had just reached the bottom and while moving at a pretty quick pace, I saw what looked like a badger in the road ahead of me. The color however was off and something did not look quite right. Tyler was up ahead and as he passed the critter, it ran back in to the tall grass on the south side of the dirt road we were on. As I passed, it had spun around in the tall grass and was looking at me straight on. It was a brown in color creature with a square nose and mouth. There were not stripes on the nose but there was a sort of bow across the top of the eyes. Along with the color and the general appearance I believe that it was a wolverine cub. I know that there are not many wolverines in Colorado, albeit that they are apparently making their way back in from the north. But given the appearance, I would almost guarantee that is what it was. I thought about stopping for a picture but given its small size I figured that the mother might be around somewhere and wanted nothing to do with the risks of stopping to take a picture so I rode off and will always wonder I suppose. Tyler said he also believed it to have been a wolverine. Whatever it was, it was a great highlight to the ride.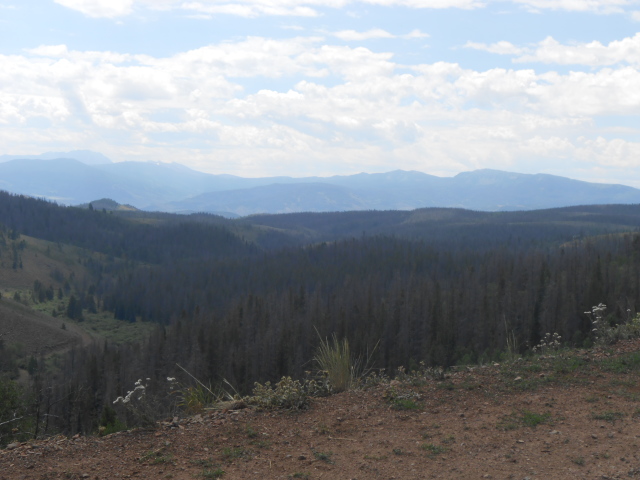 On the edge of the abyss
As we continued on our trek to the Colorado River, the hills began to get more and more extreme. When reaching the bottom of several downhill sections, we would spend a little time hoofing it up the hill in front of us. Some of the hills were steep enough to make it difficult to push a bike up. At one point, Tyler raced down a hill in order to catch a Jeep that had passed us just to speak with the driver who confirmed our route.  Tyler said the Jeep chase was fast and fun. I caught up with them before we headed on. They passed us again and we caught them when they had stopped at the top of the last big downhill before reaching the river.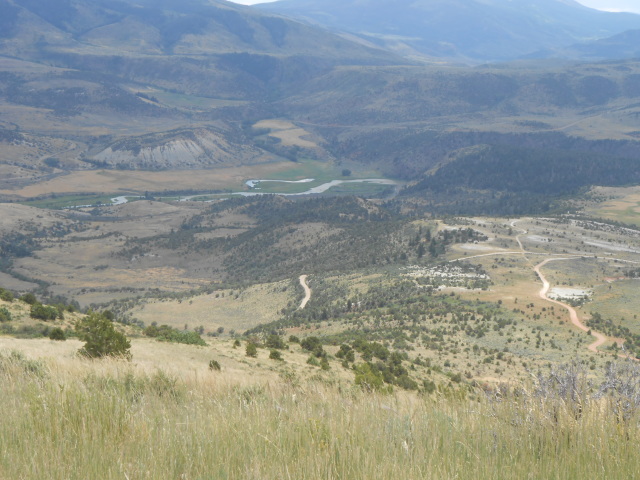 A look from the to before the downhill
                          to the Colorado River
The last drop down was very steep, windy and included many blind corners which presented the possible hazard of unseen vehicles coming our way. The only person that has ever died during the Tour Divide succumbed to injuries that he suffered after hitting a vehicle around one of these corners. We were as cautious as possible and had no problems. It was a wonderful sight to again see Kathy and the girls in the Radium parking lot as we crossed the river bridge and dropped down to the parking area to meet them. We loaded up and drove to our next campsite which was at the bottom of Ute Pass several miles to the south of our present location. We had survived another twenty miles and 2000 feet of elevation drop albeit on what was an incredible up and down roller coaster ride.
That night we camped and took it easy the following day. The campground we were in was wonderful right next to a decent size creek in what was discovered to be a very marshy area which made it a great moose habitat which we would later discover. The next day we took a day off and drove down to Frisco and rented some paddle boats. We all had a blast on the lake and enjoyed a nice relaxing day in some very beautiful country. After returning to camp, we prepared dinner and talked of riding over Ute Pass the following day with a little hesitation. It was predominately pavement other than the three or so miles out of the camping area, but it was still pretty daunting after coming over it in a car. After cleaning up and watching the sun set we turned in looking forward to what lie ahead on the morrow.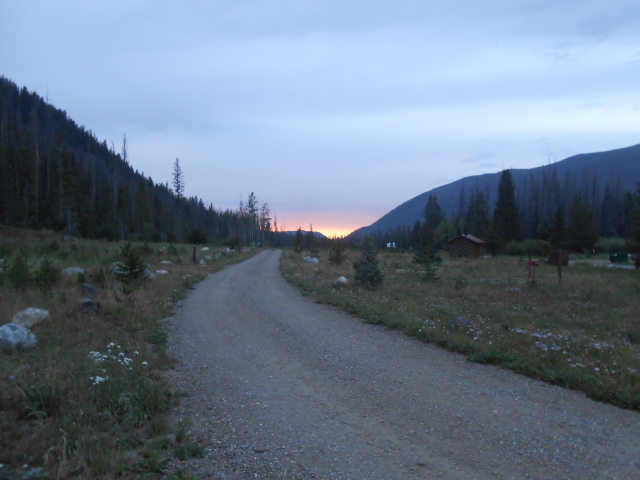 Sunset in the camp ground
Day Three: Ute Pass
Tyler and I awoke around day break on the last day of the ride. We were thinking the same thing. After sleeping pretty well the warmth of our sleeping bags made it very tempting to stay put in the tent. I would have felt like the trip was not complete without a ride over Ute Pass, so I got up stepped out of the tent to the shadow of the mountains at sunrise.
It is always when you are not looking for things in the wilderness that the things you have looked for previously seemingly appear from nowhere. As I stood enjoying the morning air, I looked over my left shoulder and saw what at first appeared to a dark spot against the landscape at about forty yards on the opposite side of the camp that I did not remember being there the night before. As I looked at it more closely, the dark spot then began to move very slowly and take on the form of a large moose just on the other side of the camp. I had seen moose in Colorado before, but never this close. It was as my wife said later, a majestic experience.
I whispered to Tyler, who was still in the tent, that there was a moose in camp and to get the girls up while I kept an eye on it. Kathy and the girls arrived from their tent a few moments later while the moose was still standing there. The moose seemed as curious about us as we were about him. Our presence did not frighten him and he continued to walk along the base of the mountain on the other side of camp. After several minutes, the moose turned around and trotted off into the forest. What great way to start the day.
After our experience with the moose in camp, the girls went back to bed and Tyler and I geared up and headed down the road for a final taste of the divide. There was a section of dirt road coming out of camp that stretched out for about three miles. It was mostly rolling with a few little climbs and a small dips. It was cold enough to cause my finger tips to become a little uncomfortable, but it was a good ride to pavement. We saw numerous deer meandering in the forests as we rode.
After about two miles of riding, the tree line broke and there was a river that ran parallel to the road we were on. In the middle of the river was a rock bar where to my surprise, stood another large moose with a huge rack. There were some bushes on the rock bar that the moose apparently favored for breakfast which we had momentarily interrupted. He looked at us and continued his snack while we watched in amazement. He was only thirty to forty yards away and totally unconcerned. He continued eating for awhile and then slowly walked back towards the opposite river bank. The bank was an easy six to eight feet in height and he walked up it with no problem. He then strolled gently out of sight in to the woods. I was definitely glad that we had decided to ride out rather than sleep in. They say the early bird catches the worm. I guess the same thing is true for moose.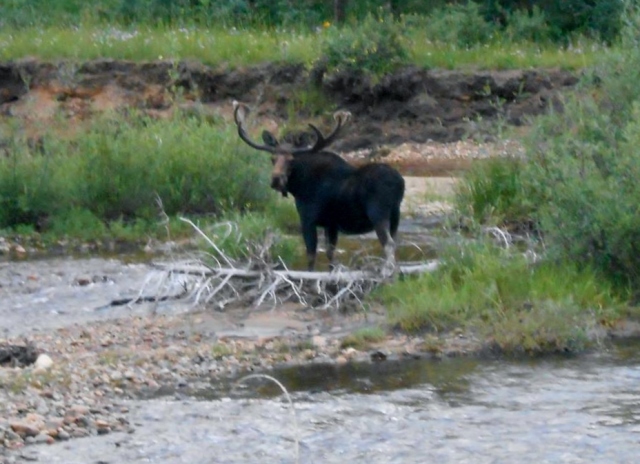 Another moose along the way
After the moose wandered off in to the wilderness, we continued our journey to the base of Ute Pass. Once we reached pavement the uphill began. From that point we had four miles up hill and then approximately six or so miles downhill. The climb was slow but steady. Once you get used to slow riding, it becomes somewhat meditative. You just keep your peddles moving while enjoying the great scenery. And there was plenty of great scenery to see. I saw more deer and several elk along the way. The elk were up high just below a ridge. I would not have seen them in a car. That is one of the wonderful things about bicycling. You can see so much more at a bicycle pace. The Henderson Mill marked our approximate half way point to the top. It is a huge lumber mill that has in fact produced some local damage to the forest which can be clearly seen.
The top came faster than I thought it would as I found Tyler parked on the side of the road just before cresting the pass. We took a little break and shot a few pictures at the tip before beginning the ride down the other side.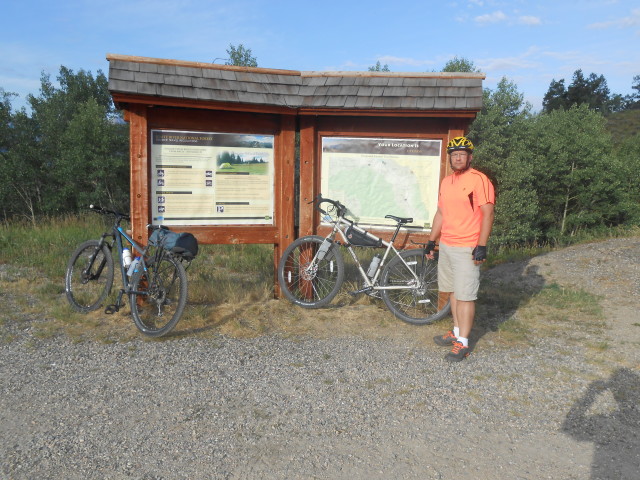 At the top of Ute Pass
After taking our short siesta, we headed down the west side of the pass to Highway 9. It started out fairly gradual. After a quarter mile of so the grade increased and we were off on a windy downhill ride that was better than any roller coaster I have ever ridden. The day before, while driving this pass in the van, I had clocked a bicycle rider coming down the pass at fifty miles per hour in one section. I do not think I reached fifty miles per hour but I am sure I hit the forty mile per hour mark. It is hard to say when you are tucked down and enjoying the wind in your face. It had taken us a couple of hours to get up the back side of the pass and the downhill only lasted for ten minutes to fifteen minutes. It made the climb well worth it.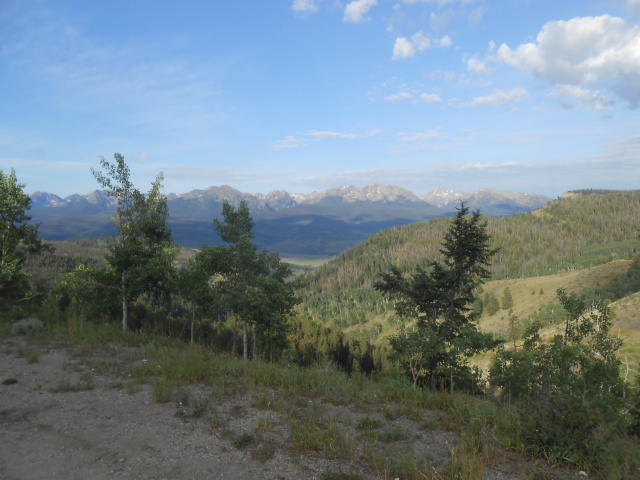 A great view as we began the downhill portion of Ute Pass
The downhill finished out with a long straight decline that put us out right on Highway 9 that heads south into Silverthorne. Kathy and the girls picked us up at a spot somewhere in between along a river that ran under the highway. Moose, elk, deer and a great downhill made for a spectacular conclusion to three days of riding in Colorado. I can't wait to do it again.
Enjoy the ride