by
prezgonis
After reading trip reports of Grand Loop riders raving about the remoteness and scenery of the Kokopelli, Paradox, and Tabeguache Trails, M and J declared that it was their duty to inspect the area for themselves.  With limited vacation time and touring experience, the whole 360 mile track was a bit too much to tackle in one shot.  J had ridden the Kokopelli on an earlier (supported…boo!) trip, so that leaves two trails worth of wondrous unknown.
The plan was to start at the BLM Dominguez Campground, directly on the Tabeguache Trail, ride west on a bevy of double tracks and a bit of singletrack, pop out in Gateway, and then suffer up John Brown Canyon to find the Paradox Trail.  From there, follow the Paradox Trail, with the newer Nucla route, to its terminus at the junction with the Tabeguache Trail.  Next ride the Tabeguache Trail back to Dominguez Campground.  Sounds simple, right?  Not so fast bikepacking rookies!
The only other campers at Dominguez Campground were a handful of mice hoping for a sloppy consumption of the breakfast goods.  After filling up on an excessive amount of eggs, bacon, and super fuel coffee, the pair loaded their steeds and hit the first pedal strokes back up the switchbacks of 24 4/10 road, with the "Filthy Wasted Body and Souls" (FWB&S) meter on zero.
Divide Road provided some headwinds, but also some great views of Carson Hole and Casto Reservoir.  Taking a hard right at Divide Forks on Uranium Road (404), the track became more trail-like than road-ish.  Rim Trail (416) to 607 was quick, and suddenly a sharp downhill singletrack lay ahead with incomprehensible views abounding.  Unfortunately, the singletrack was almost immediately unrideable.  Reaching a trail sign which indicated that going left was allowable for bikes, and right was hiker only, M & J chose left, thinking that the singletrack in the basin below would be under their wheels in no time.  The track was mostly overgrown, and then headed into a wooded hillside.  Challenging terrain of deadfall, snow banks, and finally a vanishing trail led to a struggle of man and bike versus nature.  An hour or two was lost to cross-country bushwhacking through scrub oak to get to the visible trail below, with the pair emerging with merely a few scrapes, bruises, and huge smiles.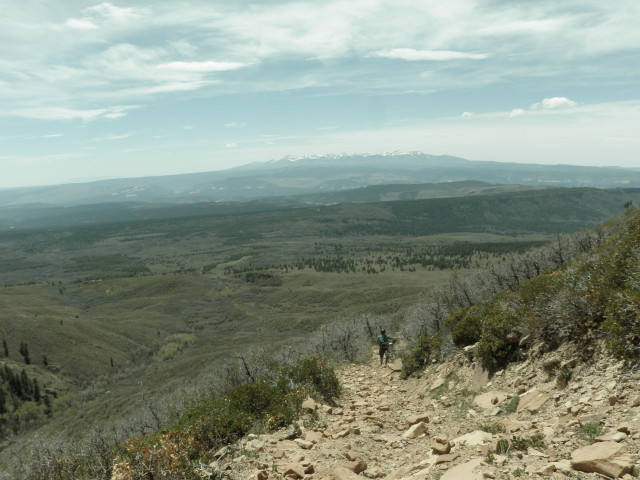 Time to roll and find that Ute Trail singletrack, and make up for lost time (later found out to not be Ute Trail).  Ended up taking 607 – 405.2C – 405.2B – 405.2A – 405.  But at the turn-off for what was thought to be the Ute Trail, a sign indicated that the area was closed – shucks.  No matter, a detour up Pine Mountain, and a screaming descent down 6.30 road to Highway 141 was served up, brake pads smelling like an electrical fire.  An ice cold Cherry Pepsi at the Post Office breathed some life back into the travelers.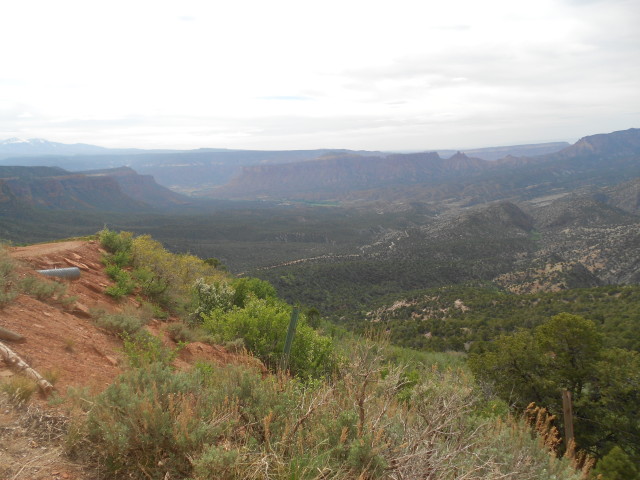 The nice folks at the Gateway Resort were kind enough to let M & J fill up their water bladders and bottles (albeit politely out of view from the newly arriving Clients).  What a beautiful location for a resort!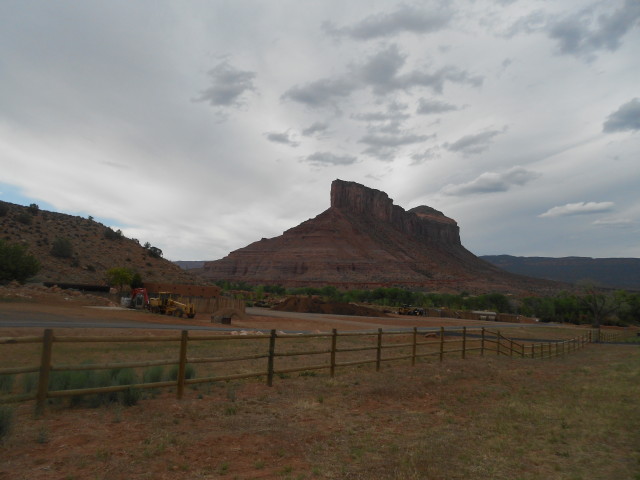 Getting late in the day, the grind up John Brown Canyon was going to be a challenge.  10 minutes of rest from a broken chain was welcomed, as was the "accidentally" spilled bag of Reese's Pieces on the ground.  Handfuls of those tasty morsels go just fine with Western Slope dirt, especially with the FWB&S meter crossing the 7 point threshold.  After following a seemingly endless fence with No Trespassing clearly marked, a sheltered spot at the Utah State Line was found to bed down and rest up for the following day's challenges.  A little bourbon always makes the ground a little softer for sleeping.
Day 1 – 48 miles, +6312' / -6167', 6:42 Rolling Time, 10:40 Total Time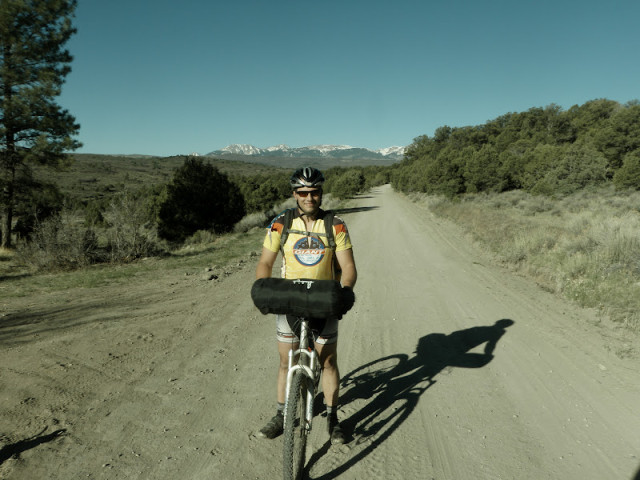 Nary a cloud in the sky to start Day 2 – this was going to be a good day.  FWB&S meter back down to a 1.  It turns out that the cattle guard that was crossed the previous night was the CO/UT border!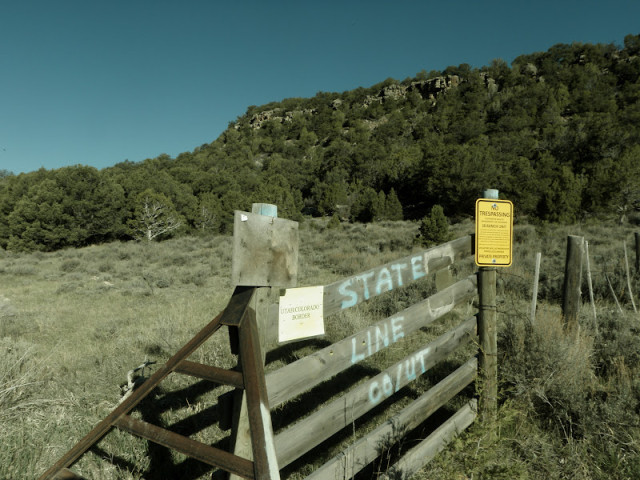 It wasn't long until rubber hit the Paradox Trail, and the terrain was just flying by.  A couple of horses required the right gestures and password to allow passage, but no protocol was broken.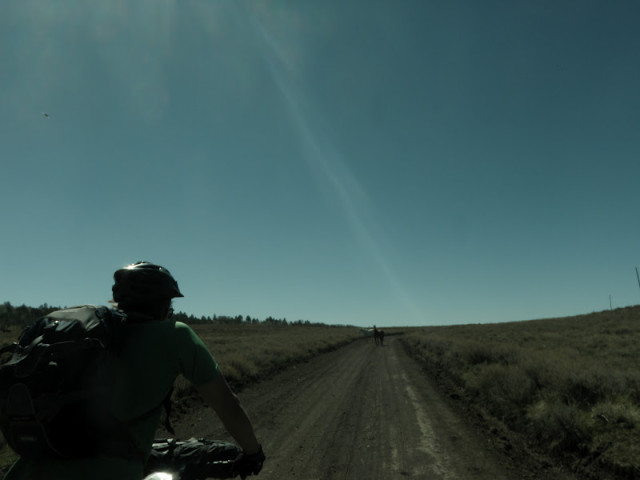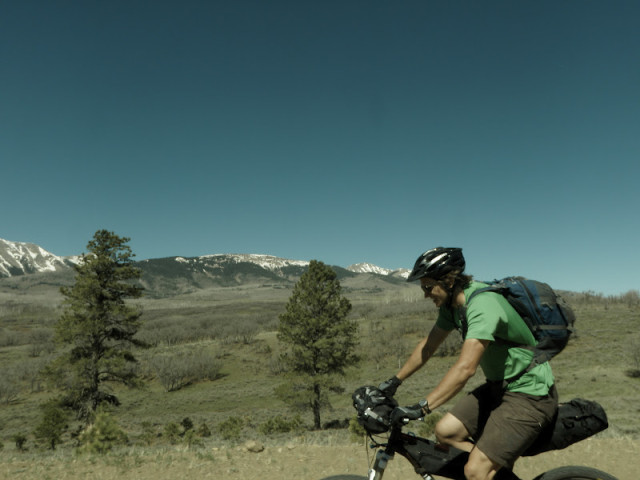 Up, up, and up the pair pedaled into the foothills of the La Sals, with an ocean of aspen trees appearing below.  A few herds of deer thought that they could keep pace on the descent to Buckeye Reservoir – silly deer.  The reservoir provided a shady resting spot and some chunky water.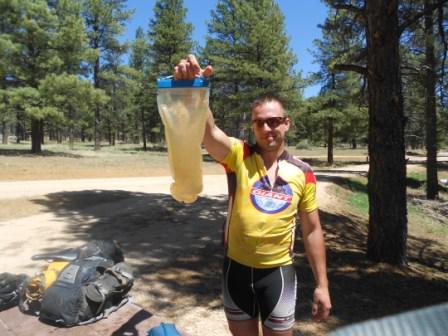 Climbing up to Carpenter Mesa, the former Paradox route to Bedrock was never discovered on the spot, but could be seen across the Paradox Valley from much further down the Mesa.  The road across Carpenter Mesa is a bikepacker's dream: flat-ish terrain, expansive vistas in multiple directions, a few slickrock patches to make one smile, and the easy miles just rolled by unnoticed.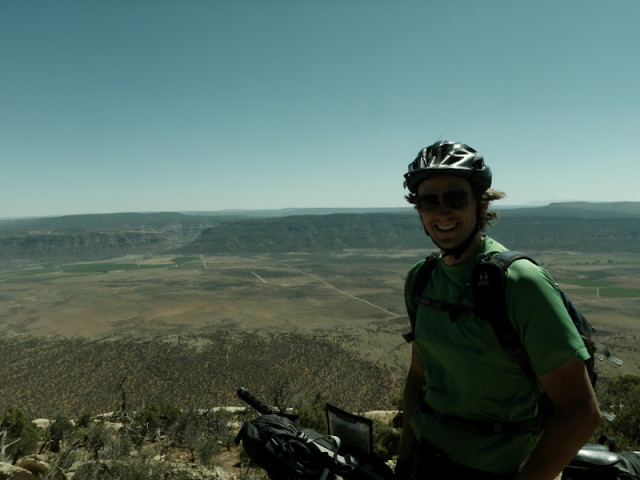 Red Canyon – oh dear.  The first few pitches down were interesting, but treacherously loose.  Then it was almost half a mile of huh?  A few 4-wheeler tracks could be seen, but the skill to ride up this section was difficult to imagine.  Biking this route in reverse might have induced fetal position sobbing – not sure.  But then, just as the wobbly talus-like slope seemed infinite, the trail turned super fun!   Slickrock, drops, fast turns, stretches of sand for surfing, everything rideable and enjoyable.  The only regret here was hitting this section during the heat of the afternoon – wow was it hot.  (Note – tires with more floatation are highly recommended for best enjoyment of Red Canyon.  J won the Sandcastle Award (the name is supposed to sound lame) on this stretch on his measily 26" bike).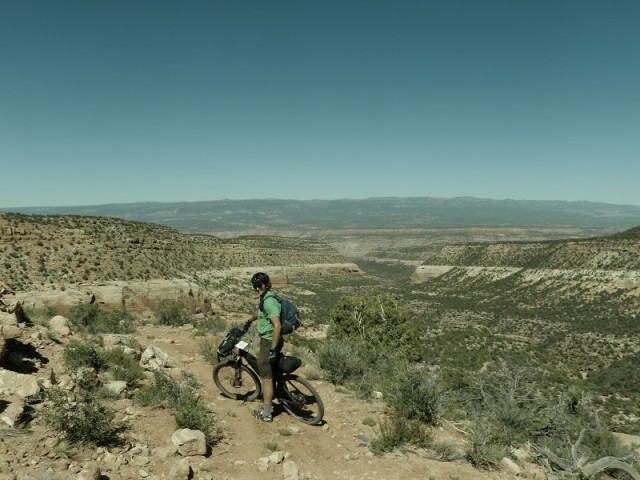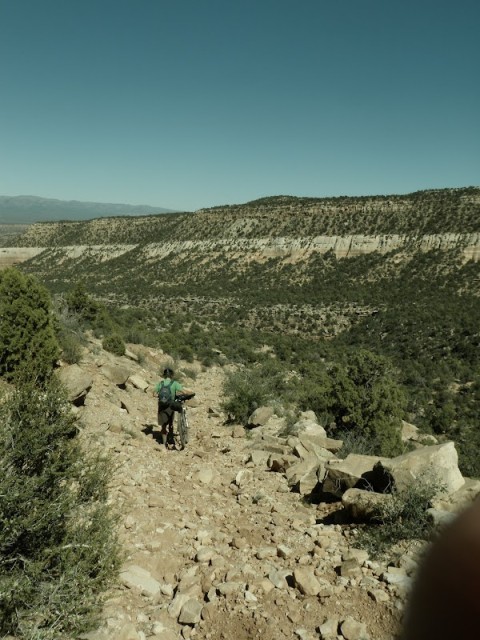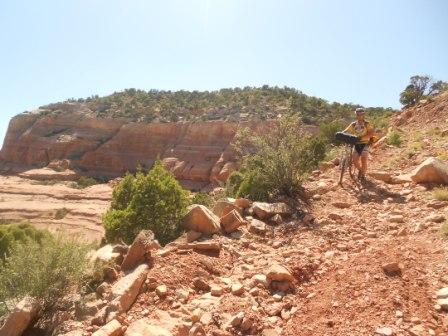 Again with big smiles, M & J exited Red Canyon and wheeled their way downstream on Highway 141 next to the Dolores River enjoying views of the blue-green cliffs until the turn off to the road climbing next to the North Fork of Mesa Creek.  Twists and turns on this nicely graded road eventually led to a crossing of the North Fork, where legs were dipped, the water supply was refilled (amongst the many cowpies), another anthill was discovered by accident, and mass calories were devoured.  Paralleling the South Fork of Mesa Creek, the late day climb wound its way into some remote ranchland.  J decided to try his hand at cowherding.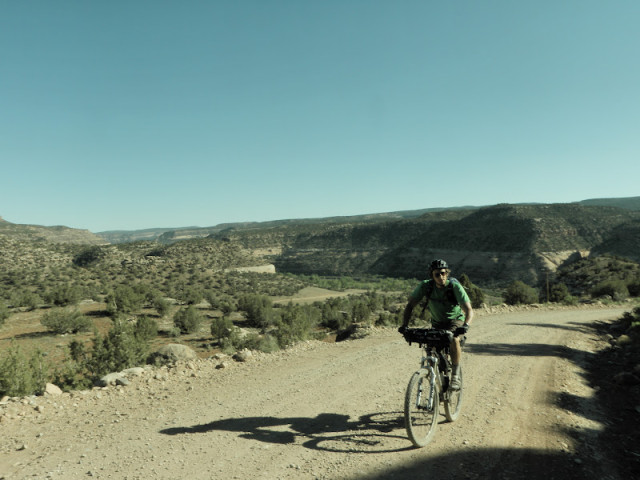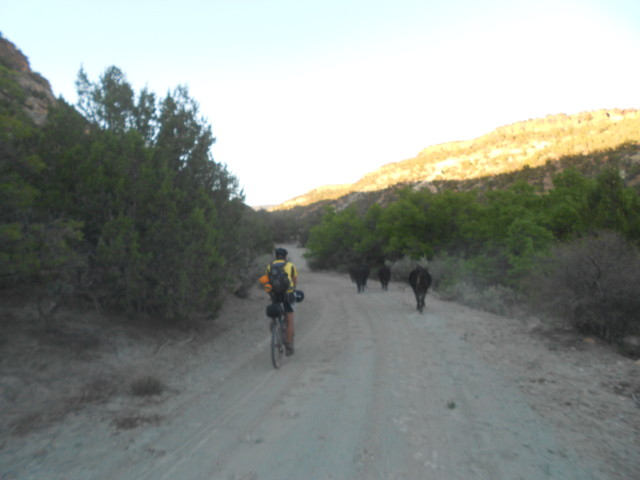 Camp #2 was discovered as the FWB&S meter was creeping up into the 6 or 7 range, on a spit of land over the creek, where some nice person(s) had previously created a stone fire ring and stacked a good amount of extra dry wood.  J's battle with the cacti was one for the ages, with each side gaining the upper hand at various points.  Some blood was shed and spines were hidden by rock piles, but in the end, a truce was declared between the foes.  Until the next morning when the cacti successfully executed a sneak attack on J's tire prior to the start of Day 3, ending with some swearing, a disembodied valve core, and then even more swearing.
Day 2 – 56 miles, +5211' / -6941', 6:35 Rolling Time, 11:30Total Time, 2 people seen?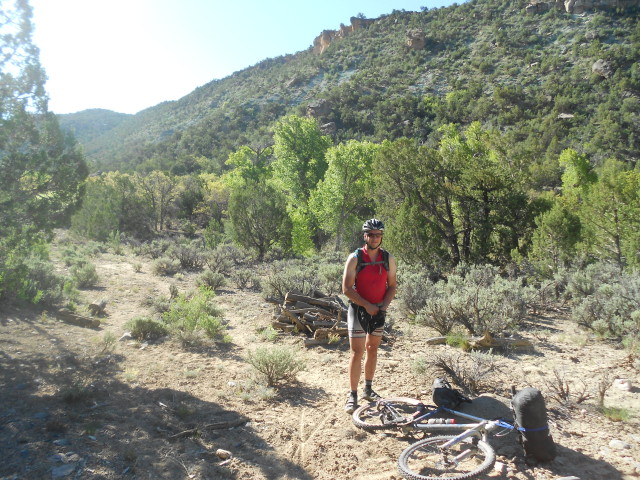 Another gorgeous morning kicked-off Day 3.  Again there were no clouds, but it became increasingly obvious that it would be a hot one if M&J didn't get a move on as early as possible.  After J's epic battle with the local flora (cacti), and one remaining spare 26"  tube, it was time to push, and sometimes ride, the Koski Traverse portion of the Paradox Trail.  Starting off was a lung burner steep, consistent climb, then into the hill repeats and repeats and repeats…  The remoteness was remarkable, with views of the now distant La Sals, which was a real shot in the arm to morale.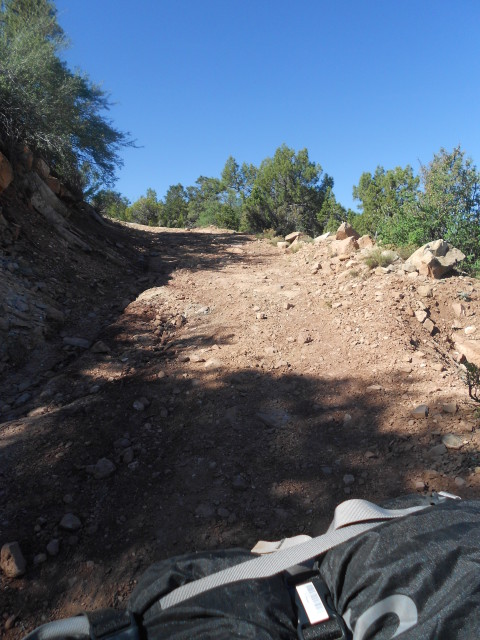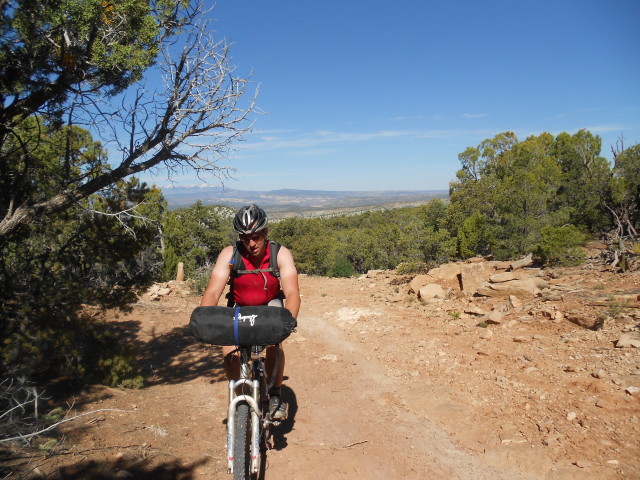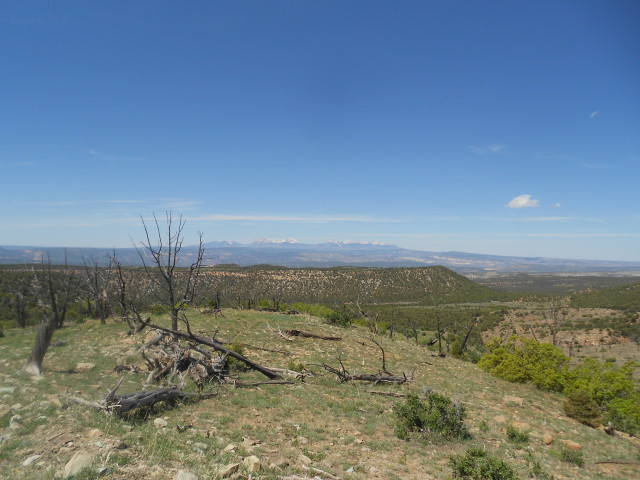 Gremlins managed to work their way into J's rear tire after a pinch flat on some downhill chunk.  This kept the pace leisurely, but these boys had a deadline in Nucla.  Running low on iodine and stove fuel, it was time to get a move on.  After flat tire number ~7, it was obvious that J's tire situation was not going to get him to Nucla by store closing time.  Talk ensued of A) M riding ahead to resupply B) Making camp and hoping for arrival in Nucla on the morrow C) High-tailing it (aka pushing bikes) over a shortcut onto the Plateau.  After a lengthy debate and poring over the maps, the pair conceded to the Paradox and started walking.  The last 26" tube was cemented, clamped, and carefully stowed, with hopes of it regaining full strength after some hours of curing.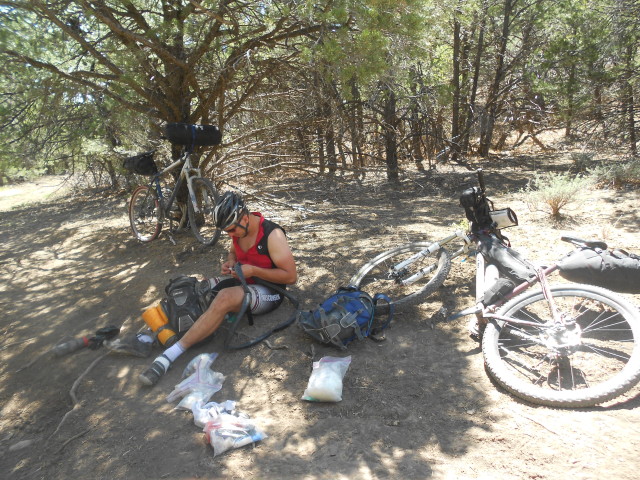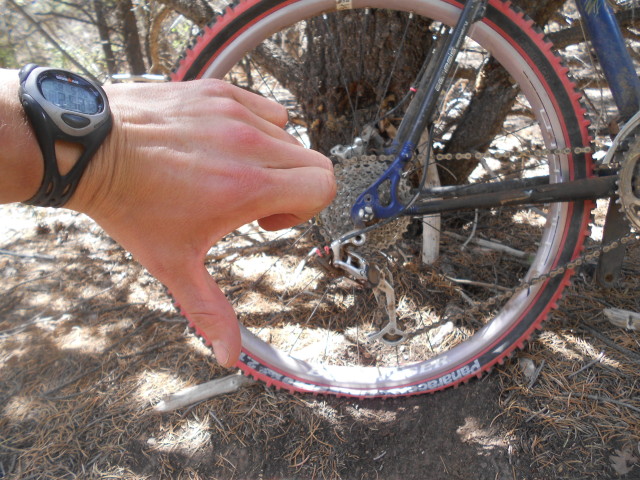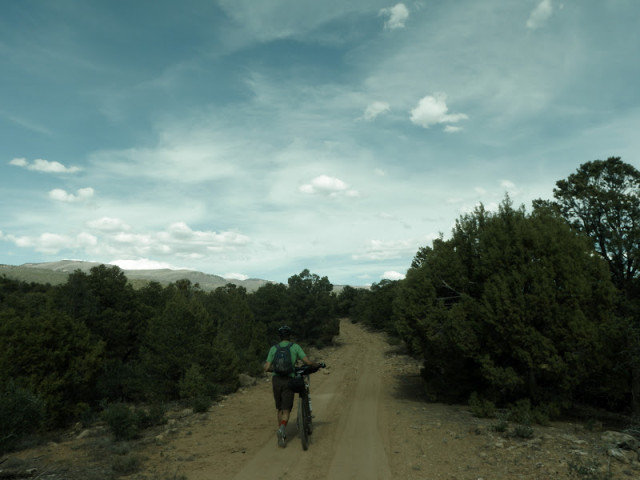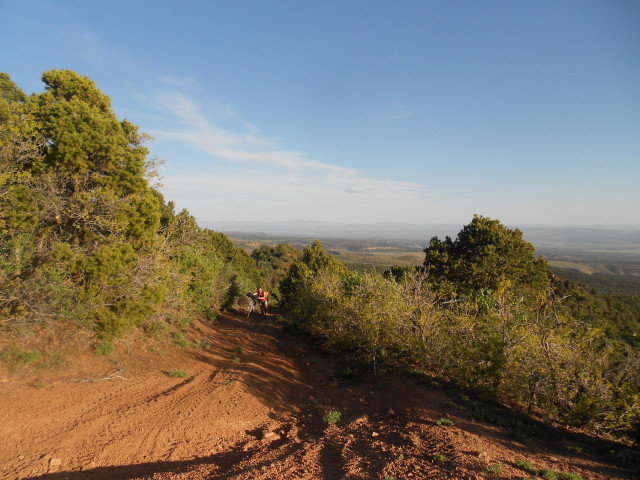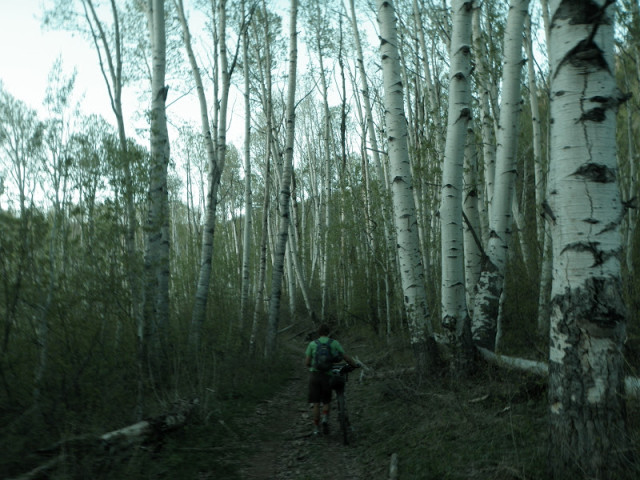 The 13 miles and 3500 feet of elevation slog up U52/U55/668 to Divide Road took nearly 7 hours, but M & J arrived at Divide Road just before midnight to much rejoicing.  The repaired tube was placed back in J's rear tire, and pumped up to full pressure.  After some chanting, dancing, and false promises to unknown beings, it was obvious that it would hold for the time being – woohoo!
Next decision: camp along the road with about 1.5 liters of water to make it back, or take advantage of the SUPER MOON and roll the last 30 miles back to the truck.  With the last of the stove fuel, a pot of coffee was prepared, along with the last dehydrated meal.  The bikepackers consumed it all in earnest, while M writhed in the middle of Divide Road with abdominal cramps.  The salty food took care of the cramps, and all clothing was donned for the frosty trip along the Plateau.  The only allowable stops were for sharing of the last water and chocolate-covered espresso beans (once thought to be rocket fuel, now enough calories and caffeine to keep limping along).  Views of the surrounding Plateau were incredible, and the elk and deer population kept pace at times.  Around 3 AM, M & J sand-surfed their way into the Dominguez Campground, while laughing maniacally at the curious hallucinations in the dusty moonlight.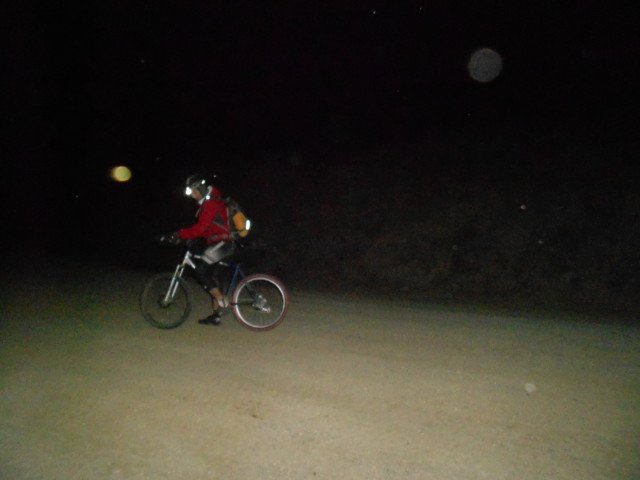 Day 3 – 59 miles, +7615' / 6013', 9:47 Rolling Time, ~19:00 Total Time
After chugging a gallon of water each, taking down the entire bag of Fun Size Snickers, and blasting the vehicle's heater at full force, the uncontrollable shivering eventually waned.  The heroes laid out sleeping bags in the sand and passed-out, knowing the bikepacking portion of their trip had ended safely and successfully.  Another trip will need to be planned to bag the Tabeguache Trail.
As lucky consequence would have it, J's frame broke the following day 3 miles into riding some "pity make up trail" near Cortez.  It would have been much more epic if failure would have happened in Nucla!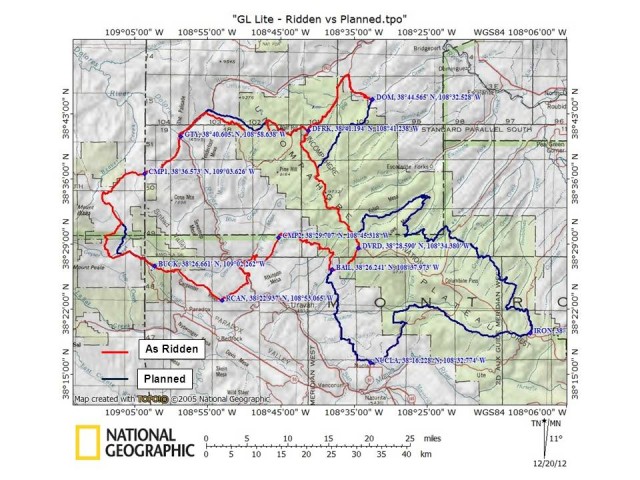 Lessons Learned
-Bring more water treatment than you think you need.  We allocated ~1gal/person/day and ended up drinking 50% more each.  Iodine tablets weigh nothing and take up no space.
-Verify quantity of critical items (ie iodine tablets).  Perhaps pour into a baggie to be able to see the quantity (and probably save some weight on the glass bottles).
-Consider running tubeless or slime tubes in the desert.  Swapping tubes for a single cactus spine opened the opportunity to ruin a valve stem/spare tube.
-If carrying anything on the handlebars, a stuff sack with straps is not very secure even with a lash strap to the head tube.
-Hard plastic mountain bike shoes are not as great at bike pushing as rubber soled bike shoes.