Routes » Colorado Trail
photo by Mike Curiak
Overview
The Colorado Trail is the most complete of any long distance singletrack trail that is open to cyclists. Starting on the outskirts of metro Denver, the trail quickly climbs into the Rockies and stays high – at an average elevation above 9000 feet.
Route Details
The first ~200 miles of the CT are widely regarded as some of the finest trail for bikepacking. Highly rideable and very scenic, there are some unforgettable sections. After Buena Vista, the trail's character changes somewhat, with more frequent hike-a-bikes and difficult conditions. Wilderness detours also force thru-riders onto dirt roads.
There are a number of route options for the CT thru-rider. All are described in the Official Guidebook. Most are required wilderness detours, however some are offered as suggested alternates around difficult sections.
The Colorado Trail Race route uses all of the wilderness detours plus two non-wilderness detours: around the Ten Mile Range outside Breckenridge and the Spring Creek Pass detour, following Cinnamon Pass instead. Both of these non-wilderness sections are possible and desirable for cyclists willing to do some extra bike pushing.
GPS Data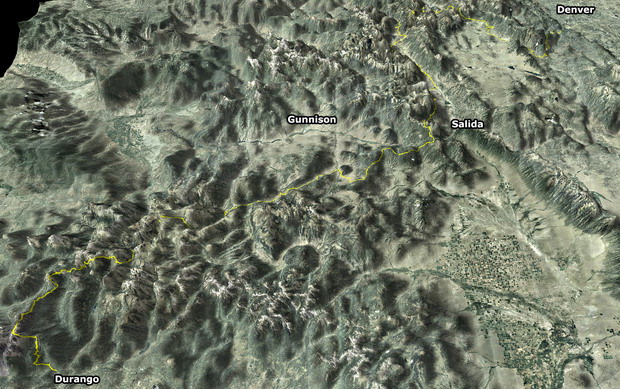 3D image from TopoFusion software – click to enlarge

Colorado Trail Race Route thanks to Chris Plesko
More CT GPS data, detailing other route options, coming soon!
Links
Colorado Trail Foundation
Official Guidebook
The Colorado Trail Race

Bear Creek Survey's CT Waypoint Data