Routes » Colorado Trail
by
ScottM
Overview
The Colorado Trail is one of the classic singletrack bikepacking routes in the western US. Starting on the outskirts of metro Denver, the trail quickly climbs into the Rockies and stays high – at an average elevation above 9000 feet.
Route Details
The first ~200 miles of the CT are widely regarded as some of the finest trail for bikepacking. Highly rideable and very scenic, there are some unforgettable sections. After Buena Vista, the trail's character changes somewhat, with more frequent hike-a-bikes and difficult conditions. Wilderness detours also force thru-riders onto dirt roads.
There are a number of route options for the CT thru-rider. All are described in the Official Guidebook. Most are required wilderness detours, however some are offered as suggested alternates around difficult sections.
The Colorado Trail Race route uses only the required wilderness detours. Previous versions of the race also included non-wilderness detours: around the Ten Mile Range outside Breckenridge and the Spring Creek Pass detour, following Cinnamon Pass instead. Both of these non-wilderness sections are possible and desirable for cyclists willing to do some extra bike pushing, but they are commonly skipped, too.
Challenges
The challenges of the CT are many, but a few of the unique ones are: elevation, snow and lightning. The CT has a rather short window: July -> Sept, since most of the route is covered by snow otherwise. This generally puts trail users on the trail during period of monsoonal moisture, meaning a daily threat of thunderstorms. Combine that with some of the higher treeless areas and lightning is a concern.
Support the CTF
Maintaining and improving the CT is a huge task. The Colorado Trail Foundation does a remarkable job and has been decidedly pro-bike throughout the years. They are huge supporters of bikepackers on the trail, and deserve our support. If you ride the CT, you should support the CTF at least at the minimum level: –> Support the CTF
GPS Data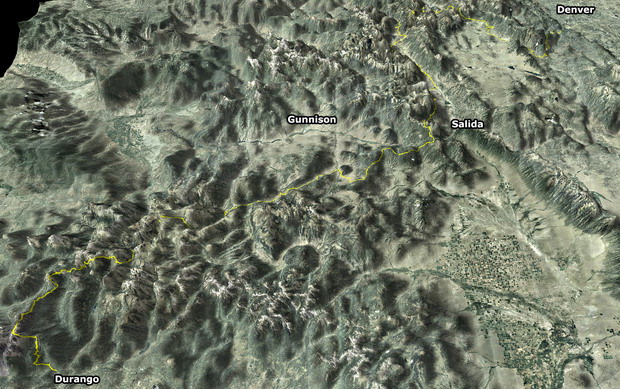 2008 – Colorado Trail Race Route thanks to Chris Plesko
As of 2014, the most current GPX data is being maintained by Toby Gadd:
Links
Colorado Trail Foundation
Colorado Trail Trip reports
Official Guidebook
The Colorado Trail Race

Bear Creek Survey's CT Waypoint Data