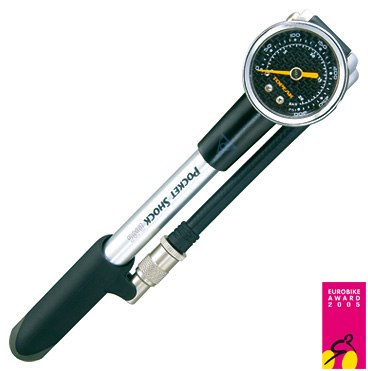 A precision fork and shock pump with a carbonfaced dial gauge for accurate inflation. A bleeder valve and Pressure-Rite™ connector makes setting proper pressures easy and eliminates air loss when disconnecting.
Added Features Rotating Hose
Optional Hard Shell Case
Size (L x W x H) 21.5 x 4.3 x 4.5 cm (8.5" x 1.7" x 1.8")
Pressure Tuning Air Release Button
Head Pressure-Rite Shock Valve
Handle Plastic/Kraton
Gauge Analog
Capacity 300 psi/ 20.7 bar
Barrel Aluminum
Weight 170 g / 0.37 lb
Art No. TPSMB-DX
Product Website: http://www.topeak.com/products/Mini-Pumps/PocketShockDXG
Please rate this product: (no login required)






(7 votes, average: 2.57 out of 5)


Loading ...