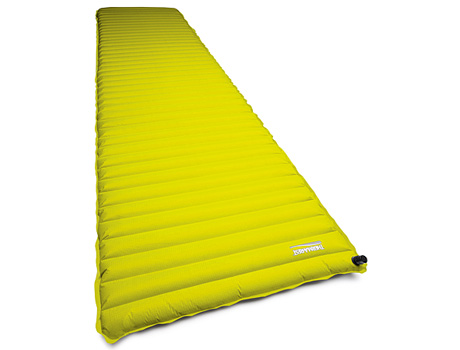 The NeoAir mattress represents the world's most advanced engineering in ultralight comfort. Beyond being the lightest air mattress available, we've utilized two patent-pending internal technologies, making it up to three times warmer and far more stable than any other uninsulated air mattress available. And when it comes to space in your pack, you'll appreciate that it's no bigger than a one-liter water bottle. Revolutionary by design, the gossamer NeoAir mattress makes comfort one less thing you'll need to compromise when traveling fast and light.
* Ultralight & Compact: Weighs just 14oz. and packs down to the size of a 1-liter water bottle.
* Unrivaled Warmth: Our patent-pending reflective barrier returns warmth to your body and reduces heat loss to the ground, keeping you three times warmer than any other uninsulated air mattress.
* Sleep Stable: When inflated, patent-pending Triangular Core Matrix technology creates an internal truss system, resulting in the most stable non-self-inflating air mattresses.
* Lasting Performance: Achieving thermal efficiency without down or fiber insulation means the NeoAir mattress can be inflated directly without the added weight of a pump, or worrying about exhaled moisture wetting insulation and decreasing performance.
Specs:
Packed Size: 9″x3″ (S), 9″x4″ (M & R), 11″x4.5″ (L)
Weight: 9 oz (S); 13 oz (M); 14 oz (R); 19 oz (L
Sizing: S-20×48; M-20×66; R-20×72; L-25×77
Area/Dimensions: 2.5 in thick
Material: Nylon
Product Website: http://cascadedesigns.com/therm-a-rest/mattresses/fast-and-light/neoair/product
Please rate this product: (no login required)






(55 votes, average: 3.71 out of 5)


Loading ...