Sleeping Pads » Klymit Insulated Static V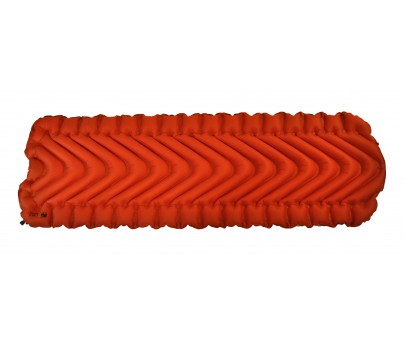 The Klymit Insulated Static V Sleeping Pad
This pad has a unique v-chamber design which significantly slows air movement as well as reduces the loss of heat. The v-chamber design utilizes body mapping technology for optimal comfort. Body mapping consists of identifying the critical areas with which your body touches the pad and then customizing the pad with extra firmness in those areas of contact in order to prevent sagging or discomfort. The Insulated Static V pad utilizes Primaloft synthetic insulation to keep the user warm and cozy on cold nights. Klymit focuses on creating the most lightweight pads possible. The Klymit Insulated Static V is no exception, being one of the lightest over sized pads in the world. Inflating the pad will be very quick since the v-chamber design allows the pad to inflate with a minimal amount of air. It will take approximately 10-15 breaths to blow up the pad. The pad also comes with a hand pump which will allow the user to add extra firmness to the pad if desired. The Klymit Insulated Static V also utilizes a push valve system which easily and quickly inflates and deflates the pad. Despite the Insulated Static V being an air filled pad, it is quite durable and unlikely to pop. However, the manufacture does offer a limited lifetime warranty.
Specifications:
Weight: 25 oz, 709 g
Insulation: Primaloft
Dimensions: 72″ x 23″ x 2.5″,183 cm x 59 cm x 6.5 cm
R-Value: *4.4
Packed Size: 5″ x 9″, 12.7 cm x 22.8 cm
Includes: Stuff Sack, Patch Kit
Warranty: Limited Lifetime (Manufacturer)
Product Website: http://excursionoutfitters.com/shop/klymit-insulated-static-v-sleeping-pad/
Please rate this product: (no login required)






(24 votes, average: 3.83 out of 5)


Loading ...