Shoes » Lake MX265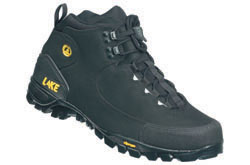 Fall, Winter, Spring … A 3 season cycling/hiking boot that is just as comfortable off the bike as on.
Upper: Lake Skins™ water-resistant Nubuck leather with a Helcor® abrasion resistant toecap neoprene scree collar & full Outlast® lining.
Outsole: Vibram® Trail V outsole wth removable cleat receptacle cover. Suitable for riding and trekking.
Closure: Laces with lace-keeper
Compatibility/Drilling: SPD two hole or flat pedal
Color: Black
Product Website: http://www.lakecycling.com/Products/MX265__MX265.aspx
Please rate this product: (no login required)






(43 votes, average: 3.37 out of 5)


Loading ...
November 20th, 2008 in
Shoes