Rain Gear » Showers Pass Rain Pants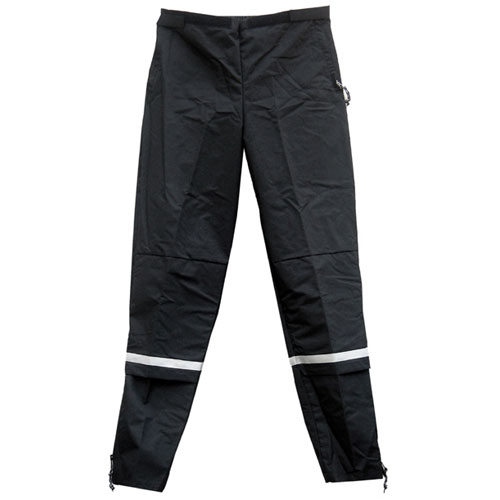 Showers Pass Rain Pants are cut for wearing over other clothing – whether tights or commuter/street clothes. We have tested them in all-day rain storms and stayed dry. They have enough knee flex to use for other sports, such as Nordic skiing, horseback riding, or hiking.
These rain pants use a medium-weight waterproof, breathable 2.5 layer fabric, that will withstand the stresses of daily commuting or cycle touring. In our experience, rain pants can get hot and sweaty if there is no active ventilation provided. Based on substantial field testing (riding in the rain – its a job, but someone has to do it) we have engineered effective vents that won't let rain in.
Vents are in two places: the knee and at the upper waist. We have constructed an articulated knee, sort of like a shingle, that uses a sturdy lycra panel to provide lower leg ventilation and eliminates binding when pedaling. The vertical side pockets (with zipper closure) have a mesh liner, providing ventilation when the pockets are open. These four vents (two knees, two pockets) effectively prevent sweat buildup during hard efforts, like doing a long climb.
Additional features:
* Highest quality 3M reflective tape for night-time riding.
* Elastic back and velcro waist closures (allows wide range of adjustment).
* Ankle zippers so you can put on without removing shoes.
* Double velcro ankle closure prevents chainring snags.
* Fully taped seams to keep the rain out.
Size medium weighs about 12 ounces (340g). The pants easily roll up for carrying in a jersey pocket or pannier. Size medium rolls to approximately 8″ x 3.5″ (20cm x 9cm).
Available in everyone's favorite color black (which also hides road grunge).
Product website: http://showerspass.com
Please rate this product: (no login required)






(26 votes, average: 2.85 out of 5)


Loading ...