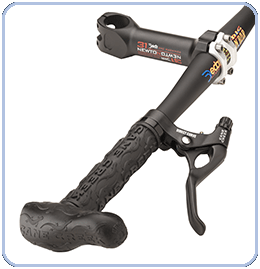 Cane Creek's original Ergo Control took the bar end to an unprecedented level of performance. Its ergonomic profile, extending both fore and aft of the handlebar, gave riders more comfort and control than was previously possible. The design fit the rider's hands naturally and aligned his/her weight over the center of the steering. Now Cane Creek offers the Ergo Control II—with even more technology that makes sense.
Construction
The optimized shape offers more hand positions for improved comfort and reduced weight. The new aluminum spine clamp is engineered to be stronger and lighter.
The composite skeleton provides better, more uniform support with fewer grams. The outer rubber surface with raised Cane Creek skinks and logos is softer and tackier to improve your grip. And by integrating ODI®'s patented Lock-On System technology, Cane Creek has introduced the first bar ends that mate with Lock-On handlebar grips—including the Cane Creek locking grips.
Of course, the Ergo II's are also compatible with traditional handlebar grips.
materials – aluminum spine clamp, composite support skeleton, and exclusive rubber grip surface
compatibility compatible with odi® lock-on system grips and traditional grips.
weight 175g per pair
msrp $55.00
Please rate this product: (no login required)






(58 votes, average: 3.62 out of 5)


Loading ...