Bike Bags » Mountain Feed Bag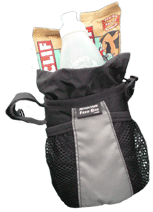 The Mountain FeedBag is an ergonomic, out-of-the-way, effective feeding system that helps you – the competitive mountain bike racer – get to the finish line faster! Functionally, it keeps you consistently fueled; ergonomically, it conserves your energy.
Store your food inside. Stuff wrappers outside. Feeding from Mountain FeedBag is way more efficient than jersey pockets or backpacks. Feeding is easy; in fact your food is just inches from your hand! It's great for racing AND training.
Mountain FeedBagTM Features:
* Easy access to food while riding
* Crash/Spill-Proof – Won't knock free from your bike or spill contents
* 80 cubic inches of energy storage (bars,flasks,packets,secret concoctions, etc.)
* Lightweight (64 g – 2.25 oz), durable and tough
* Water Resistant
* No more reaching for damp, gooey food in your jersey pocket
* No more having to struggle or stop to reach food
* Easy litter control in exterior mesh pocket
* Designed and refined by a 12 Hour Solo Mountain Racer, and further refined by other endurace racers
* Made in Oregon
Product website: http://epicrideresearch.com/
Please rate this product (no login required):






(107 votes, average: 3.50 out of 5)


Loading ...