Bike components » Actiontec 20 tooth chainring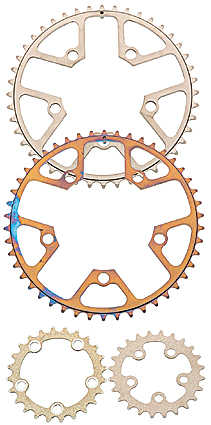 Titanium Chain Rings
Our Chain Rings are CNC laser cut from .115″ thick 8/11 titanium alloy, then CNC machined to .071″ thick at the tooth area, spot faced and hand finished to a brilliant silver nickel finish. They weigh nearly the same as an aluminum CR, but will last 5 times longer. The machined edges stay sharp to ensure quick shifts and promote long chain life. Weight: 18 gr – 96 gr.
Available in 20 tooth, even for 4 bolt 64mm BCD cranks (e.g. any Shimano crank in the last ~4 years)
Product website: http://www.actiontec.us/ti&steel.htm
Please rate this product: (no login required)






(16 votes, average: 3.56 out of 5)


Loading ...