Personal setups » Walkurtalk's Set Up For 2011 AZ 300
by
walkurtalk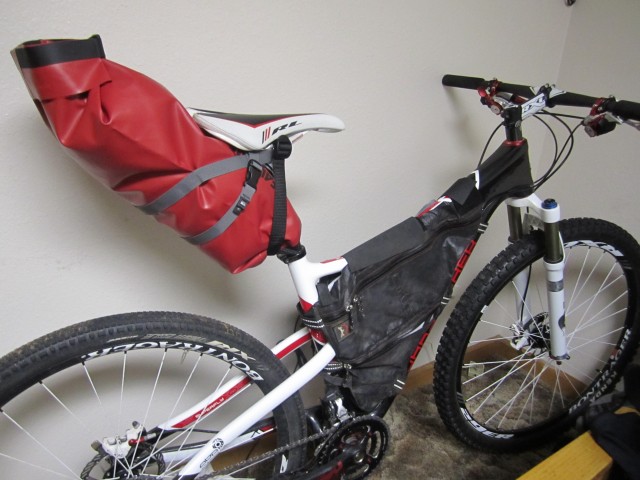 My first crack at serious bikepacking. I will be doing two test runs of 3 days each. One in late February, the other in early March. Here is what I am rolling with on the first run and I fully expected to revise this many times before now and April:
Bike: 2010 Gary Fisher Superfly 100 Full Suspension
Front Tire: Kenda Nevegal 29×2.2
Rear Tire: Kenda Small Block 8 29×2.1 (not pictured)
**Set of Maxxis Ikon 29×2.2's on order, which is what I will most likely use for 2nd test run and race.
Frame Bag: Modified a used Epic Designs Bag to fit my Superfly frame
Seatpost Bag: Sea Line Dry Bag and strategic strap placement.
**I have ridden 3 rides with the Sea Line Bag full and other than rubbing against my left leg which I fixed with some adjustments, the bag did not sag or sway, which was a worry for me when making my decision to go with it.
In the Sea Line Bag:
Montbell UL Super Spiral  Down Hugger #3 sleeping bag
Mountain Hardware Goretex Raingear (jacket and pants)
Pearl Izumi Leg Warmers
4oz Emergency Bivvy (to be used as primary bivvy and groundcloth)
Extra pair of Merino wool socks/extra underwear
MSR Hyperflow Water Filter
Repair Kit including:
Selected Allen wrenches, Tire boot, 2 oz bottle of Stans, 2 29er tubes, tire levers, patch kit, bit of duct tape, tiny sewing kit, small hand pump, small homemade bike lock, 2 oz bottle of chain lube, zip ties
**Thought about putting the repair kit in the frame bag, but I need the space for things to which I am going to need quicker and easier access (powerbars, gloves, sunscreen, camera, etc) and if I need that repair kit I am going to be stopped for a while, so opening the Sea Line bag will be no big deal.
 In the Frame Bag:
Bottom pouch: Butt'r, sunscreen, extra hair ties (I lose them constantly),cell phone, some toilet paper in a ziploc, tiny toothbrush and toothpaste
Top pouch: gloves, maps, lighter and firestarter (need quick access), First Aid kit, iPod, Camera, NightRider MiNewt Light, Black Diamond Headlamp
In Backpack (GoLite Rush):
Hydration Bladder, SPOT, food, light fleece jacket, space for when clothing layers aren't needed, balaclava
On me:
Giro Helmet, headsweat/skull cap, Under Armour Base Layer, Jersey, NorthFace Apex jacket, GoLite Thermal tights, Pearl Izumi Bike shorts, Merino wool socks, Pearl Izumi X-Alp Enduro II Shoes, cleats for Time pedals
Mounted on handlebars: Garmin eTrex Vista HCx, Garmin Forerunner 310xt with HR strap
 Top-tube bag (not pictured): Hammer Gel, Honey Stinger Energy Chews, Peanut Butter M&M's, Jelly Bellies, mileage cue notes, etc
I decided against a handlebar bag because I am not taking a sleeping pad and really don't want the weight or bulkiness. I am the type of person that can fall asleep anywhere and have slept comfortably many, many nights out in the wilderness without a sleeping pad. I also decided to not bring a chain tool or extra link. Why? I guess I am trying to wisely play the odds….the likliehood of me, a 127 lb woman breaking my chain is nill…Is this a safe bet? Or should I take them?
So there it is….what have I carelessly overlooked? I will put a better picture up soon, this one is old. Tear it apart, guys. I really love feedback…Thanks!!