by
SirenBrendan
My gear list from this past weekend's excursion. I like it, but I'm not saying it's my end-all kit. I'll continue to work on it and make improvements.
Bear in mind, this is my kit for singletrack, as opposed to big dirt road mileage. I used this setup on two consecutive days last weekend with temps ranging from freezing to the 80's, elevations from 1500-5500 ft.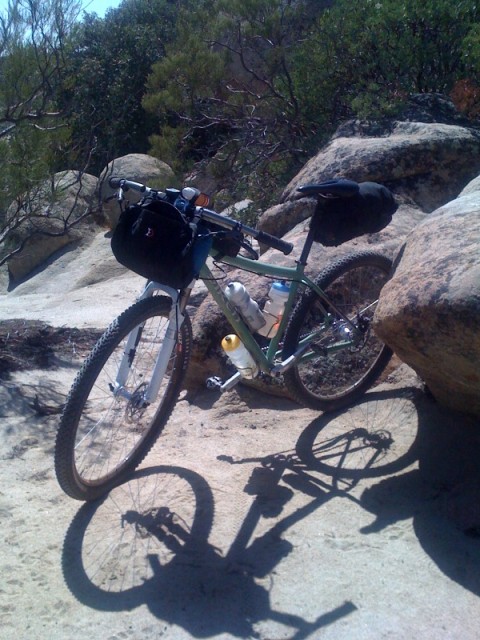 In the Carousel Design Works seat bag:
sleeping bag
3/4″ sleeping pad
tyvek bivvy
(packed in that order)
In the Epic Designs bar bag dry sack:
1 pair wool hiker socks
warm knit cap
Marmot precip jacket
Patagucci R.5 warm shirt thing
Black Diamond ugly but lightweight and warm fuzzy long underwear bottoms
1 pair undies. Boxers not briefs.
In the Epic bar bag brain pocket (extra gizmo in front of the bag)

maps
lip balm
sunscreen
A&D ointment
iPhone
SPOT unit
some snacks
arm/knee warmers as I pulled them off
water treatment (iodine in a small bottle, some tablets)
bandana
In the Wingnut Hyper 3.0 pack
2 26″ innertubes
minipump with duct tape stowage
Minitool- huge do-everything variety
Esbit stove & fuel tabs, lighter (for a luxurious trip!)
Titanium mug, lexan spoon
Robot Food; Sustained Energy, endurolytes, various unidentified Hammer pills, Gu2O or something like it
More food (4 oatmeal packs, TJ's pasta chingus, canned smoked trout, almonds, candied ginger)
1 brick o' ramen noodles. Good calories & salt, very lightweight
2 beers, canned.
Wake-up kit: Starbucks Via brew packets, Emergen-C packets
Pretty Guy kit: Toothbrush, cut to fit inside mug, travel toothpaste, floss, TP, Tums moleskin
Bike Love kit: 3 zip ties, patch kit, tire plug kit, a couple random bolts, chain links, tiny bottle of lube
a couple Clif bars. The cherry almond kind was edible
Compass, tethered to the pack straps. Mileage marked in dots on the string to correspond with the scale of maps we were using
a piece of fruit
wallet
Snickers bar, cleverly hidden next to my water bladder
reserve platypus bladder for extra water capacity when needed
In the Carousel Design Works top tube fuel cell:

more snacks; dried apple dealies, Panda licorice, fig newtons
bought pop tarts and other goodies acquired along the way
On the stem:
Gel flask, loaded full of maltodextrin goodness.
On me:
Shorts
jersey
knee warmers
arm warmers
vest
smartwool socks
gloves
Uvex helmet
home made black diamond headlamp adapter chingus to fit the helmet
Shades- two pair; light lens for morning & twilight, dark lens for daytime pimpin
Pearl Izumi shoes (racer guy shoes, not the cool hike-a-bike shoes… yet)
On the bike:
3 water bottles.
Robot food stayed in the insulated bottle to help prevent stomach funkiness
Cateye velo 5 bike computer
Contemporaneous notes:

Things to bring-
ipod shuffle
Hammer Recoverite
more blister stuff
hand sanitizer
sunglasses bag
salty snacks (Synders pretzel bits are evil & full of MSG, oh-so-good)
razor blade for cutting things
altimeter
99 cent womens stretchy gloves
Things to think about-
more cork tape on the Jones bars, especially around the tube intersection
possibly modify the bar bag/ handlebar interface for better hand room
watch wheel tension/ tire pressure with loads
pack for 2 starbucks coffee dealies per morning
more esbit cubes, maybe 2.5 per day?
maybe a roomier pack? Considering the Wingnut Adventure Pack
the bike computer doesn't register miles at hike a bike speed
might move gel flask elsewhere (off stem) for hike a bike situations