by
lukemysse
We set out locally on a quick overnight just to test some gear. Brutal hot day, lots of cramping for one particular rider who will go un-named.
Overall I'm pretty happy with this setup though I'm trying to figure out how to carry more water on the bike and maybe not on my back. The bike did great, this is why I went steel.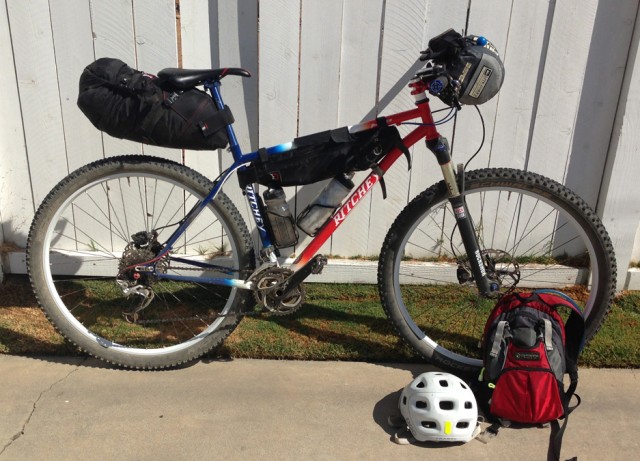 The Bike
Ritchey p29 with Shimano XT, Stanz wheels and some Loaded Precision components.
– Two bottle cages (one only fits a shorty because of frame bag)
– Small Lezyne pump mounted to frame
The Gear
Inside Seat bag – Revelate Designs Pika
– Big Agnes Horse Thief 35 degree bag.
– Tarp Tent – Contrail(I forgot the stakes so I had to use as a bivy)
– Snow Peak Titanium Cup and Spork.
– MSR Pocket Rocket stove.
– Small can of fuel inside cup.
– Tshirt, Shorts, Long sleeve layer.
Inside Frame bag – Revelate Designs Tangle
– Small First Aid
– Towel / potholder
– Baby Wipes (refreshing to wash the salt off the face)
– Petzl e+LITE Headlamp
– Black Diamond Voyager Lantern
– 29r Tube
– Tools: Crankbrothers Multitool with chain break, Master link, Patchs, Zip ties.
– Tarp Tent poles:
The contrail comes with two tiny poles for the back corners. It's intended to be pitched with the use of a treking pole but I contacted them and ordered a collapsable pole for the front. This would have all worked brilliantly had I not forgot the tent stakes.
– Letherman Squirt
Front
– Garmin Edge 500
– Coffin thermarest (this slips inside the Big Agnes which has no down on the bottom. Love this system)
Backpack (don't remember what kind)
– 3 Liter of water
– Carried an additional liter in the bag after our final water fillup (no water near camp)
– Various riding food: Good Spread Peanut Butter, Stinger Waffles, Shot Blocks
– Mountain House Backpacking meal (the sodium content is off the charts)
– Instant Oatmeal pack
– Some nut / trailmix
– 2 packs of EmergeC
What I would change
– I would remember the tent stakes.
– Add a Tyvek ground cloth to save my tent floor and sleeping pad.
– Would like to get more water on the bike. Thought about having an under-frame cage mount but that would mean drilling the frame (measure three times, drill once). Might consider fork mounted bottles if it works, would love to hear if any has a magic way to mount these so they don't come loose.
– For the front I might add a Thule Pack 'n Pedal™ Sport Rack. My friend Matt who came on the trip had those front and back on his single speed and it works brilliantly. Could mean getting everything on the bike and not having to wear a pack which I hate. This would also allow me more space for multi-day trips when I do need to wear a pack.
– Would figure out a meal that doesn't taste like a bowl of salt.