Personal setups » Niknak's Niner EMD on the GDMBR
by
niknak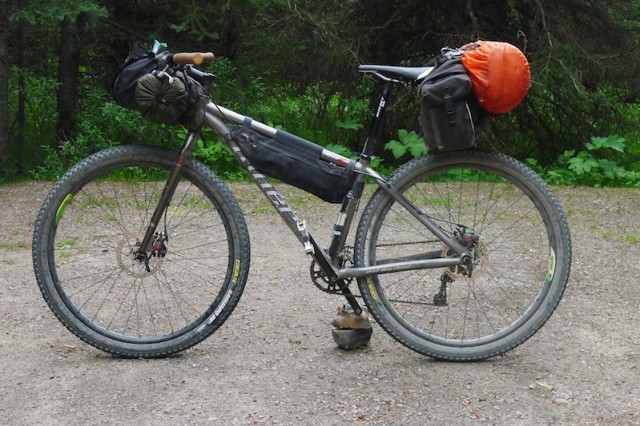 This summer (2012) my wife and I spent two glorious weeks cruising down the Great Divide from Banff to Whitefish. Here's what I brought with me:
On the handlebars using a Revelate Sling and large Pocket:
REI Quarter Dome T2 tent – The internal dimensions are a bit shorter and narrower than I prefer, but it sets up really quickly and easily.
Panasonic DMC-LX5 camera – A great point n' shoot with good manual controls.
Adventure Cycling maps – Indispensable for this route.
Garmin Etrex 20 GPS computer – I never really got the hang of it and returned it when I got home. Didn't really need it for this route.
Sandwich baggy full of charging cables and a spare set of batteries for the GPS – A necessary evil.
In the frame with a Revelate Tangle bag:
Snacks! – The little pocket in the Tangle is perfect for a day's worth of munchies.
Spare inner tube
Patch kit
Multi tool
Chain breaker
Sandwich bag with some small parts for emergency repairs
small container of methylated alcohol from Canadian hardware store – Canada apparently doesn't sell denatured alcohol
Lots of extra space for food
Behind the saddle with a Bagman rack and Carradice Super C saddlebag:
Platypus GravityWorks water filter – Better than anything else we've tried, although a bit bulky.
iPad 16GB wifi with book cover – Downloaded photos from my camera, updated the blog, checked the weather, searched for accommodations and restaurant reviews. A bit bulky. Looking forward to the iPad Mini!
Jacks R Better Hudson River quilt – Very light and compact. Shoved inside a waterproof stuff sack with the Neo Air and lashed to the Super C.
Thermarest Neo Air – Light, compact, comfy, warm, noisy, expensive, almost perfect.
Smarwool ski cap
Montbell Thermawrap – Light, compact, warm.
Long sleeve Smartwool top
REI adventure pants
1 pair synthetic boxer-briefs
1 extra pair Aerotech Designs padding touring underwear – A last-minute purchase that proved to be an excellent choice
1 extra pair synthetic socks
100-foot cord for bear hangs and laundry lines
Sandwich bag for toiletries – travel toothbrush and toothpaste, small container of liquid soap, film canister of Ibuprofen, film canister of lotion, sunblock
Specialized knee warmers
What I wore on and off the bike:
Helmet
cotton cycling cap
prescription sunglasses
Smartwool t-shirt
Rapha Touring shorts – Get them on sale and they're still expensive, but I love them and wear them almost every day.
Aerotech Designs padded touring underwear
Synthetic socks
Good old fashioned sneakers (GOFS) – I've toured with clipless but prefer the simplicity and comfort of sneakers and platform pedals.
In my REI Flash 18L backpack
Platypus 3L bladder and hose
REI somethingorother rain jacket
REI bicycle rain pants
Showers Pass booties – It's nice to have warm, dry feet.
Wallet and passport