by
neilp1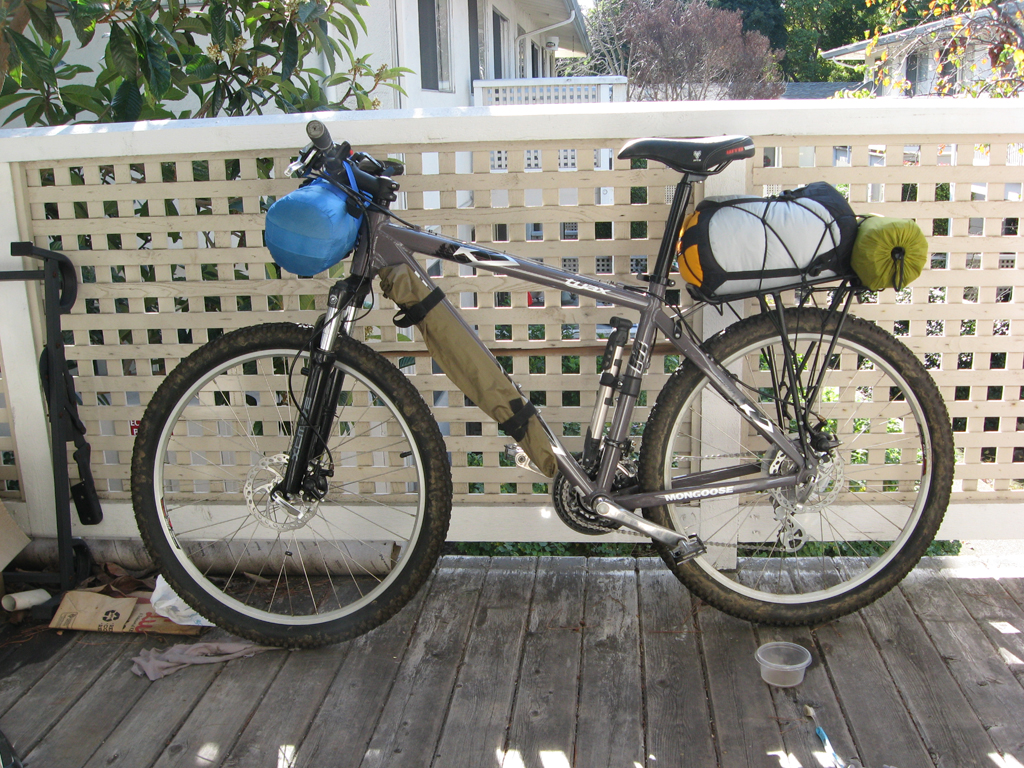 Been working pretty hard the past few months to get everything together for a decent 3-season set-up for bikepacking the local National Parks up here in Norcal. Managed to get it all down to around 16lbs, which im very pleased with.
Bike: Mongoose Tyax Comp disc 2008. Had this bike about 7 months, since someone ripped off my GT avalanche. I like this bike a lot better. Equipped with Cat-eye 8 computer, Forte Campus pedals (i was a total newb to clipless before these and i wasnt completely confident so i figured a pair of 'training wheels' was best. In retrospect should have gone straight for regular clipless), generic alu rear rack and a home-made route cue sheet holder. All this at 34 lbs. I can drop the rack in summer if i forgo using the sleeping bag. In that case, the mat goes in the back pack, or up front. Shoes: Shimano something-or-other mountain bike shoe. I like very much, but the cleats have a habit of coming loose. Even red loctite wont fix it.
Jannd Frame Bag: 3-litre capacity in a location that is usually under-utilised. Really wanted an Epic or CD bag, but couldnt justify the cost. Will hold bike tool kit, slime tube, leg+arm warmers, tent stakes (coleman heavy duty x 4),  compact binoculars and some trail food, once it arrives in the mail.
Tool Kit- Multi-tool, Chain breaker + 5 extra links of chain, 2 tire levers, very small leatherman knock-off, glueless patches x 6, assorted zip ties and 5 feet thin cord, 5 feet duct tape wrapped around one of the levers, small bag of assorted bolts and screws and a 4″x6″ cotton rag cut from an old t-shirt. Contained in a small 6×4 zippered pouch.
Backpack- OGIO backpack, 28 litre capacity. Using this because its what i have and its held up on trail for the past year ok. Little heavy, no waist strap but is pretty comfy regardless. Have a small velcro camera pouch low on the left shoulder strap for the camera which works better than i expected. Doesnt get in the way and keeps the camera very handy.
Tent: Eureka Spitfire Solo. Awesome tent, plenty of room for 1, pitches in about 5 minutes with 2 stakes. Weighs dead on 2lbs 8oz (replaced the pegs with lighter aluminium ones). Straps to the handlebars in a small REI compression sack. Poles strapped to the frame. In summer, there is zero precipitation, so i can leave the fly behind and save half the weight.
Sleeping bag: REI Zephyr 20 oF bag. Weighs 3lbs, but packs down into a medium sized Sea to Summint eVent compression sack. Got the bag at one of REIs used gear sale for 60% off- only thing wrong with it was the toggle for the large cotton bag it stores in was busted. Total Steal.  With the cost, im very happy with it. Again, with summer being so awesome up here, i ditch the bag and take either a light sheet or a very light (300g) down/polypro blanket. This packs down into a 1 gallon ziploc sandwich bag. Saves 2.7 lbs, and means i can also leave the rack behind, saving another lb.
Sleeping mat: REI lite-core 1.5 short. Another bargain- $16 at the same sale, since the patch kit was missing. Holds air perfectly and rolls down to maybe the size of a 1 litre bottle. Weighs 1 lb 2 oz. Use the emtpy backpack to provide insulation under the legs.
The bag and mat go great on the rear rack, strapped with a generic  elasticated cargo net
Hydration: Camelbak Unbottle, 100 oz. Lots of extra padding with the insulation, so removed the bladder from the pack. Comes in at 3 oz empty, little over 7lbs 5 oz full.
Katadyn Hiker Pro filter– essential for spring/summer riding in my local park, Henry Coe State Park. Very dry, but with ponds and springs available for water. Later in the summer, these become more scarce and a bit more 'fragrant' so a good filter is necessary. Weighs 1lb.
Petzl Tikka Plus 2 Headlight– weighs a touch under 30z and has plenty of battery life to outlive anywhere i want to go on a fresh set of batteries. Kinda liking the red led feature even though i didnt think id use it. Great for in tent, reading etc. Picked this over the PT EOS simply because this was slightly cheaper.
First aid kit:Contains all the usual bits and pieces plus poison ivy wipes and a small survival kit. Comes in at 9 oz. Have a couple 4 oz  pouches of emergency water that i tend to throw in at the last minute, so really its 17 oz. Could probably lose those.
Stove: Ultralight super cat alcohol stove, windscreen and heinekin can pot. All over the inter-tubes, so im not going to go on about mine. I like it very much and works really well for the FBC method of 'cooking' i like to do on trail.
Food: General FBC food, oatmeal, dried fruit and nuts, milk powder, coffee, peanut butter for breakfast. Instant rice, noodles, pouches of tuna and chicken supplemented with olive oil and freeze dried vegetables for dinner. Flatbreads. Snacks include Snickers bars (King Size) trail mix, peanut butter.  Figure about 2-ish pounds/ day- i get hungry.
Shakedown ride: Went for a day out almost fully loaded (- the sleeping bag) at a State Park (Russian Ridge if anyone is familiar with Norcal Bay area)- 15 mile loop, little shy of 3 hours, good mix of double and single track (nothing remote and nothing too single-tracky, if you get my meaning) more climbing than not.  Couldnt even feel the stuff sack up front. Also, loaded my pack up with a little extra weight (typically expect to load 10-12 lbs in the pack, essentials plus full camelbak and 2 days food), taking it up to 17lbs for this ride. End of the 3 hour ride, zero fatigue on the back or shoulders, and everything seemed pretty well placed in terms of COG. I was looking to get a talon 22 or similar, but after today, i really dont think ill need it any time soon. Might have to do something about my crappy brakes though.
I have a feeling that i am going to really love this next season worth of riding!!