by
JoeyDurango
The bike: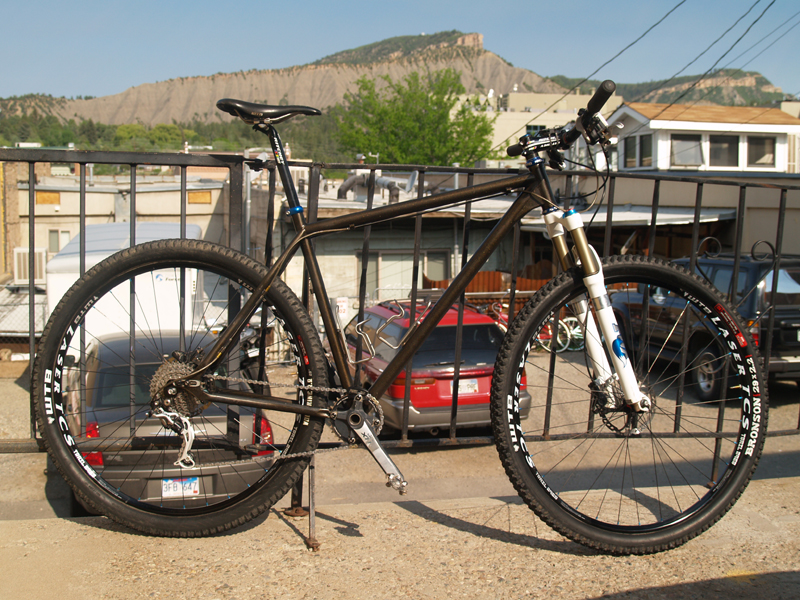 It's pretty simple.  Redline Monocog Flight 29er chromoly frame, which has outlasted multiple friends' carbon wonder-bikes.  Fox F29RLC fork, Shimano XTR/XT/Blackspire 1×9 drivetrain, Paul chainguide with some custom grinder work to make the fit perfect.  XT brakes, Ritchey/WTB/Pro/ESI cockpit.  I built the DT Swiss/WTB wheelset, and currently am using the WTB Bronson up front and the Wolverine in the rear, set up tubeless.  If these continue to work as well as they have been I won't even switch over to the 29er TCS tires when they are released!  Obviously this is a single-speed frame, this is my first year back on gears after three spent riding SS… I have the sliders positioned so that chain tension is perfect in the 2ot, and I have two QuickLinks in the chain so that I can take out a section and create a SS in just a minute if disaster strikes the shifty bits.  Overall I love the ride this bike offers, even though the frame is sub-$500.  Good on ya, Redline!  If I "upgrade", it will only be to a custom-built steel or ti frame, likely with the same geometry as my Monocog.  So far, no reason to do so…
Loaded with homemade bags (don't laugh):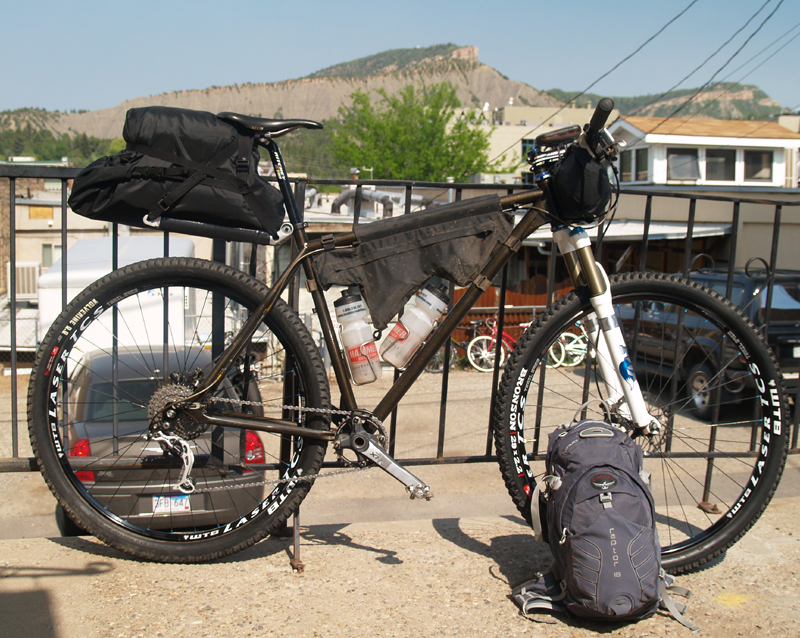 For my back I'm using Osprey's Raptor 18, from their Hydraulics lineup.  So far I love it, although I had to trim and sew all the straps (they allowed for much larger folks than I when they designed this thing).  All three bags on my bike are handmade using an old cantankerous Japanese sewing machine I got at a yard sale.  My friend Doom (Republic of Doom fame, he makes sweet stuff, check it out) hooked me up with some extra Gore-Tex, and I used it for all the bags.  Lightweight and waterproof.  The frame bag, muddy from yesterday's ride on the Hermosa Creek Trail:
I salvaged all the velcro/strappy bits from various other bags/storage contraptions.  It's got an inner mesh pocket, the whole thing is seam sealed, and I wish I'd made it a little wider.  The handlebar bag: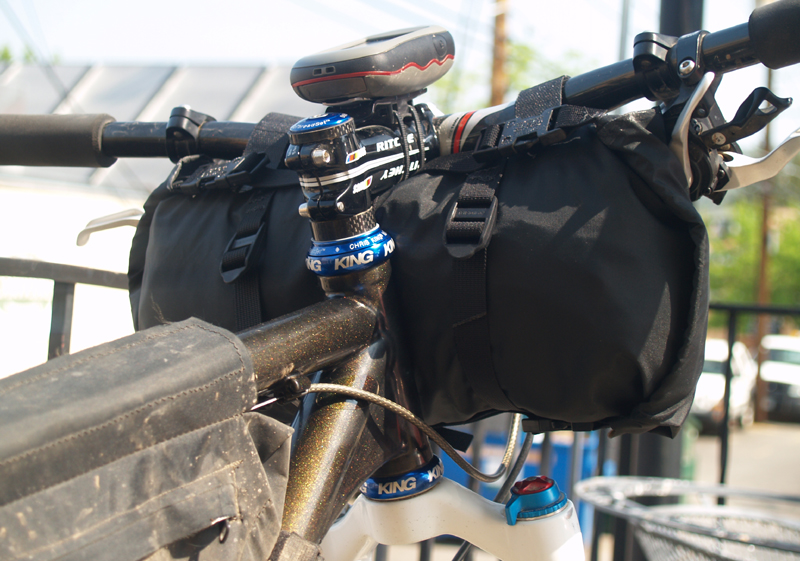 Dual-side roll-down closures a-la CDW, compression straps, and I also wish I'd made this one a little wider.  The saddle bag, otherwise known as "what the hell is that?":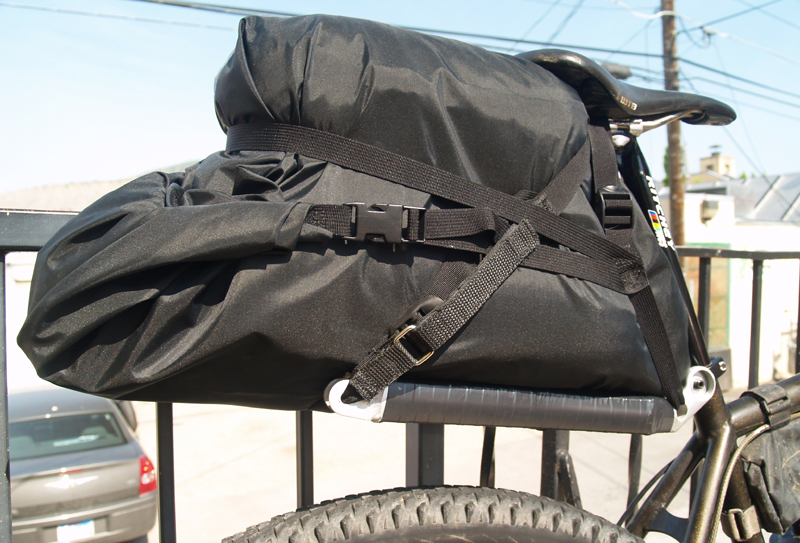 Looks funny but works pretty well.  It's solid.  Building on pro_out's idea posted last year sometime, I decided on half rack/half bag, mostly because a typical saddle bag design is A) too complicated for me to sew with my ancient machine and B) I was trying to fit something almost 20″ long in there, not possible in most saddlebags.  I have a Henry Shires TarpTent Moment, and while it's light, it packs long (the sleeping bag and pad are also in there).  I ended up using the bottom half of a very old Specialized FSR swingarm, bolted onto an Axiom Trekker seatpost clamp, which replaces the blue clamp seen in the first photo when the saddlebag is in use.  It is tolerably light, very stiff laterally, and pivots up and down easily so the bag can come out.  Most the straps in the photo stay with the rack, the bag is just a bag with a roll-top closure that interfaces with the strap system.  The bag is seam-sealed.  The rear-most strap to the saddle rails has a metal-buckle redundant strap so that all that stress isn't handled solely by the plastic buckle.   The whole thing is way lighter than it looks.
Finally, the gear: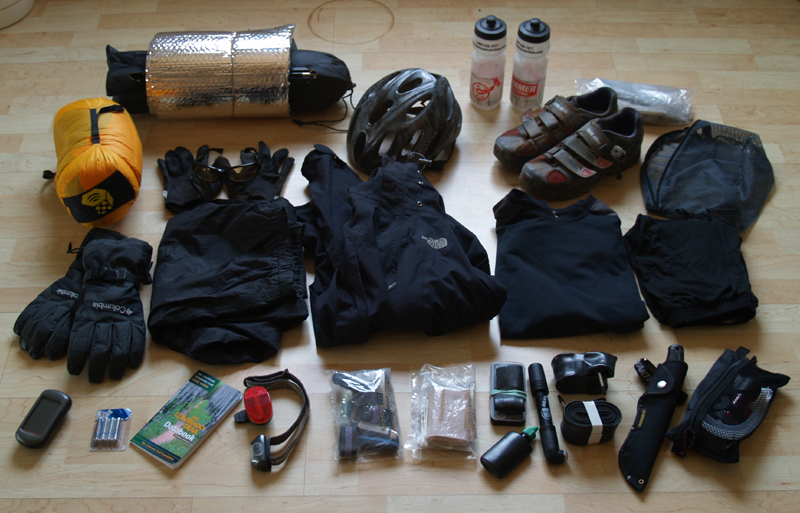 From roughly top left onward:  Mountain Hardwear Ultralamina 32* bag, Henry Shires TarpTent Moment with 3/4 length Reflectix insulation (cheap at the hardware store!) for a pad, glasses, gloves, helmet, bottles, Pearl Izumi X-Alp Pro shoes, latrine shovel/TP/sanitizer, mesh bag for extra clothes.  Warm/waterproof Columbia gloves I got on sale for colder trips, cheap rain pants with all the exterior pockets cut out, a free North Face Gore-Tex jacket with all the interior pockets cut out, polypro longsleeve, tights for sleeping in colder weather.  Garmin Oregon 550t GPS unit (gift, I sure as hell couldn't afford that), extra lithium batteries, maps if needed (in this case CT databook), headlamp/taillight, bike first aid (assorted bolts, small parts, straps, tape, Kevlar spoke, etc.), human first aid (whatever my girlfriend said I should take – I'm a mechanic, not a doctor), small ratchet/bit set with spoke wrench, chain tool, a bit of Squirt lube in a different bottle, minipump, two tubes, a big knife (I'm from the midwest, sorry), and MSR water filter.
Usually I'll wear a short sleeve polypro of some sort, Dickies shorts or cutoff capris (no chamois for me, not comfy), and wool socks.
Major thing missing is a light system.  Still researching that.  AyUp was gung-ho to sponsor our team (Bandwagon), but then flaked out and we never heard from them again despite repeated attempts at contact.  Sure not buying one of those, I can only imagine customer service must be flaky as well, too expensive anyway.  Maybe something relatively inexpensive, light, and medium-powered like the Cygolite MityCross 400… should get me through and I can carry extra batteries when they only weigh 140g.
Overall I have no solid idea of what this setup weighs.  I don't own a scale.  It seems reasonable… under 15-17lbs with food and water?  Not a racer's setup, but I'm more a fan of being out there than anything.
Think that's it.  Thanks for reading.  Now go outside!