by
wookieone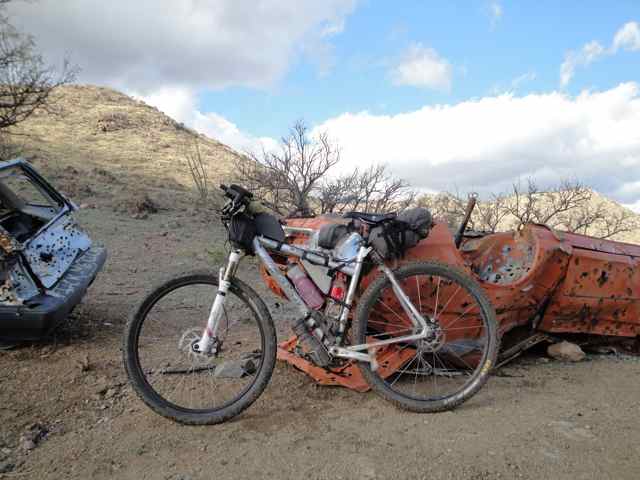 I have always been a set-up troll, just always checking everyone's system out, so thought it was time to share.
Bike: Salsa Dos Niner, medium, Reba U-turn, almost always at 90mm, but I love the maxle. XT Cranks, front hub, cassette, chain. XTR der's & rear hub. Stan's Flow rims, WTB seat, WTB WW LT front tire, Geax Saguaro UST rear tire, both set up tubeless. Flat pedals, Thomson stem and seatpost, Salsa 17* bar, Serfas silcone grips, Cane Creek bar ends.
Bags: All home made, custom stuff. Homemade Backpack, weighs less than a pound!  Seatbag, Micro Frame bag, two stem/handlebar bags, one stem/top tube bag.
Gear: Sleeping System;  Homemade bivy, silnylon floor, Pertex momentum top. Custom modified sleeping "bag", bottom is a bivy sheet, top is a sleeping bag liner sewn together to be double layer. Micro thin pad, for insulation only. All together close to a pound. Options are  a silnylon tarp w/ ti stakes and line, leave home if looking dry. (PS I don't really sleep)
Extra Clothes: Knee warmers, Icebreaker wool long sleeve, light weight fleece shirt, wind shirt, warm gloves, glove liners, Sealskin socks, headband, Patagonia Traverse Pants, O2 shell. Last years race taught me to be prepared!!! But if it's looking nice might leave pants and socks out.
Clothes Worn: Shorts, Pearl or Sugoi, Icebreaker wool T-shirt, wool socks, Montrail Mtn Masochist shoes, helmet.
Hydration: 6 liter MSR dromedary, 2 Zefal Magnum 32 oz, one 28 oz bottle, I like water! The bladder will be full only a few times and it isn't that heavy, the bottles are nice cause I plan on using more liquid fuel/food.
Bike Kit: Pump, 2 cross tubes w/stans goo, tire levers, modified chain tool, allen keys(4 & 5mm), spoke wrench, Lube an Rag.  Extra bits; chainring bolts, chain links and pins/master links, nipples/spokes, seatpost bolt, h2o cage bolt, brake pads, think that's it.
Hygene Kit: Toothbrush, bit of paste, Handi Wipes!!! Alcohol swabs, chamois creme, tylenol, few other salves.
Emergency Kit: Lighter/matches, compass, ace bandage, few sponges, duct tape, benedryl, zip ties, Chlorine Dioxide tabs for water treatment, superglue, xtra batteries, hmmmm?
Lights: I want lots of flexibilty, ie low and bright. Fenix ld20, pd30 on bars, ld10 on helmet, w/batteries&mounts, less than, 300grams
Spot, old one. GPS, 60 CSX, big old tank.
What else?
Swiss Army locking blade knife, heavy, but just a great piece. It like has a cork screw?!
Food: Rice Cereal w/protien& dried fruit crushed into ziplocks, Sharkies, Bloks, Clif Shot electrolyte mix one or two bottles, protien in other bottle(s). Salmon in foil pack.
Over view: I carried too much food from the start last year, so trying to go lighter there. Also all my bike bags blew up last year, so did some refining there as well. Better sleep system this year, better lights, overall much lighter set up, but I feel like it is solid and can handle some amount of the nasty. The great thing about the AZT 300 is there is a fair amount of convenient resupply on course, I generally carry my water from town to town, without treating it. I have been really trying to imagine going lighter, but I am too paranoid to ditch mush else. Still it kills me to see some folks with next to nothing on their bikes, How They Do That?  Hope this helps someone get their kit rolling, bikepacking is the $H*T.