Personal setups » Emily's Niner set up two ways
by
Emily
I have really appreciated some of the insight and problem solving people have posted here, so I thought I would post my own in case they are of interest. I've taken this steel Niner frame through a lot of good times (and some hell) over the past couple years. I thought it was neat to compare the photos of the bike set up for two completely different sorts of adventures.
First photo, on Lucky Segment 13, midway through the Colorado Trail Race in 2010.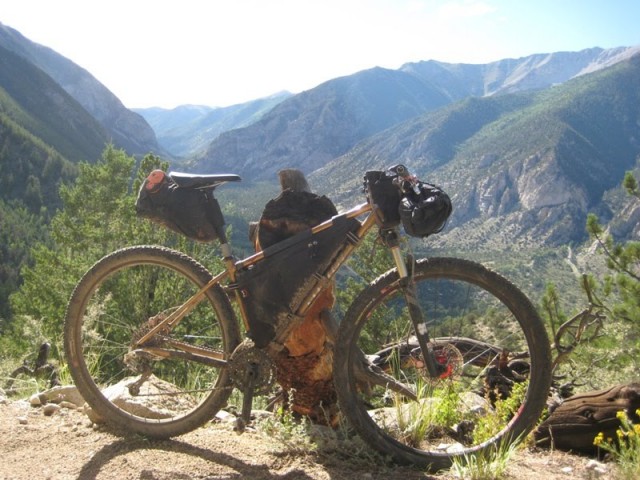 Set up with derailleurs and front suspension for the rigors of racing up and down the Rockies. As well, a handlebar bag to carry some of the gear needed for the CT and still have well-balanced handling on singletrack.
Second photo, a couple weeks of gravel/road touring through rural Laos in 2011.
Carbon fork instead of suspension. Singlespeed because I was on vacation, dammit. Early in the year I had sent the frame to Bilenky to be retrofitted with S&S couplers so it can break down small for easy travel. Bilenky also repainted the frame black and turquoise! Sweet! They did incredible work.
(Above: in response to a query about the breakdown-setup with couplers, I edited the post to add this extra photo. Breaking down my gear into the S&S box and carry-on totebag at the Nong Khai, Thailand train station. It takes about half an hour to get it apart and packed well, about 45 minutes to get it built up. Notice all the bike parts sitting on the small table. Yes, this monk watched me do the breakdown from about that far away for the duration.  I was definitely the most entertaining thing in the train station that day.)
I absolutely love the Niner Sir9 frame for bikepacking as well as for all-around singletrack and gravel riding. Affordable, durable, pretty light, handles well– and riding a steel bike is so nice.
Packs: Epic/Revelate custom frame pack. Secondhand Carousel seat bag (purchased off the Bikepacking.net gear swap forum!) Two Mountain Feedbags, at least one of which usually has a water bottle in it. The black handlebar bag featured in the first image is from Carousel, but I now vastly prefer my Revelate handlebar system when I need that extra capacity up front. I also rode with a very light and small backpack on both trips.
Bike parts of possible interest: Niner carbon fork or Rock Shox Reba XX. Handbuilt Bike29 wheels (Stans rims/Industry9 hubs) with 2.3 WTB WeirWolf in Colorado, 30c Michelin Jet in Laos. Vintage pink Hope Mono Mini brakes… always!